EDIT
Dean Garrett and Professor Adler Co-Lead New Sustainability Course
Dean Garrett and Professor Adler Co-Lead New Sustainability Course
Supported by guest lecturers and industry experts, the course will explore the challenges and opportunities of the business of sustainability.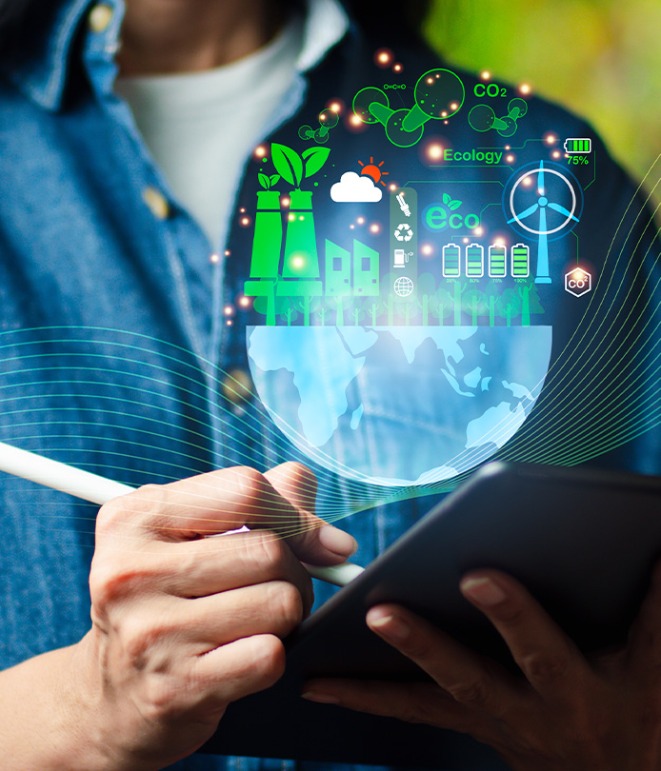 Featured
Paul S. Adler

Harold Quinton Chair of Business Policy

Professor of Management and Organization, Sociology, and Environmental Studies

Geoffrey Garrett

Dean

Robert R. Dockson Dean's Chair in Business Administration

Professor of Management and Organization
Stay Informed + Stay Connected
MARSHALL MONTHLY BRINGS YOU ESSENTIAL NEWS AND EVENTS FROM FACULTY, STUDENTS, AND ALUMNI.
Business relies on the natural environment, and the natural environment means business.
The two-way relationship between the natural environment and business is the focus of a new graduate course debuting Spring 2024 titled Sustainability, Business, and the Future of Capitalism (currently MOR 599). Led by Dean GEOFF GARRETT and Harold Quinton Chair of Business Policy PAUL ADLER, the course delves into the natural, economic, social, political, and regulatory forces that will further reshape the context and conduct of businesses.
The new course will become part of Marshall's expanding portfolio of BUSINESS OF SUSTAINABILITY programs and courses, connecting business and societal needs, and comes at a pivotal moment in the world of business and sustainability. In addition to Garrett and Adler, the course will be team taught by a number of Marshall faculty experts along with industry leaders.
"At Marshall, we aim to prepare our students to play leadership roles. And leadership today involves engagement with grand challenges of our time — of which climate change is surely one of the biggest. It's going to affect every facet of business," Adler said. "Yes, it offers great business opportunities for some sectors, but for most it's going to present a huge challenge."
Recent climate-related weather disasters and changing seasonal patterns have been a wake-up call for many. Adler explained: "On the one hand, given the impact of business on the natural world, citizens demand increasingly to hold firms accountable for that impact. And on the other hand, given the likely magnitude of changes in the natural world, investors demand information on the associated financial risk."

The MOR 599 course was designed with all Marshall's graduate students in mind, not only those with professional goals in sustainability. Climate change represents a challenge that Marshall students as future managers will have to confront, whatever their roles, whether as CEOs, or in accounting, operations, marketing, finance, or staff functions.

Students will explore the pressures on business to become more sustainable, the variety of ways businesses are responding to those pressures, and the resulting tensions created in capitalism.
Gathering leading voices from across the school, guest faculty members will each lead course discussions covering topics within their functional areas of business expertise. Subject areas will cover financing green investment, industrial and environmental policy in China, greening products, the transformation of the energy sector, sustainability in operations and supply chains, green marketing, and green entrepreneurship. Weekly guest faculty include:

In addition to faculty, industry guest speakers will add their depth of knowledge and experience to class discussions, providing students a variety of critical perspectives and leading sustainability practices in real-time. "We're not doing it alone," Garrett said. "Marshall is creating a network of global experts in these fields and bringing them not only into research, but into the classroom, and real-world projects."
Expected guests include:
Joe Allanson, Chair, Leventhal Board of Councilors and EVP, Finance ESG at Salesforce, recently semi-retired
Tariq Fancy, former head of sustainable investing at BlackRock
Ken Pucker, former COO of Timberland
Professor Ye Qi from the Energy Institute of the Hong Kong University of Science and Technology
Pat Reddy, former CFO at Spectra Energy
Jason Rondou, director of LADWP's Clean Grid LA Strategy Division
Ricardo Salvador, director of Food and Environment Program for the Union of Concerned Gene
Gene Seroka, executive director of the Port of Los Angeles
Joe Ucuzoglu, global CEO of Deloitte
According to Adler, even with the big public commitments by leading companies and by the Biden administration, we are not yet mobilizing the resources necessary to reach the 2050 net zero goal of the Paris Agreement. And the obstacles are formidable: "We are going to have to put a lot of functioning capital to sleep way before the end of its useful life and to mobilize rapidly an enormous wave of investment in decarbonization and adaptation."
Adler believes business leaders can do more to reduce their environmental footprint even under competitive pressures and fiduciary constraints. And beyond their own operations, they can play a constructive role in public debate and policy.
"Our students are not only future managers," said Adler, "they're future citizens who are going to have to make political choices in their voting and their engagement with civic debates. We want them to be educated in a variety of points of view, the leading-edge practices in business, and the competing ideas they're going to encounter in this contentious terrain." One of the course's goals is to therefore to help students develop their own views and voice.
Garrett and Adler, like many others, believe the urgency of climate action cannot be ignored. Reconciling the bottom line and the greater good opens calls for transformational leadership within the business community to innovate and transform. Sustainability is no longer an aspiration. It's a condition of doing business in the new world that this course will examine.