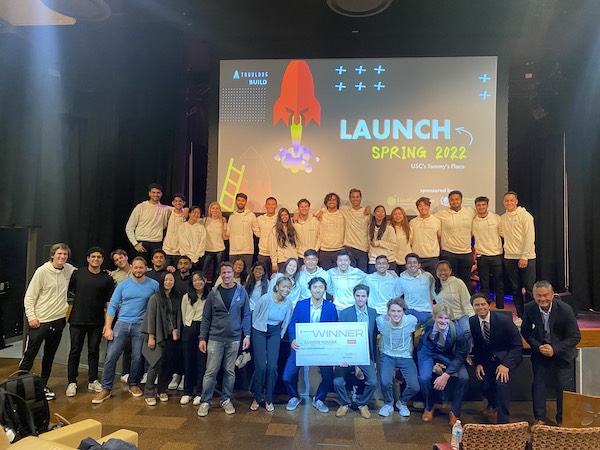 Parthsarthi Suri '23 apologizes for having to take multiple calls during an interview. But it's a busy time. Final projects are coming due. And DEMO Day 2022 is just one week away.
As the president of the student-run organization Troy Labs, he is responsible for overseeing what is arguably one of the most anticipated student-run entrepreneurship events on campus. And after two years online, the sixth annual event has turned into the biggest event yet.
DEMO Day 2022, sponsored by USC Marshall's Lloyd Greif Center for Entrepreneurial Studies,  takes place Wednesday, April 20, in the Tutor Center Ballroom. Registration and more info here.
Competition for a place on the DEMO floor is fierce. This year particularly so.
"The amount of talent at USC is incredible," said Suri. "We tried to identify the USC top 50 startups to feature but there were too many outstanding candidates. So, we ultimately chose 56 that will participate."
Startups featured are a who's who of USC-fostered entrepreneurship, running the gamut from education to fashion to fintech. The lineup includes many apps, including DiscZ, a music discovery tool that started as co-founder Brian Pinckney's final class project and garnered enough word-of-mouth attention that Rolling Stone Magazine wrote about it.  
Six startups will be chosen to pitch judges, who themselves were chosen from a pool of startup founders who'd gone through the Troy Labs startup incubator in previous years, including Timothy Li, CEO of Alchemy, Brian Femminella, co-founder and CEO of SoundMind app, ShiaoFong Yin, managing partner of TEALE Group, and Rudy Rong, founder of Authentik Studios, who will be featuring his company at DEMO. The winner of the pitch competition will get $7,000, and the runner-up will get $2,500.
In a new feature, IGNITE, students who do not have a startup but are interested in potentially working on one can still compete for investor interest, mentorship and $500 in hack-a-thon prize money. IGNITE x TroyLabs is a Slack channel that registered founders, alumni and any student interested in entrepreneurship can join to connect with other like-minded individuals and create a network of innovators. Employers will find a curated pool of talent to hire from.
Big Names
The day-long event starts with a keynote from Tinder Co-founder Sean Rad. Rad attended Marshall before launching an app that changed the way people meet and was the creator of "the swipe" movement. In a nod toward the power of the Trojan network, Suri said he reached out to Rad via Instagram.
"I identified myself as a USC student and president of Troy Labs, and asked if he'd consider speaking at DEMO Day," said Suri. "And he responded!"
Young entrepreneurs will recognize other names: including Rari Capital Founder Jai Bhavnani and Michael Broughton, founder of Altro, (Y-Combinator '20) a Jay-Z invested company that looks to help anyone build credit.
The Lab
Troy Labs is a 7-year-old, student-run, Marshall-based club that offers student startups a comprehensive pipeline to facilitate their growth, including an eight-week incubator called BUILD that offers access to mentorship, workshops, and unique curriculum. Past speakers at BUILD have notably included Deepak Ahuja, CFO at Tesla. DEMO Day is the club's marquee annual event, showcasing the best of USC startups. With only 20 members, it typically admits four to five new students a semester. This fall, however, the pool was too strong to curate, so it admitted 20 new members, doubling the total number of members to 40.  
"This isn't a typical Marshall club where you meet once a week," said Suri, a junior who was born in New Jersey but grew up in Dubai. "These guys are my best friends. We hang out and do things out of school."
His advice for students wanting to join Troy Labs or participate in next year's DEMO Day? "Bring your passion for entrepreneurship, and show that you will do whatever needs to be done to make it happen!"