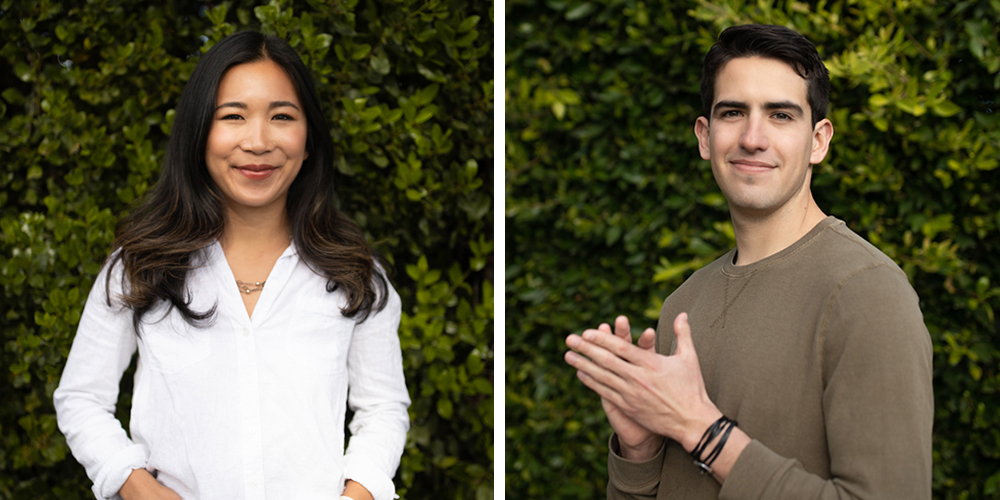 Ask anyone at a startup incubator or any pitch competition administrator: The startup world is awash with music apps—and most never get off the ground. But two Trojans had an idea for a next generation discovery tool, aimed squarely at Gen. Z, and they had the business acumen and the technical chops to build it out. Now the world beyond USC has taken note.
Bobby Pinckney '20 is the co-founder and CEO of Discz Music, which both he and co-founder and CTO Michelle Yin '18 describe as bridging the gap between TikTok and Spotify.
The app lets you swipe right for music you like after hearing a short clip, or swipe left if you're not interested. You can then share with your friends or others you think may enjoy your musical tastes. It then encourages you to build a moment, a mood, together with your community, through the music you love. All without the influence of an algorithm.
"I've always been a big music fan," said Pinckney, 24. "And I wanted a better music discovery tool. It was a simple idea that I was passionate about."
Apparently, his peers felt the same. After an early iteration of the app went viral on TikTok, Discz's popularity grew via social media, until suddenly it was on the top of the charts in the App Store's music section in major markets like the U.K., Germany, and the U.S.
Since being featured in that arbiter of cool from another era—Rolling Stone Magazine—investors are lining up. A few months earlier, Y-Combinator, the Silicon Valley startup incubator, accepted them into its vaunted program even though they were two months late getting their application in. TechCrunch just listed Discz as one of its favorite Demo Day picks.
With 30,000 active users a day and counting, Pinckney and Yin quit their jobs, at PwC and Facebook, respectively, to focus on perfecting their product. "There's a lot to improve on," Yin said. "But what's exciting is that we can find whatever expertise we need through the Trojan Family Network."
It's an excellent outcome for a startup that didn't even make it past the first round of pitching at last year's New Venture Seed Competition.
Final Class Project to Killer App
Pinckney grew up in Houston, Playa Del Carmen, Mexico and Athens, GA., but always knew he wanted to come to USC for college.
"I wanted the weather, and I wanted the business school," he said. The school's reputation for entrepreneurship helped as well. "I've got a huge list of business ideas on my phone," he laughed. "I knew I'd start a company one day; I just didn't know what."
With the help of a scholarship, he was able to attend USC and wasted no time on availing himself of the full experience—classes, networking, game days. Early on he met computer science/business administration major Michelle Yin, who encouraged him to investigate a computer programming minor.
Discz Music began life as a final project for his intro to iOS development class.
He built out the first iteration of Discz on his own. But after early reviews of the concept were overwhelmingly positive, he reached out to his former classmate for her professional expertise.
"I finally had the tools to build the things I dreamt up," he said. "But Michelle builds Facebook-level tools, so I asked her to help me make it better."
Yin, a Palo Alto native, had graduated in 2018 and was a software engineer for Facebook where she worked on apps like WhatsApp and new projects for Facebook's Incubator. She grew up around some of Silicon Valley's most successful entrepreneurs, and, like Pinckney, hoped to build a startup herself one day. While still a student she was a student advisor for entrepreneurship classes such as "building the high-tech startup," taught by Arpi Mardirossian.
"Bobby's enthusiasm was contagious—and as someone passionate about the space as well, I could see there was something special here. It was an easy decision to join him."
Swipe Right
Call it a generational thing. More young people are finding new music through the video app TikTok, said Pinckney, which will play a short snippet of music that millions of others then react to, either by making their own video or by sharing with their friends and network. But that interest doesn't translate into subscription growth for Spotify.
"Spotify is losing market share to TikTok," he said. Market giants like Amazon and others have tried—and failed— to capture this market segment, because they don't understand how this generation wants to discover and share their music.
"We don't like 'likes,'" he said. "And we don't like an algorithm making decisions for us."
Another difference? "Music is more than just listening to what you like. It's about connecting people over shared experiences and feelings in the moment," he said.  Both he and Yin likened it to a mix tape, the old-school effort of curating meaningful music for someone special. When you can convey a mood, a feeling, through music and share it with your community, it creates a viral moment.
"It's the antithesis of a massive library of passive consumption," he said. "And it aligns with our values."