EDIT
2023 Emerging Leaders Program
2023 Emerging Leaders Program
The Arkley Institute welcomed students from Howard University, Prairie View A&M University, the University of Texas at El Paso, the University of the West Indies, and USC to participate in the Emerging Leaders Program, a program focused on recruiting diverse talent into the risk management and insurance industry.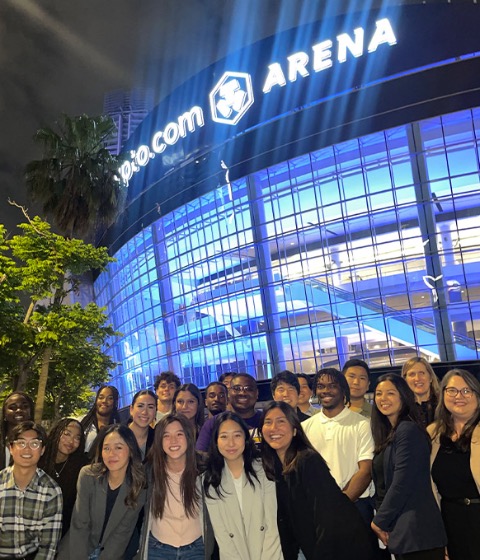 Featured
Kristen Jaconi

Executive Director Peter Arkley Institute for Risk Management

Associate Professor of the Practice of Accounting

Ward Ching

Adjunct Professor of Accounting

Aon Strategic Solutions and Innovation Practice Head

Arkley Institute Advisory Council Member
Stay Informed + Stay Connected
MARSHALL MONTHLY BRINGS YOU ESSENTIAL NEWS AND EVENTS FROM FACULTY, STUDENTS, AND ALUMNI.
In late May, the ARKLEY INSTITUTE welcomed 18 students from Howard University, Prairie View A&M University, the University of Texas at El Paso, the University of the West Indies, and USC to participate in the EMERGING LEADERS PROGRAM, a program focused on recruiting diverse talent into the risk management and insurance industry.
Twelve Advisory Council member firms—Alliant, Amwins, Aon, Chubb, CRC, Disney, FM Global, Gallagher, Lockton, Marsh, Philadelphia Insurance Companies, and RT Specialty—recruited the 18 students for summer internships in Southern California, Dallas, Houston, San Jose, San Francisco, New York, and Kingston, Jamaica. The program launched with five days of academic and professional development on campus to ground the students in the basics of risk management and provide advice to flourish in a risk management career.
Prairie View A&M University student Braylon Shavers shared that, "The ELP holds tremendous value for me as an HBCU student, providing a unique opportunity to be shaped and nurture by industry leaders. Through this program, I have experienced remarkable personal and professional growth. The emphasis on developing leadership skills and fostering growth perfectly aligns with the ethos of HBCUs like Prairie View A&M University."
USC Leventhal Adjunct Professor, Aon Strategic Solutions and Innovation Practice Head, and Advisory Council member WARD CHING launched the academic portion of the program with sessions on risk management basics, risk controls, risk transfer, and a profile of the different participants in the risk management and insurance industry. Arkley Institute Executive Director KRISTEN JACONI discussed risk identification and assessment. USC Marshall Associate Professor of Clinical Business Communication Naomi Warren presented on communications strategy and practical tips.
Professional development sessions included a networking panel with Lockton LFS Operations Manager Chris Alcala, Chubb Commercial Insurance Team Lead Greg Hornsby, USC Marshall Office of Diversity, Equity, and Inclusion Senior Associate Director Tonisha Jester, Amwins SVP Lindsay Moore, Alliant Account Manager Lead Robert Ortega, and Marsh Assistant VP Charlene Pae; and an exploring risk management careers panel with FM Global Staff Adjuster and USC risk management alumna Alexandra Cadario, Disney Risk Management Services VP Barry Dillard, CRC Executive Professional Practice Group Director Jay Horoshak, and Philadelphia Insurance Companies Regional VP Chris Rosecrans.
Arkley Institute Associate Director Dana Willis and USC Viterbi Aerospace and Mechanical Engineering Department Student Affairs Director Alina Coronado developed a mentorship program, providing guidance to the mentors in advance and instructing the students how to get the most of their mentorships.
Willis spoke to the value of the mentorship sessions, "The willingness of seasoned professionals to dedicate their time to ELP students speaks to the strength of the program. The focus of our session is to guide students in capitalizing on their time with their mentor, by offering tools to effectively communicate career goals and strengthened their ability to cultivate professional relationships."

University of Texas at El Paso Prudential Risk Management Academy Director Pamela Prieto led a session on Strengths Finder to explore the strengths of the 18 students and teach the students how best to use those strengths. Advisory Board President and Aon EVP John Barrett delivered his famous business etiquette session to great acclaim by the students. A wonderful addition to this year's program. In addition, Rene Deide and Mary Ann Jackson, executives from Prudential, which sponsors the Risk Management Academy at the University of Texas at El Paso, spoke frankly to the students about their career paths and how best to succeed in the workplace.
Shavers spoke to the value of the professional development and mentorship aspects of the program, "The ELP's commitment to mentorship, networking, and experiential learning has allowed me to connect with seasoned professionals who have provided invaluable guidance and support. Moreover, the program's dedication to diversity and inclusion resonates deeply with me, as it creates an environment where every participant feels valued, supported, and empowered to make a positive impact."
The highlight of the program are its field trips, with visits to the Getty Center, Rooftop Cinema, and the Crypto.com Arena for a Sparks game. Getty Risk Management Assistant Director Linda Somerville hosted and Getty Director of Security and Visitor Services Bob Combs and Linda spoke of the innovative risk controls the Getty has adopted to protect its art collection. Linda then took students on a behind-the-scenes tour of the conservation institute. Philadelphia Insurance Companies sponsored the Farewell Celebration at the Crypto.com Arena where students and representatives from the employers watched the Sparks game. One of the highlights: Seeing the ELP featured on the jumbotron.
The EMERGING LEADERS PROGRAM ended with capstone presentations—board level risk reports—by four teams of students. Judges included USC Audit Services Associate SVP Kiko Harvey, USC Assistant Dean of Diversity, Equity, and Inclusion and Thornton Professor of Music Ron McCurdy, and USC Viterbi Department of Aerospace and Mechanical Engineering Student Affairs Director Ellecia Williams. Kristin Jaconi, who created the ELP, spoke about the capstone, "It was amazing to see the growth in the students over this five-day session as they delivered their presentations with often new-found confidence and poise. We are fortunate to have welcomed such a talented group of students. We are grateful to the employers who took the time to review over 150 applicants, recruit such talented students, and participate in our professional development sessions, mentorship meetings and luncheon, and welcome and farewell dinners."