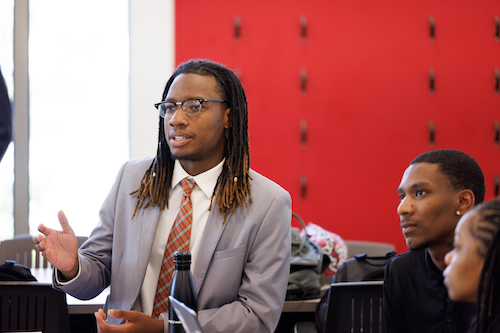 The Emerging Leaders Program (ELP) is a partnership between Marshall's Risk Management program, the insurance industry, and participating colleges, including several historically Black colleges and universities (Howard, North Carolina A&T State, and Prairie View A&M), and the University of Texas at El Paso, in addition to USC.
Nineteen of these undergraduate students convened in a Fertitta Hall classroom at 8 a.m. on June 6th on USC's University Park Campus for their first lecture. As the ELP's first cohort, these students were looking forward to a week packed with lectures, field trips, company visits and alumni mentoring. For some, it was their first time in Los Angeles.
The following week, each student would begin a summer internship in risk management with participating firms including Aon, Chubb and, later in the summer, Disney.
Participating employers are committed to creating a diverse and inclusive workplace culture, and believe recruiting talent through the ELP can contribute to achieving this goal, said organizers.
"We worked with faculty and staff from the four other participating universities and Tonisha Jester in USC Marshall's Office of Diversity, Equity, and Inclusion to design the Emerging Leaders Program to most benefit the students," said Kristen Jaconi, professor of the practice in accounting and academic director for Marshall's Risk Management program.
"The week included opportunities to build out and strengthen their network of professional contacts, academic sessions on key risk management concepts, and several interactive discussions on how to manage a professional career, including an illuminating panel: Do's and Don'ts in the Office," she said.
Ten participating firms made paid internships available to students in the program. They paired students with young professionals, many of them USC alumni, to network with the students, and serve as mentors.
Erin Parker '11 is one of those young professionals. As a VP, deputy commercial insurance manager at Chubb, she says the industry is motivated to bring new professionals into the fold.
"I see 50 volunteers from across the firms, including my own, who are willing to come out and talk to students," she said, noting that every student who minors in risk management is paired with an industry mentor. As part of the Emerging Leaders Program, she took part in a panel of professionals describing the many opportunities in risk management.
At the end of the first day, students mingled with industry professionals at a reception dinner. Ward Ching, chairman and head of Aon's Strategic Solutions and Innovation Practice, who also teaches a risk management course as part of the minor, said he was pleased with the enthusiasm of the students.  
"It's very good that we're bringing students from various universities together for this kind of event at the undergraduate level," said Ching. "It's been hard to create professional cohorts with a shared experiences like this group will have. Thirty years from now, these students will hopefully be professional colleagues, sharing information and insights with each other."
USC Marshall's Risk Management Program
Introducing students to the field of risk management and showing them the multiple opportunities there is the underlying goal of Marshall's Risk Management program, which was launched in 2018 after members of Southern California's risk management community approached USC to help it fill the professional pipeline. 
In the ensuing years, the program has become a model for the kind of high-touch, two-way collaborations between industry and the talent they seek to hire that Marshall values.
The program's success is born out of necessity, however. Nearly half of the insurance industry workforce is expected to retire within the next 15 years, according to industry projections. Those risk managers must be replaced with young professionals who have new skill sets—such as data analytics—not required in the past.
The Emerging Leaders Program, supported by the Risk Management program, is one such way to bring students from diverse backgrounds into the profession.
Steven Parson '24, a USC rising junior who is studying philosophy, politics and law with a minor in business law and environmental studies, had never heard of risk management, but when he was chosen to participate in the ELP he was eager to learn. "I'm very interested in how risk intersects with environmental policy," he said.
He was tapped for the program—as well as a summer internship at Philadelphia Insurance—by Chris Rosecrans '02, a Marshall alumnus and regional vice president for Philadelphia Insurance Companies, one of the firms participating in the ELP.
"With this opportunity, I feel like my experience with the Trojan Family Network has come full circle," said Parson.