EDIT
Master of Business for Veterans Cohort XI Provides Lesson in Leadership to Top Marshall Undergrads
Master of Business for Veterans Cohort XI Provides Lesson in Leadership to Top Marshall Undergrads
First-year students in the Global Leadership Program (GLP) experienced a little basic training — learning how team-thinking and a mission-focused mindset are keys to personal and community development.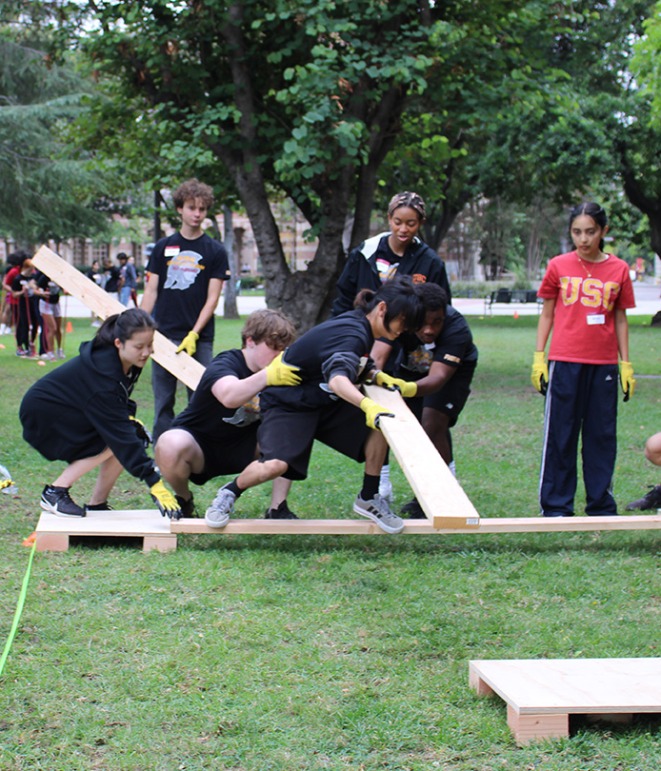 Featured
Julia Gardner Plotts

Academic Director for the Masters of Finance Program

Professor of Clinical Finance and Business Economics
Stay Informed + Stay Connected
MARSHALL MONTHLY BRINGS YOU ESSENTIAL NEWS AND EVENTS FROM FACULTY, STUDENTS, AND ALUMNI.
Successful leaders understand there's no "i" in team.
Working together was the mission when students in the GLOBAL LEADERSHIP PROGRAM (GLP) recently attended a special seminar planned and organized by graduate students in the MASTER OF BUSINESS FOR VETERANS (MBV) program.
GLP is open by invitation only to the most academically talented students in each incoming freshmen class. On the other hand, MBV maximizes the management and leadership experience gained during military service, alongside a thorough understanding of all business disciplines.
Seemingly at opposite ends of an educational career, the first-year and graduate students have been a natural fit for a mentorship experience. In fact, since MBV's inception in 2013, cohorts have organized five annual sessions for the youth's development as future leaders, specifically to grow their team-thinking mindset.
"Coming out of high school, the GLP students were leaders at their school. They tend to think as individuals," explained JULIA PLOTTS, a professor of clinical finance and business economics at Marshall, as well as a faculty member for both GLP and MBV. "What's great about this MBV-led seminar is building their connection to each other outside of the classroom. 'We have to work together to accomplish this task. It's no longer just me, it's about the team.'"
Consistent throughout military service is the sense of duty and the desire to serve — a servant leader who considers the team before self. In many ways, the same is true in the business world.
"In business, you need good leaders, but you also need good teammates," Plotts continued. "You have to allow others to lead and learn how to follow. Everybody has a role in achieving a company's goal."
When Plotts asked for MBV volunteers, Daniel Balaszek felt the call to duty: "If not me, who?"
That selfless service mentality toward the greater good was exactly the type of thinking the MBV session hoped to instill in the GLP participants.

Balaszek, a member of Cohort XI, used his operational knowledge as a retired Master Sergeant in the United States Marine Corps and his educational background as an assistant professor at Palomar College to develop the day's curriculum. He also recruited 18 of his fellow "MBVers" to help.

Using the military training philosophy of leadership development, the half-day program mixed three discussions on military values with three reaction activities. The GLP students were divided into small groups, each of which was matched an MBV member who would guide them from activity to activity.
The MBV leaders hoped the alternating exercises would keep the young students moving in and out of exercises and inject certain friction points to get them off their rhythm.
"We wanted them to see that things are not always going to go the way you want them," Balaszek added. "You can't always be in control of a situation — so the things you can't control, you just have to learn how to adapt and move through your obstacles."
The discussions introduced GLP participants to the key values of the US military, such as honor, character, integrity, respect, and courage. In their group conversations, MBVers reminded students to speak their own truth, to allow everyone to speak, to respect each other and the group, and to assume good intentions. They also heard personal reflections from the veterans about their military experience and overseas deployments.
The three leadership reaction activities required mental and physical toughness to work together and complete the task with camaraderie. The exercises communicated the importance of unity, resourcefulness, and critical thinking.
The small groups were tasked to walk in unison using 4x4 boards, navigate over stepping stones without touching the "water" (AKA the Pardee Lawn), and maneuver the group around an obstacle without entering the "no-go zone." The exercises aimed to push students' collaboration skills, while highlighting a new approach to leadership.
"To be a leader doesn't mean you have to be in charge," Balaszek added. "We need to empower groups to develop the servant leader relationship and hard pivot away from the very centralized understanding of leadership equals authority equals position."
The tasks needed to be completed within a time limit and without mistakes. When students broke the engagement rules, the individual had to step away and pay a "tax," like running in place, high-knees, and even push-ups, before returning to help their group complete the task.
Throughout the activities, GLP students could make the connection how the servant leadership training benefited their own professional development and their future relationships in the workplace.
Since transitioning to civilian life, Balaszek has seen firsthand the strong connection between a military values system and successful business guidance. It's one of the lessons the MBV-led session hoped to inspire.
"When individuals assume leadership positions, sometimes they are not familiar with the tools and communications skills in the team-thinking mindset that are needed to help people better work together and improve communication," Balaszek said.
So, how did the kids do?
"You could see their brains were working the whole time. No one gave up on themselves. They were in it to win it," Balaszek remarked. "For the MBVers, the generational linkage was a great opportunity to share their experiences and to see these young people actually take the situation seriously. It meant a lot to the veterans to show them that their service and sacrifice was worth it all for the next generation."
Perhaps, this unlikely partnership will carry on in the future, as USC's veteran community continues to contribute their leadership skills to the Trojan network.