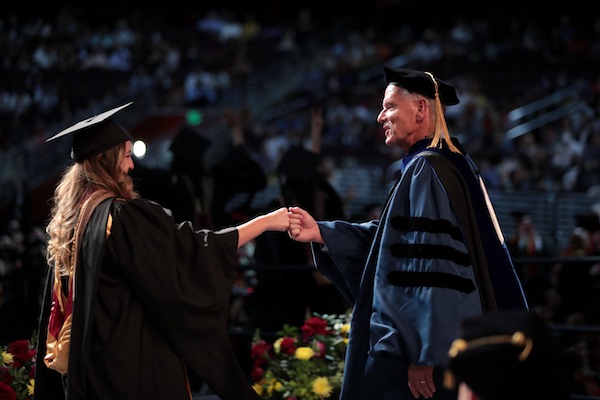 As a quintessential Southern California spring day unfolded, more than 2,500 USC Marshall and Leventhal students heard their names announced and switched their tassels from the right side to the left. Family, friends, faculty and staff were there to celebrate with them.
"In the world of universities, we call your graduation day commencement," said Marshall Dean Geoff Garrett. "You are commencing the rest of your lives."
It was standing room only in the Galen Center for the undergraduate ceremony, with more than 1,000 graduating students—and their family and friends. Dean Geoff Garrett welcomed the crowd, calling out many of Marshall's signature programs, including its undergraduate emphases, the World Bachelor in Business(WBB) and the Business of Cinematic Arts. He then went on to congratulate students for their achievements in a pandemic era.
"People with the talent and the passion to make a difference can do simply incredible things," he said. "You are mission driven, purpose oriented and impact obsessed."
Finally, he said, "You are all leaders. And the world has never needed your leadership more."
Not Sure Where You Belong? Don't Be Afraid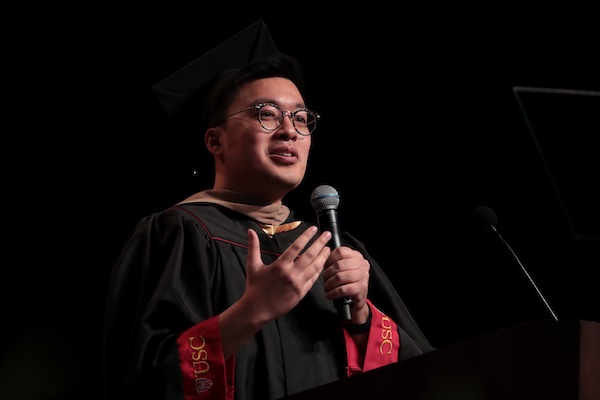 Kevin Aluwi, entrepreneur and co-founder of Gojek, a multi-functional tech platform that is ubiquitous in his native Indonesia, told students he vividly recalled being in their positions, sitting in their very seats when he graduated into a very ugly market in 2009.
He was terrified, he said. He had no idea what he would do with himself or where he belonged in the professional world. But since his father strongly urged him to go into finance, he had decided to become an investment banker.
But first, he had to get a job. With the help of Julia Plotts, professor of clinical finance and business economics, he found one at a small valuation firm, which he was soon able to leverage into a job as an investment banker.
He hated it. "I grinded for a year, trying to ignore the devil on my shoulder whispering, 'This isn't for you,'" he told students. Finally, he quit.
 "I didn't leave that job in a blaze of glory," he said. "I left absolutely terrified that there might not be a place for me and maybe I didn't deserve one, just like the way I felt at graduation two years prior. The fact that things have worked out for me in other areas obviously makes it easier to discuss all of this now. I don't talk about it much in public. In fact, I don't talk about it much at all, but I think it's really important to share here."
 His story held particular power, especially for students still unsure about their futures. After leaving his banking job, Aluwi returned to Jakarta and co-founded Gojek, a multi-service tech platform that combines many different business functionalities and whose drivers are ubiquitous in Indonesia. Investors include Google, Facebook, Tencent and Sequoia Capital, among others. It recently merged with e-commerce firm PT Tokopedia and went public as GoTo in April 2022 with an estimated market cap of $15 billion.
Leventhal: An Alumnus Returns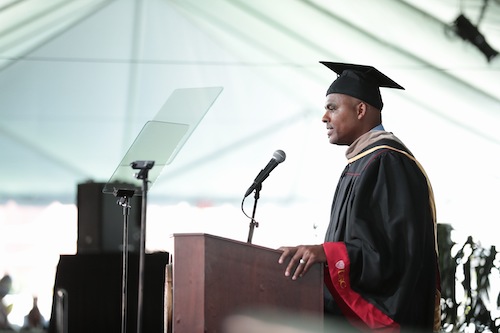 The USC Leventhal School of Accounting held its commencement ceremonies outside on Brittingham Field, thankfully under a tent given the heat.
Dean William H. Holder gave the opening remarks. "Today we graduate the 43rd class since we became a school of accounting," he said. "We're here to celebrate the intelligence, industry and accomplishments of our graduating students, of whom we are so proud."
Diamond Teaching Awards
Associate Professor of Clinical Accounting Lori Smith announced the Diamond Teaching Awards, as chosen by Leventhal graduate-level students:
Leventhal alumnus and inspirational speaker Frank Thomas gave the keynote speech.
"Graduates, I'm telling you from experience, cherish your relationships," he told the crowd, after relating the unexpected loss of his best friend from college. "Friends you've made during your time here at USC, do it today, and do it all. Because the only moment you're guaranteed is the moment you're in. Don't let this moment slip away. Make sure you let the people you know and love know that you're grateful for them.
"Relationships are the key to success," he said. 
Graduate Ceremony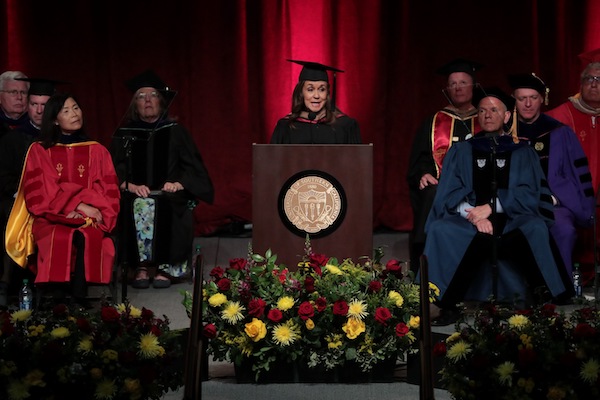 Students from Marshall's graduate programs, including its full-time MBA, MBA-PM, online MBA, and specialty master's programs, including Master of Business for Veterans and Master's of Business Analytics, lined up for their ceremony in Galen Center at 6:30 p.m. The mood was just as celebratory.
Glenda McNeal is president of enterprise strategic partnerships at American Express, where she defines partnership strategy and leads key initiatives and negotiations for the company's largest relationships across many industries. She also sits on Marshall's Board of Councilors.
"This class of 2022 has had to embody the strength and the courage of the Fight On rallying cry every day," she said. "It hasn't been easy, but you made it. Today is the day to celebrate you. Your achievements and sacrifices. Your resilience and potential. All that you overcame to get here, and all that you are about to begin."
Marshall Graduates 11 Scholars and Professionals in PhD "Hooding"
May 13 wasn't the only commencement day for USC Marshall and Leventhal scholars. Eleven PhD students were "hooded" on May 11, in an intimate ceremony with faculty and family in Edison Auditorium.
Undertaking a doctorate in business or accounting is a rigorous and challenging process, taking in many cases at least five years. Graduates go on to jobs in academia or industry.
This year's graduates include:
Ryan Erhard (Accounting) PhD – Financial Economist Fellow at the SEC

Vivek Pandey (Accounting) PhD – Assistant Professor at the University of Rochester, Simon Business School

Bradley Rava (Data Sciences and Operations) PhD – Lecturer in Business Analytics, University of Sydney

Simeng Shao (Data Sciences and Operations) PhD.

Patrick Vossler (Data Sciences and Operations) PhD – Postdoctoral Researcher, Stanford University

Gizem Ceylan (Marketing) PhD – Postdoctoral Researcher, Yale

Ilya Lukibanov (Marketing) PhD – Private Industry

Sajeev Nair (Marketing) PhD – Assistant Professor, University of Kansas

Isamar Troncoso (Marketing) PhD – Assistant Professor of Marketing, Harvard Business School

Maurice Murphy (Management and Organization) PhD – Assistant Professor of Strategy and Entrepreneurship, University of Georgia, Terry College of Business