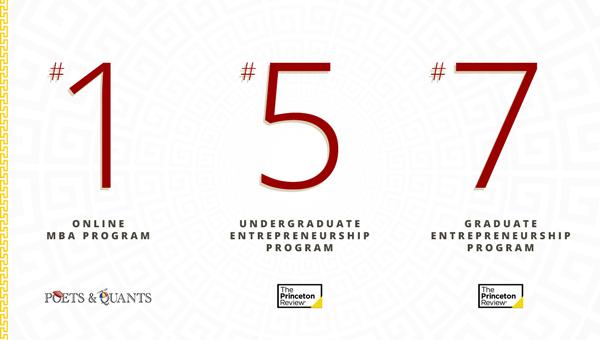 Interest from top applicants, unique programs focused on real-world impact, and a dedication to excellence in a year unlike any other – those factors and more drove Marshall to continued heights across rankings methodologies from major news outlets and business-school watchers.
Flagship programs at USC Marshall — including MBA offerings and entrepreneurship programs — advanced in the rankings during 2021, earning high marks from publications such as US News & World Report, The Princeton Review, Bloomberg Businessweek and Poets & Quants.
Marshall has long been recognized for its entrepreneurship programs. It was one of the first business schools to feature a dedicated series of classes on the topic beginning in the early 1970s.
In its most recent rankings for 2022, The Princeton Review recognized the undergraduate entrepreneurship program at #5 (and #4 in the West, according to a new regional subset). The graduate program, including the Master of Science in Entrepreneurship and Innovation, ranked #7 overall, and #4 in the West.
Marshall also retained its prestigious top-20 rankings from US News across its graduate programs, including:
Full-Time MBA - #16

Part-time MBA - #9

MAcc (MS in accounting) - #7

MS in Global Supply Chain - #1

Undergraduate - #12
Marshall's Full-Time MBA also ranked well in other outlets, including #14 from Bloomberg Businessweek and #11 from the Financial Times.
As online MBA programs become more popular, more schools are vying to be ranked, according to Poets & Quants, the well-read online publication covering business schools. Some 52 schools sent in information for the rankings in 2021, compared with only 47 in 2020 and 35 in 2019.
This year, Marshall's online MBA came in at the top slot for 2022.