EDIT
USC Marshall Launches The Torch Initiative for Women's Philanthropy
USC Marshall Launches The Torch Initiative for Women's Philanthropy
Initiative invites Marshall-affiliated women to close the philanthropic gender gap, participate as major contributors to the school's top priorities, and shape Marshall's future.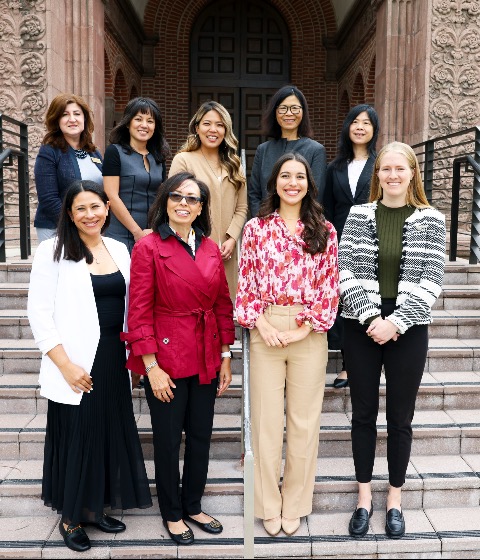 Featured
Geoffrey Garrett

Dean

Robert R. Dockson Dean's Chair in Business Administration

Professor of Management and Organization
Stay Informed + Stay Connected
MARSHALL MONTHLY BRINGS YOU ESSENTIAL NEWS AND EVENTS FROM FACULTY, STUDENTS, AND ALUMNI.
In 2021, USC Marshall made headlines as the first top 20 business school to REACH GENDER PARITY in its undergraduate program. In another step forward, the Faculty Hiring Initiative ENSURED GENDER PARITY in new tenure-track faculty appointments last year and for years to come. Yet, there is still a marked gender gap in philanthropy, which reflects broader U.S. trends. Fewer than 10 percent of the school's major donors and just 35 percent of all donors identify as women.
THE TORCH INITIATIVE FOR WOMEN'S PHILANTHROPY is set to change this by giving a bold, collective voice to the philanthropic priorities of Marshall-affiliated women. The endeavor aims to raise an initial $30 million during a three-year campaign, double the number of women donors, and inspire 100 women to make a leadership gift to the Marshall School. Women who give to the Torch Fund, a new annual fund, or make a major gift will be recognized as part of The Torch Society.
Conceived in consultation with a dedicated alumnae steering committee and nearly 90 women who participated in focus group sessions on women's giving and engagement at Marshall, this call for equity clearly resonates with alumnae and friends. Together, donors have already pledged over $17 million, meeting more than half of the campaign goal at its launch.
"Since day one, USC has supported women — one of the three students in the first graduating class in 1884 was a woman," said philanthropist Cynthia van Eck '86, chair of the Torch Initiative Steering Committee and the USC Marshall Board of Leaders. "The Torch Initiative is an important way for us to celebrate this history. Individually, it is a way for me to give back all that USC gave to me and to open the door for other alumnae to do the same."
Amplifying Women's Influence and Impact at USC

Inspired by trailblazers like JANE HOFFMAN POPOVICH '65, whose vision and generosity transformed Marshall's campus, The Torch Initiative invites women to ignite the kind of change they want to see at the school.

For van Eck, this means preparing students to lead in the rapidly evolving finance world. "Helping Marshall to put students in the best position they can be to get jobs upon graduation, knowing about what is happening at the cutting edge in finance and investments, supporting professors who are teaching that today — this is of the utmost importance to me," said van Eck. To that end, her philanthropy includes hosting Marshall students at VanEck Investments in New York and establishing the VANECK DIGITAL ASSETS INITIATIVE.
Teaching excellence has also emerged as a priority for alumnae inspired by the Torch Initiative, who quickly stepped up with commitments to establish three of the FIRST TEACHING CHAIRS in the Marshall's history — an exciting foreshadowing of the school's future that will be "powered by the Torch Society."

"It's essential for women to have a voice through philanthropy," said JANET HORAN, Marshall's vice dean, finance & administration, and chief financial officer. "Named chairs and programs are investments that support the future of the school. Endowed funds generate steady income in perpetuity, realizing a donor's priorities and empowering faculty and students for years to come."
The Torch Fund enables women who give any amount to determine how the funds are applied toward immediate priorities. "Every dollar given by an annual fund donor makes an impact, giving us the flexibility to meet the school's most pressing needs, including scholarships. Annual funds close the financial gap and enable students who are looking at Marshall to make their goal a reality," she added.

Fostering a Holistic Approach to Philanthropy
High-impact philanthropy is frequently hands-on, integrating financial support with gifts of time, talent, and ties. "Since I was young, I was taught to give back by my parents who always had a meal or a sofa for a friend who came upon hard times. When my family was struggling financially, I still had time to give, so I volunteered to better my schools and communities," said EJ Milken, EMBA '20, who is manager of EGM Investments, LLC, and a USC Marshall Board of Leaders and Torch Initiative Steering Committee member.

"I am the recipient of a holistic approach to philanthropy," Milken continued. "It was other people's mentorship, organizational and professional training, shared knowledge, networking opportunities, scholarship, and general goodwill and charity that helped my family survive in those formative years. I had a front-row seat on how it takes all these elements to make philanthropy work effectively. It has been thrilling, in our initial work of the Torch Initiative, to find like-minded strong men and women who are interested in the same approach."
Van Eck agrees: "We host a student group in New York every year, which is really rewarding for the students and alumni involved. Since my involvement as a donor, USC has appreciated my input and engagement as much as any monetary contribution I may give," she said.
"As we celebrate reaching gender parity in the undergraduate program, and most recently in new tenure-track faculty appointments, there's still much more to do. Our alumni and donor communities should reflect the power of women's leadership just as clearly," said MARSHALL DEAN GEOFFREY GARRETT. "I'm thrilled that the Torch Initiative is inviting more women to take their seats at the table as philanthropists, Marshall board members, advisors, and mentors whose shared vision is essential to the future of Marshall."