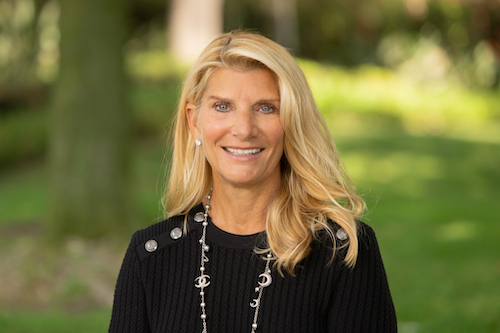 As blockchain technology and its business applications – from digital currencies and non-fungible tokens to smart contracts and decentralized finance – evolve at breathtaking speed and scale vertically, fluency in these digital assets is an emerging priority for all top-tier business schools with high and rising student and alumni interest.
To further this priority, the USC Marshall School of Business today announced a $5 million gift from Van Eck Associates (VanEck) to launch the VanEck Digital Assets Initiative, in a move that positions Marshall at the leading edge of this exciting new field and deepens the school's partnership with the foresighted investment firm.
The Initiative will support innovative new courses for undergraduate and graduate students, applied research and industry partnerships, academia-meets-industry events as well as the administrative and academic leadership needed to provide cutting-edge education and thought leadership in the rapid evolution of business applications of blockchain.
"I greatly appreciate the education I got at Marshall and the leadership skills I was able to develop there. I hope that tech and non-tech students will be able to benefit from this program." said Cynthia van Eck, undergraduate alumna from the Class of 1986 and a member of the Marshall Board of Councilors. "In my philanthropic work, I have taken a hands-on approach, giving both time and money, an approach I plan to model for our students at Marshall, as they  learn about these emerging topics and contribute to projects in the space."
VanEck has a history of personal and financial support for education at Marshall, including gifts to support the student investment fund, annual research trips to New York City, and a Global Scholars program.
"VanEck is proud to support research and experiential learning at USC Marshall," said Jan van Eck, CEO of VanEck and member of the Marshall Board of Councilors. "I have been impressed by USC's innovative spirit and respect contributions from current and prior leaders. Its commitment to academic excellence and free inquiry makes it a leading institution."
"This generous gift from Cynthia and Jan van Eck through VanEck Associates will keep our Marshall students at the forefront of the digital assets economy and other important changes in business – a critical priority as they face a fast-evolving job market," said USC President Carol L. Folt. "The VanEck Digital Assets Initiative at Marshall specifically helps our students develop a strong foundation in areas that are rapidly emerging, such as blockchain and cryptocurrency, and helps them understand the transformative influence of other technological innovations on finance and commerce. We're so grateful for the foresight that drives this gift."
Marshall Dean Geoff Garrett sees the emerging field of digital assets as a major opportunity to strengthen Marshall's leadership in developing business solutions for the real world.
"The staggering pace of change and the tech-turbocharged nature of everything in business is nowhere more evident than in the brave new world of digital assets," said Garrett. "This generous gift gives Marshall the opportunity to help define the frontier of education, research and industry practice on the radical disruption of financial markets by digital currencies, NFTs, smart contracts and decentralized finance that is likely only in its infancy today."
A key component of this landmark gift is the expansion of the successful 2021 "Building the Blockchain Future"event at which Jan van Eck spoke as part of his ongoing commitment to sharing his knowledge with Marshall students that includes hosting the VanEck Scholars in New York City each year. The event will expand in 2022 as the first annual VanEck Business of Blockchain Conference.
The VanEck Digital Assets Initiative will further enable USC Marshall to:
Create cutting edge courses in cryptocurrencies, NFTS, smart contract platforms and other digital assets for both undergraduate and graduate students.


 

Bring together academic experts and industry leaders to explore, analyze and begin to define the theory and practice of digital asset markets and technologies.


 

Attract and educate student entrepreneurs to leverage digital asset opportunities while appreciating the market risks and regulatory controls affecting the sector.
The launch of the VanEck Digital Assets Initiative continues Marshall's momentum for investment in the topics critical to the next 100 years of business and business education. In July 2021, the school announced the naming gift for the Randall R. Kendrick Global Supply Chain Institute, funded to connect the world through global supply chain management with networking, education, and advanced research.