EDIT
The Marketing Mystery of the Barbie Movie
The Marketing Mystery of the Barbie Movie
USC Marshall's brightest minds get to the bottom of Barbie mania.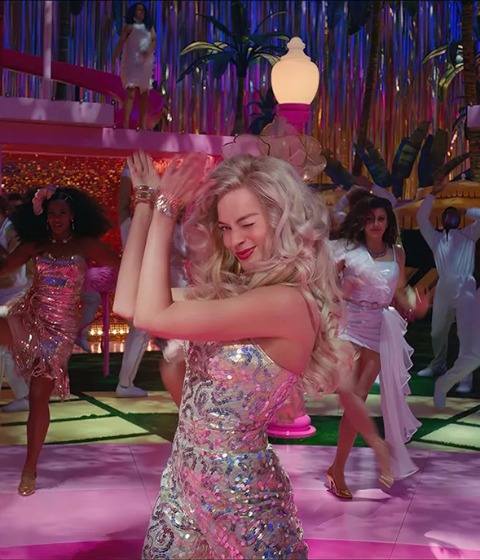 Featured
Laurence Vincent

Associate Professor of the Practice of Marketing

Academic Director, Executive MBA Program
Stay Informed + Stay Connected
MARSHALL MONTHLY BRINGS YOU ESSENTIAL NEWS AND EVENTS FROM FACULTY, STUDENTS, AND ALUMNI.
The biggest movie in America isn't Marvel, Star Wars, or Avatar. It doesn't even star Tom Cruise. It's Warner Bros. Discovery's new film Barbie, directed by Greta Gerwig and starring Margot Robbie and Ryan Gosling. In its opening weekend alone, the movie soared to a $162 million domestic gross, setting the record for the highest U.S. opening for a film directed by a woman.
After a decade of dominance by franchise installments, studio executives,industry insiders, and Marshall faculty are analyzing the root of Barbie's unprecedented success. Though the film follows a recent trend of product-centric releases, including Air (Jordan 1 Nike shoes), Blackberry, and Flamin' Hot (Cheetos), Warner Bros. Discovery's summer blockbuster completely outperformed its predecessors.
So what's Barbie's secret? Professors of Marketing at the USC Marshall School of Business tried to answer that question.
"This movie targets moms. It evokes nostalgia about her own childhood experience with the brand but it also assures her that Barbie is a safe space for her child," said LAURENCE VINCENT, associate professor of marketing at USC Marshall and a former strategist at Barbie's parent company, Mattel.
Vincent believes the film is more than just a resurgence, though. It's the result of decades' worth of rebranding.
"Mattel has worked for years to win moms back," said Vincent. "They changed Barbie's sculpt. They varied the skin tones and hair styles. And they featured Barbie in much more diverse settings and occupations. This movie can be seen as the pinnacle of that effort."
Still, this isn't a typical corporate rebranding. In one scene, a young teen girl (one of Barbie's key consumer bases) calls the titular character (and product) a "fascist." ACCORDING TO GERWIG HERSELF, Mattel originally wanted to cut the entire exchange, but the director's protests convinced the corporate producers to let the scene remain as is.
It's a relatively radical choice, at least according to THERESE WILBUR, associate professor of marketing. And Wilbur knows her stuff. From 1992 to 2005, she worked as the senior marketing director at Mattel, specifically in charge of Barbie. She sees this new film as a major step forward in Mattel's marketing approach.
"Would Disney dare to release a movie like this about Mickey Mouse?" said Wilbur. "The brand has known how to identify with women and girls from all over the world, to show that all women can be Barbie. I noticed that the brand was not taking risks, but now they are. They are refreshing, reinforcing it, in a very accurate way."
The film's not without its detractors, especially – and perhaps surprisingly – on the political right. SOME CONSERVATIVES HAVE DUBBED THE MOVIE "WOKE," and even gone so far as to burn their Barbie dolls in protest. The controversy hasn't done much to affect Barbie's business though. On the contrary, APARNA PANDE, adjunct professor of entrepreneurship, suggested that the film's political frankness may be a financial benefit.
"CEO Ynon Kreiz has successfully assembled a top-notch team of entertainment and marketing experts, driving the larger vision of creating billion-dollar franchises through cultural relevance," said Pande. "The initial stages of their success are evident, as Barbie, after decades of taking a back seat, has resurged into the collective conversation."

Professor Wilbur acknowledged, however, that Barbie didn't dispense with all of Mattel's time-tested brand philosophies. The 60-year-old doll can still be ANYTHING AND ANYONE: an astronaut, a business executive, the President or even a Major League Baseball player.

"In the marketing world, we call this an aspiration positioning," says Wilbur. "This is a key brand strategy because Barbie can consistently evolve with current culture and stay relevant. The first ever theatrical release of a Barbie movie is a marketing milestone. The Hollywood A-listers involved in the movie will connect the brand to authentic glamour and star power."
The results are undeniable. By July 30th, Barbie had grossed over $300 million domestically, making it the fastest female-centric movie to hit that mark (just edging out 2017's Beauty and the Beast).
Executives at Mattel are already looking to capitalize on the movie's success. On July 26th, KREIZ SUGGESTED THE COMPANY COULD BE INTERESTED in producing a sequel or even a television show based on the doll. Professor Pande believes the toy corporation won't stop there.
"Mattel is pursuing a franchise-forward playbook akin to Marvel and Disney, aiming to evolve into an IP powerhouse with a diverse range of products and services that capitalize on their brands, moving beyond dependence on toy sales for valuation," said Pande.
Sure enough, Mattel has several other projects in development, including movies based on Barney, Hot Wheels and American Girl dolls. Whether those films will match Barbie's success remains to be seen. According to Marshall's experts though their fate will likely depend on which lessons Mattel chooses to learn from Gerwig's box office triumph.