EDIT
New Leventhal DEI Committee Brings Fun to Accounting School
New Leventhal DEI Committee Brings Fun to Accounting School
The School of Accounting's first ever DEI committee strives to bring joy to a sensitive subject.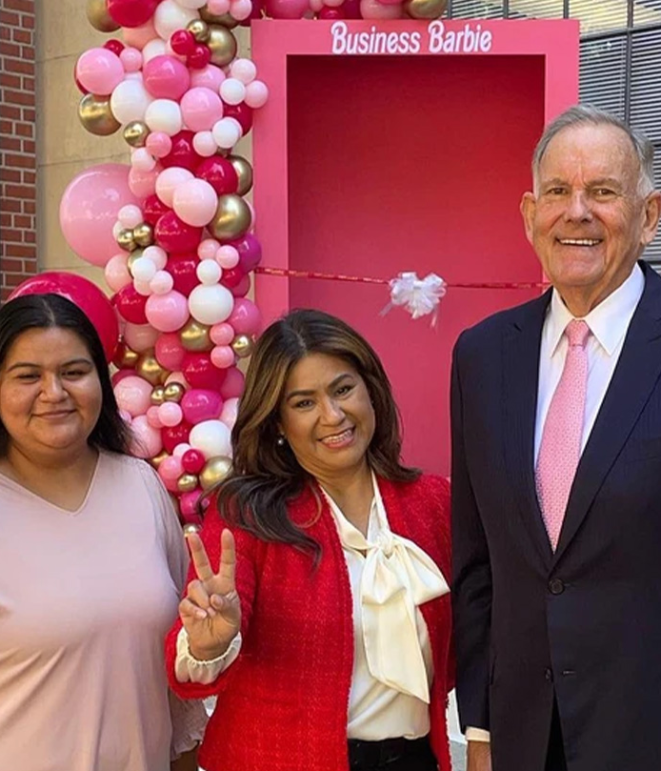 Featured
William Holder

Dean of the Leventhal School of Accounting

Alan Casden Dean's Chair

Professor of Accounting
Stay Informed + Stay Connected
MARSHALL MONTHLY BRINGS YOU ESSENTIAL NEWS AND EVENTS FROM FACULTY, STUDENTS, AND ALUMNI.
There's no denying the importance of Diversity, Equity, and Inclusion (DEI) on campus. Yet, Assistant Professor of Clinical Accounting MIKE PARANAL rarely considered DEI outreach an opportunity to "have fun." The new Leventhal DEI Committee isn't interested in business as usual though. Paranal and his fellow committee members are hoping to build a strong Leventhal community through warmth, engagement, and, yes, even fun.
"We're not afraid to have fun," Paranal said. "DEI is usually approached from a lens of caution and sometimes even weariness from many people because it's a sensitive issue. But DEI can also be very fun and engaging."

After over four years at Leventhal, Paranal recognized that DEI wasn't a large enough priority at the school. In July, he sent out an email to the entire Leventhal community asking for volunteers to the school's first ever DEI committee. Paranal soon chose four people to represent, respectively, faculty, staff, students, and alumni.
That August, the group met for the first time. For hours, they tossed ideas back and forth about how to support DEI at Leventhal (with no shortage of ambition).
"We weren't afraid to think big. [One committee member] was talking about getting Taylor Swift to come," said Bryan Romero, a senior at USC Marshall and the student representative to the committee. "That first meeting broke the ice. It made us all laugh and get comfortable with each other really quickly."
Soon though, the committee developed a more realistic plan going forward. Each month, one of them would oversee an event celebrating an aspect of DEI. The first project in September fell to KIMBERLY CARBAJAL, a '22 Leventhal alumna now working as a project specialist at the school.
Carbajal and the committee noticed the tremendous role that female-led art had played this past summer. They decided to host "The Power of Women in Business," a celebration highlighting the unprecedented success of the Barbie movie and Taylor Swift's record-breaking Eras Tour.
On September 12th, the team set up their very own "Barbie box," with the words "Business Barbie" printed above the box's opening. They also set out pink Leventhal cups, Barbie cookies, and a friendship bracelet station, as well as decorating the school's steps with dozens of pink balloons.
The committee kicked off the event with a ribbon-cutting by MARIA ROMERO-MORALES, the assistant chief inclusion and diversity officer at USC. Throughout the day, dozens of students stopped by to make bracelets, take photos in the Barbie box, and learn more about the success of female-driven content. Even Dean BILL HOLDER enjoyed the festivities, SPORTING HIS VERY OWN PINK TIE.

"Students were all hanging out talking. They were saying, 'We haven't seen this before. This is fun. This is different,'" Cabajal said. "I feel like [fun] leads to community building."
The next month, Bryan Romero led an event centered around LATINX HERITAGE MONTH, in which the committee handed out pastries, goodie bags, and games of lotería. They even set up another station where students could take a photo in front of Hispanic countries' flags. For Romero, these small gestures have huge, much-needed ripples throughout the Leventhal community.

"The impact comes when students are coming out of class and they stop by, getting to know each other. Random students will just take photos together," Romero said. "After COVID, a lot of people became individuals — and that's a great thing — but I feel like we need to be more communal."
Paranal originally started the committee to provide an essential service to the school. When tragedy struck in his life, however, he discovered the group had given him something in return.
"My dad passed away on October 1st," Paranal said. "Every time I do DEI, it makes me emotional because my dad was an educator, and he was very much involved in creating communities for underrepresented minorities. The fact that I'm carrying on this legacy for him makes me really proud and really determined to continue on. It means a lot."
Carbajal and Romero's contributions comforted Paranal more than he could express at the time. When he suffered the loss of his father, the pair took on extra responsibilities, allowing him to grieve without worrying about the success of the events.
Upon returning to USC, Paranal found solace in the DEI committee, a place where he could pay homage to his father.
"Even though I'm deep in my grief, coming back to USC and doing DEI was a great way to slowly get out of grief and into the celebration of his life," Paranal said. "It's exactly what he would want me to be doing — actually doing something that helps. I'm honoring my dad."
Currently, the committee is partnering with the LAPD Cadet Program for a HOLIDAY TOY DRIVE. They have big plans for 2024 as well, though Paranal is reluctant to reveal what they are just yet.
"I can't really divulge what we have in store for the spring because it's going to be a surprise," Paranal said. "What I can guarantee is that we'll continue to create events that will engage all students, faculty, and staff in Leventhal and even outside of Leventhal."
Those interested will have to keep an eye on the Leventhal steps. Nobody knows what the DEI Committee will plan next.