EDIT
USC Marshall, Price Students Win Cornell International Real Estate Case Competition
USC Marshall, Price Students Win Cornell International Real Estate Case Competition
It was the first year Trojans were invited to compete…and they took home first place.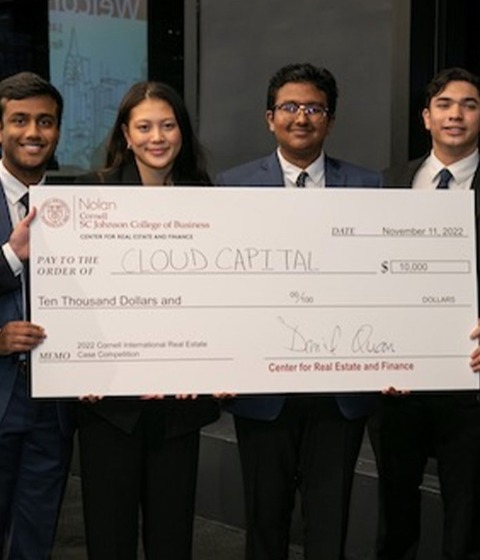 Stay Informed + Stay Connected
MARSHALL MONTHLY BRINGS YOU ESSENTIAL NEWS AND EVENTS FROM FACULTY, STUDENTS, AND ALUMNI.
Moksh Rajput '24 and Nicholas Gaw '23 remained calm as the co-founder and chairman of Blackstone Real Estate Debt Strategies grilled them about their plan to refinance a poorly capitalized and struggling mixed-use condo development in New York via a cash injection.
As co-leaders of USC's case team competing in Cornell's 14th Annual International Real Estate Case Competition, this was their first time in this particular hot seat. Although the case was hypothetical, the stakes were real.
The judges, senior professionals from some of the biggest names in real estate finance, development, and investment, including Blackstone, KKR, Macklowe, Tishman, and the Bank of China, were not there to suffer tyros.
Rajput and his team—made up of students from Marshall, Price, and the USC School of Architecture, had spent five sleepless nights crunching numbers and putting together a presentation. They knew their stuff. "The judges were asking hard, detailed questions," said Rajput. "But we had the answers."
The judges ultimately agreed and awarded the Trojans the top prize. They took home bragging rights and $10,000, besting 17 other university teams from around the world. It was a remarkable outcome for the Trojans' first entry into this well-known case competition hosted by Cornell University's Nolan School of Hotel Administration.
"This success shows the strength of our real estate program and our students," said Marco Giacoletti, assistant professor of finance and business economics, who was the team's faculty adviser. "We are increasingly focusing on experiential learning, case studies, and internships, to prepare our students for the challenges posed by the industry.''
It was also a defining moment for students of real estate finance at the USC Marshall School of Business and the USC Price School of Public Policy, which has a real estate major and a popular university-wide club, the Trojan Real Estate Association (TREA).
"The team included both Marshall and Price students," said Giacoletti. "It represents a great example of collaboration among the two programs and of what we can accomplish together.''
Other team members included Connor Gill '24, Laurence Tarquinio (Price '24), Rohan Sunkureddi (Price '24), and Wen-Hsin Kuo (Price '24). Each team member has intern-level professional experience at various firms, but each also possessed a passion for real estate finance that set them apart from other teams.
The Cornell International Real Estate Case Competition attracts students from universities around the world, including KTH Royal Institute of Technology in Stockholm, Cornell, UBC Sauder, and Georgetown.
Gaw studies architecture at USC but is completing a minor in real estate finance at the Marshall School.
"I was always interested in the design aspect," he said. "But after taking courses at Marshall, I was really drawn to the finance element of real estate, the different ways of structuring deals, all the hidden players. I just kind of transitioned from an interest in the design aspect to the financing of it."
Gaw recently interned at Eastdil Secured and will be returning full-time after graduation in its Los Angeles Office.
Rajput, a Marshall student with an emphasis in real estate finance, recently interned in high-yield credit at LoanCore Capital and will join Redcar Properties Ltd as an off-cycle analyst.
"Real estate is tangible, unlike other finance," he said. "You can really see the projects you're working on. You're making good returns for your investors and making a difference in your community. It's a win-win."