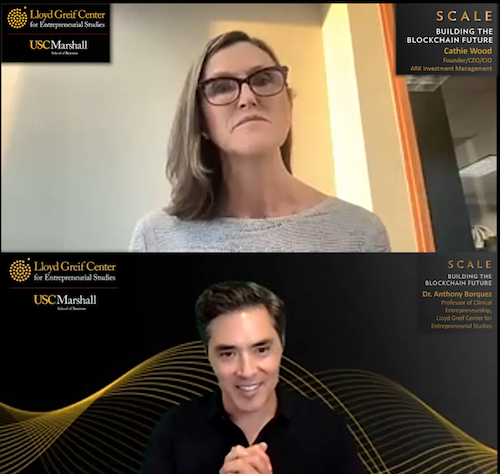 Dr. Anthony Borquez has been running conferences and workshops on cryptocurrencies and blockchain technology for six years now, he says. But in 2021 the conference went big.
At the Nov. 3, 2021 SCALE conference, titled "Building the Blockchain Future," and held virtually, Borquez brought in and interviewed a literal who's-who in that space.
Cathie Wood from Ark Investments. Anatoly Yakovenko of Solana. Richard Rosenblatt of Autograph. Tom Brady (yes that Tom Brady) made an appearance.
"It was one of the biggest blockchain events in Southern California," said Borquez, who is a faculty member at the Lloyd Greif Center for Entrepreneurial Studies. "Having one of these speakers would make a solid event. We had eight."
Other speakers included Jan van Eck of VanEck Investments, Akash Nigam of Genies, Richard Rosenblatt and Dillon Rosenblatt of Autograph, Nick Rose of Ethernity Labs and Jeff Zirlin of Axie Infinity.
Borquez intends to help position USC as a thought leader in blockchain, cryptocurrency and financial disruption.
Blockchain technology is, at its simplest, a public ledger that acts as a decentralized system to record and document transactions involving digital currencies such as cryptocurrencies or non-fungible tokens (NFTs).
Student interest in these areas is huge, says Borquez, who teaches two undergraduate and one graduate course exploring these topics.
"This year a record 20 percent of my class had a blockchain element written into their business plans," he said.
He compares the interest in blockchain technology to 1994, when Netscape released the first internet "web browser."
"Everybody knew the World Wide Web was going to change things, but nobody had any idea of the scale of that change," he said. "Nobody imagined that 30 years later we'd be holding smart devices in our hand and ordering food, livestreaming events, or summoning cars on demand."
"We know blockchain is going to be big, but we have no idea where it will lead us. That generates a lot of interest and a lot of entrepreneurship."
Autograph, for example, is a Los Angeles-based NFT platform co-founded by Richard Rosenblatt, a serial entrepreneur who profited greatly from his involvements in early ecommerce websites and nascent social media, including Myspace.
"Autograph is a good example of a blockchain platform utilizing NFTs based on iconic athletes and artists," said Borquez. NFL star Tom Brady serves as the startup's chairman (and made his surprise appearance to talk about NFT's).
Watch the interviews here.