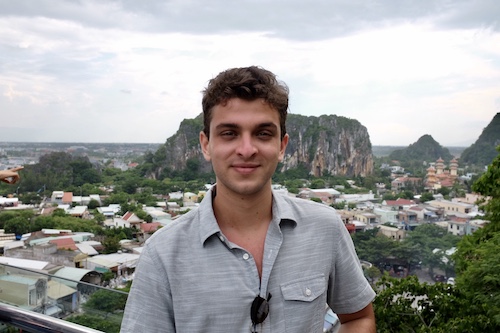 "At the heart of every WBBer, there is a spirit for adventure."
That is how recent World Bachelor in Business (WBB) alumnus, Grant Calderone, described the fellow students and world travelers in the program during an interview with the USC Hong Kong International Office.
WBB is a first-of-its-kind, joint-degree program between the USC Marshall School of Business, Hong Kong University of Science and Technology (HKUST) and Bocconi University. As a cohort, students travel to Los Angeles, Hong Kong and Milan to spend each year at a different university, receiving diplomas from all three schools.
Graduates of the program are known for their bold sense of ambition and resilience, traits that not only land them coveted job offers, but also cement their futures in business around the globe. That includes Calderone, who is now a foreign exchange (FX) sales associate at Bank of America Merrill Lynch in Hong Kong.
Born and raised in Orange County, California, Calderone always had a passion for meeting new people, trying new things and tasting new foods, all of which are never in short supply throughout the WBB program.  What Calderone loved most was the opportunity to start anew every year, blending into the local communities everywhere he went.
"I actually lived on a different continent every year for the last six years because of WBB, and my cultural perspective has grown exponentially. My greatest strength now is my cultural awareness because I was able to experience all of these things firsthand," he said.
Calderone further expressed his appreciation for the practicality of WBB's courses.
"Everything is so hands-on. We often learn from real business practitioners who come in to teach, and we study real business cases with them. I'm so glad I didn't have to spend four years only sitting in a lecture hall," he said.
From Student to Professional in Hong Kong
When asked what drove him to pursue a position in Hong Kong, Calderone recalled some of his favorite WBB memories: taking a break from his busy school schedule to catch a boxing match and exploring pirate caves on a nearby island.
Unsurprisingly, the energy of Hong Kong also molded nicely into Calderone's chosen career path at Bank of America Merrill Lynch.
"To me, Asia's currency market is so much more interesting and dynamic than the other markets, and at the same time there is such potential for growth," he explained.
Who Applies?
For students considering joining the WBB, Calderone advised that it all comes down to making sure one's mindset aligns with the program.
Not having the traditional, four-year college experience on a campus that feels like home might not be for everyone, but if you have a passion for international culture and chasing new opportunities, it could be a great fit, said Calderone
"There's never a dull moment here in WBB," Calderone said. "If this sounds like something you love, then there's no need to overthink about applying."
To learn more about Calderon, check out his LinkedIn.
About the Author:
Allison Ou is a digital content intern for the USC Hong Kong International Office and a senior in the World Bachelor in Business program with a specialization in applied analytics. Originally from Guangzhou, China, Ou grew up as an expat child in many different cities around the world. WBB has helped her continue her journey in becoming a true global citizen.