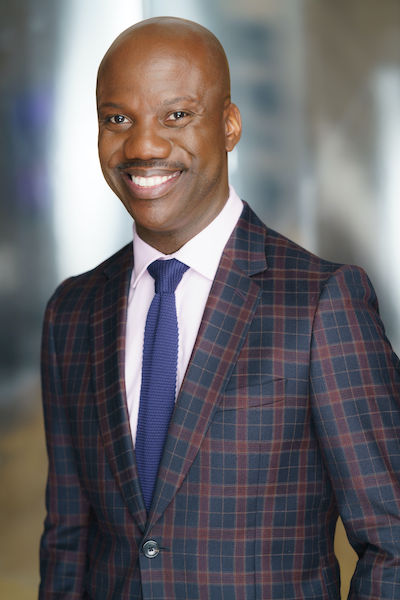 Shaun Harper has held one of USC's most prestigious academic appointments since he came to the University in 2017 as Provost Professor in the USC Marshall School of Business and the USC Rossier School of Education. Now he adds another distinction. Harper has been named a University Professor. Both of these honors recognize outstanding interdisciplinary scholarship that brings distinction to the University.
"I am genuinely grateful that our president and provost chose to honor me in such an extraordinary way," says Harper, who teaches in the Management and Organization department at Marshall. "I am honestly amazed by the numerous ways that USC leaders and other members of the Trojan Family have appreciated my work and me over these past five years. I love this University, and am genuinely grateful for all the ways it loves me back."
Harper is in rare company within the University and the business school. There are currently 26 University Professors and 14 Provost Professors. Harper is one of only three USC faculty members who hold both distinctions; the other two are in the Keck School of Medicine.
And while Jacob Soll, University Professor and professor of Philosophy, History and Accounting, currently represents USC Leventhal, the school of accounting within USC Marshall, only one other Marshall professor has earned the distinction of University Professor.
"The legendary Warren Bennis was the first USC Marshall faculty member to be named a University Professor," Harper said. "I am honored to be our school's second."
One of the nation's most highly respected racial equity experts, Harper is also the Clifford and Betty Allen Chair in Urban Leadership and founder and executive director of the USC Race and Equity Center.
Harper is a prolific scholar whose research focuses primarily on race, gender and other dimensions of equity in organizational contexts such as K-12 schools, colleges and universities, and corporations. He has published 12 books and more than 100 other academic publications.
While his research has been cited in more than 18,000 published studies across various academic fields and disciplines, it has also been covered by The New York Times, The Wall Street Journal, Forbes, Money, The Washington Post, The Atlantic, CNN, ESPN and hundreds of other media outlets. Over the past decade, he has been awarded over $18 million in grants for his research and DEI initiatives.
More than 400 corporations, firms, agencies and educational institutions, including Zoom, T-Mobile, Google and Nike, have sought Harper's expertise on DEI strategy. He also has testified twice to the United States House of Representatives, spoken at numerous White House convenings, and served on various national and state policy committees.
Repeatedly recognized in Education Week as one of the 10 most influential scholars in the field of education, Harper is the immediate past president of the American Educational Research Association. He was inducted into the National Academy of Education in 2021 and served as the Association for the Study of Higher Education president in 2016-17.
The achievements of all three new University Professors and two Distinguished Professors will be celebrated at the annual Academic Honors Convocation in April.