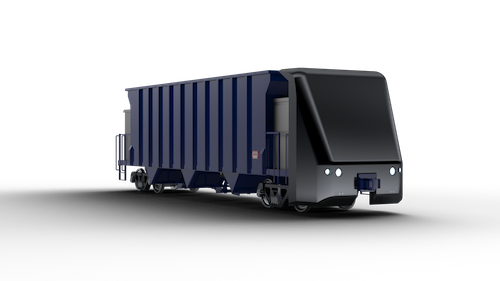 As a kid in Fostoria, a rail town in Northwest Ohio, Alex Peiffer MBA '20 never could have guessed he'd find himself on the cutting edge of railway technology and logistics decades later.
But today he is the co-founder and COO of a startup that is developing an autonomous electric rail car.
While he was an MBA student at USC Marshall, Peiffer and his co-founders, Tim Luchini and Corey Vasel, formerly of Boeing, came up with the idea of Intramotev—which launched in 2020. At a time when supply chain snarls are top news and zero emissions an environmental priority, Intramotev is on track to revolutionize the nation's vast railway system.
"We have some pilot opportunities identified, and we're excited about getting a product out there," Peiffer said.
With a letter of intent from a customer ready to purchase a $30-million fleet of the sleek and futuristic vehicles, St. Louis-based Intramotev is hard at work on a prototype they are calling the TugVolt.
"We're continuing to build out our product and technology so that we can convert that interest and intent to purchase the vehicles into purchase orders," Peiffer said. "The goal of the current development cycle is to get the technology built and validated in real-world pilots. And then from there, use that validation and demonstration to capture firm sales."
The Seeds of a Startup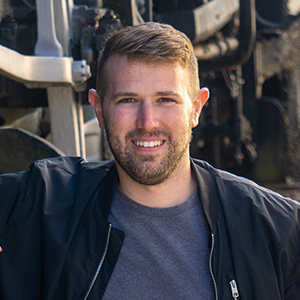 An Air Force reservist who was president of the Marshall Military Veterans Association, Peiffer said he has always had an interest in transportation. The idea for Intramotev came out of Peiffer's discussions about autonomy and electrification in the rail industry with Marshall classmates.
Peiffer took some of those ideas to Luchini, a lifelong friend who grew up with him in Fostoria. Luchini had a Ph.D. in mechanical engineering and was working on flying cars and package-delivery drones at Boeing.
"Tim said, 'Why wouldn't we put those technologies into rail cars themselves so that the freight can go point to point, operate independently and deliver itself where it needs to go, as opposed to waiting for it to be assembled into this really long train?'"
Their conversations quickly gathered steam and Luchini brought his colleague Vasel on board. The entrepreneurs successfully raised a pre-seed round.
Marshall's entrepreneurship classes were critical in launching Intramotev, Peiffer said. "My MBA classes, including Investing in New Ventures, were really helpful from the standpoint of not only building out the concept and understanding how to build a business and how to validate a startup idea, but also the process of going and trying to get funding for it, understanding what investors are looking for when they're trying to validate a startup."
The New Venture Seed Competition, USC's largest pitch competition hosted by Marshall's Lloyd Greif Center for Entrepreneurial Studies, was also instructive. Peiffer's team made it to the semifinals. "Even when you're not taking classes on entrepreneurship, Marshall offers ways that you can really flex that muscle, and that is definitely helpful."
Marshall's part in the genesis of Intramotev didn't end there. An introduction through one of Peiffer's MBA classmates resulted in one of the startup's anchor investors. "With the Marshall network, it's rare that I find someone that I'm not connected to somehow through USC, especially with venture investors having such a strong West Coast presence," said Peiffer, who is also a co-founder and investor with Silicon Beach Investment Group.
Striking Out on His Own
After graduating with his MBA, Peiffer spent a year with Nestle as an associate brand manager, while he and his co-founders secured the funding to pursue Intramotev full time.
While Peiffer didn't go into the MBA program thinking he'd strike out on his own, he is enjoying the "roller coaster" ride. "There's definitely a scary aspect of entrepreneurship as far as what that means for stability and consistency. There are many ups and downs, but I love that. I love that we're doing it for ourselves, we're making it happen.
While Peiffer, Luchini and Vasel's experiences came together so seamlessly in Intramotev, perhaps growing up in a railroad town also helped Peiffer and Luchini imagine what the rail industry could be. "We had neighboring towns that were positioned on interstate highways that grew and continued to grow, whereas my hometown had some struggles," Peiffer said. "I think that is a rough representation of the potential or the unrealized potential of the railroads and rail industry.
"Now, some of these towns that are positioned on rail could be better positioned in the supply chain and logistics situations, more so than those that rely on trucking and the highway system."