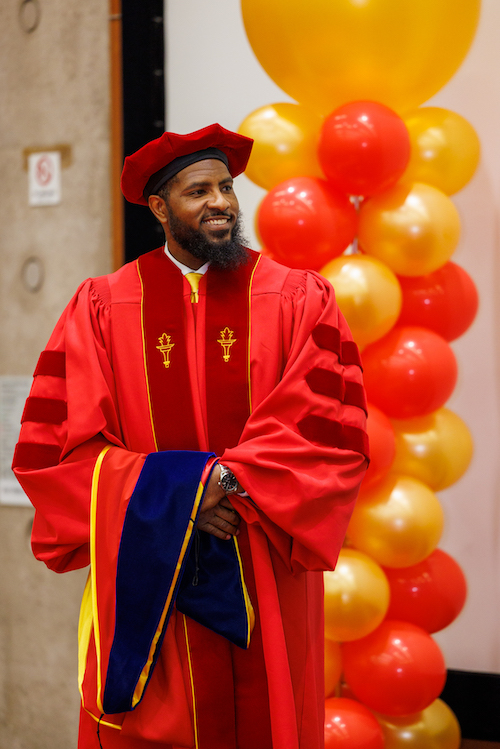 Maurice J. Murphy first realized he wanted to become a scholar when he was an undergraduate, studying African American Studies at Columbia University under the tutelage of the late Dr. Manning Marable, the foremost scholar on Malcolm X. Marable, a man Dr. Murphy considered his mentor and initial scholarly inspiration, died in 2011.
"I wish he were alive to see what I've been able to accomplish," said Murphy, who successfully defended his dissertation and officially became "Dr." Murphy at the Marshall PhD Hooding Ceremony on May 11.
Dr. Marable would have been even more proud that Dr. Murphy is starting his academic career as the first Black strategy and entrepreneurship professor at the University of Georgia's Terry College of Business.  
Dr. Murphy's interest, at the intersection of business and politics, high-growth tech startups and corporate activism, began early in his academic career and grew as he spent years teaching management in Riyadh, in the Kingdom of Saudi Arabia, and working for the U.S. Chamber of Commerce outpost there. When he arrived at Marshall in 2017, he stood out as a scholar with promise. An early sole-authored paper won the 2018 International Management Division of the Academy of Management's Douglas Nigh Best Paper Award.
"To be welcomed back as a grandson of the South, from whence my ancestors came, as a tenure-track professor, strikes me at a deeper level and gives me greater purpose in my return."— Maurice Murphy, Assistant Professor of Strategy and Entrepreneurship, University of Georgia's Terry College of Business 
His research has since evolved into a sagacious outlook into our era. In his current research, Murphy analyzes how high-growth entrepreneurial ventures and larger firms behave as social movement actors, or how these companies parlay their stakeholders into exerting their particular political will. His dissertation specifically investigates how tech startups with high valuations of $1 billion or more—so called "unicorns"—mobilize their customers and/or platform users for political lobbying. His dissertation is titled "User Lobbying Amongst High-Growth Technology Startups: The Next Evolution of Constituent Building."
The findings from Murphy's novel dataset—which is comprised of print media coverage of user lobbying campaigns—"indicate that approximately 40 unicorns, out of approximately 300 in the sample, have utilized user lobbying at least once since their inception and that disruptive, sharing economy and platform-based ventures are more likely to employ this corporate political tactic than their counterparts not possessing these characteristics."
Returning Home
Beyond an impressive first academic appointment, the move to Georgia is significant for personal reasons.
Dr. Murphy's maternal grandfather was born in Georgia in the 1930s and moved to Washington, D.C. with his older sister, in search of economic opportunity. His mother grew up in D.C. and later attended Florida A&M University, a historically Black college, where she met Murphy's father, a native of Tallahassee, Fla. Both would go on to professional careers.
But for his grandfather, growing up in Georgia during the era of Jim Crow, even applying to attend the University of Georgia was unthinkable for a young Black man of his time.
"To be welcomed back as a grandson of the South, and to be recruited back as a great-grandson of the Great Peach State from whence my ancestors came, as a tenure-track professor, strikes me at a deeper level and gives me greater purpose in my return," said Murphy.
Dr. Murphy was born in New York City, where his father attended Columbia University for his Master's in Library Science. Degree in hand, his father and the family relocated to Seattle, where his father worked as a librarian for the University of Washington and his mother as an occupational health nurse for the U.S. Postal Service. Books, scholarship and professionalism run in his blood.
When it came time for college, Murphy, with top grades and athletic talent, was recruited academically and athletically to play Division I basketball at both USC and Columbia. But he ultimately decided to accept Columbia's offer and the chance to return to the university his father attended and where he himself had spent the first five years of his life. He always loved USC, however. It just had to wait a few more years to get him.
He, his wife and their children will be relocating to Georgia shortly after his graduation ceremony.
Dr. Murphy is aware of his position. "I have an obligation to give back," he said. As a Black scholar, he's made a point of keeping active in groups working to fill the pipeline of academia with young scholars of color, including the Ph.D. Project.
And just as he was inspired by Marable, Dr. Murphy is quick to thank his professors and advisors in the Department of Management and Organization. "I sincerely thank my advisors Peer Fiss and Nan Jia, and my former advisor Paul Adler, who have supported me from the very beginning and who continue to serve as my scholarly inspirations," he said.
"I could not have accomplished this without their guidance and help, as well as that of my entire department. It takes a village to raise a professor."