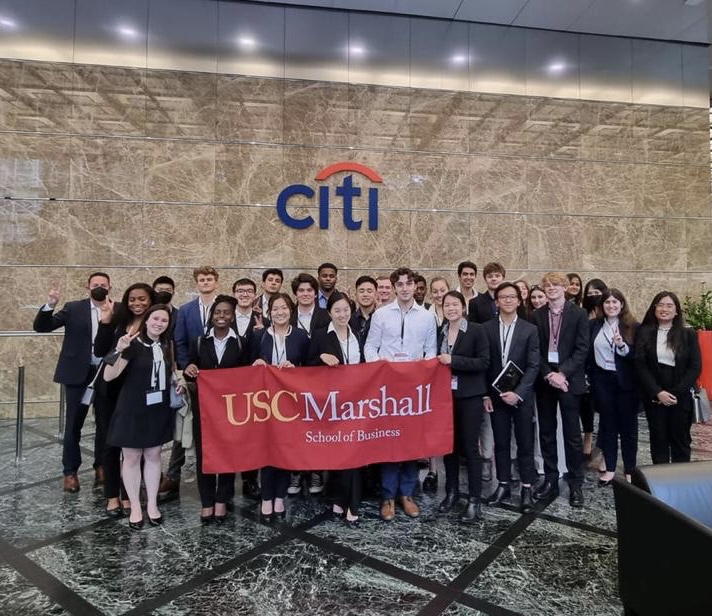 USC Marshall has earned its reputation as a school focused on international business. With more than 10 international travel programs, Marshall offers every student at all levels (undergraduates, MBAs, and master's degree) the opportunity for a hands-on international business experience.
COVID lockdowns put a temporary hold on these programs of course. However, now that large portions of the world are reopened, Marshall was able to reschedule some international trips, and it made sure to include those students who didn't get to go abroad in their freshman years due to COVID.
Students in this group could choose between Rome, Madrid, and London.
The group traveling to London for an eight-day learning experience May 13-21 included 27 students, Associate Professor of Clinical Finance and Business Economics Scott Abrams, and staff member Sowon Kang.
But along with a packed schedule of company visits and cultural events, this group of students got an extra bonus—a meeting with Marshall Dean Geoff Garrett, who was also in London meeting alumni and parents.
Meeting the Dean in London
Students landed in Heathrow Saturday, May 14, and, as if to set the proper tone, immediately got to watch a football match (soccer) between West Ham United vs. Manchester City. (It was a tie, but Manchester ultimately won the series).
"The idea that freshman have no international opportunities is a myth that Marshall easily disproves. There are multiple classes that give students the opportunity to have hands-on international working experience, and there are variety of summer internships and trips abroad available."—Isabella Maldia WBB '25
From then on it was down to business, paying company visits to Citigroup and PwC, fintech startup Primary Bid, and ABN AMRO, a Dutch bank based in Amsterdam. They also had time for plenty of culture, including a visit to Cambridge University and the experience of "punting" on a flat boat along the river—a favorite pastime of Cambridge students. They met restaurant entrepreneurs the Gladwin Brothers, who explained the UK's "Farm-to-Fork" movement. On their final day they took the Beefeater Distillery Tour, where they learned how gin is made, followed by a final company visit to Canary Wharf, where students met and spoke with the CEO.
Dean Garrett was in London the same week meeting alumni and made time to meet the students personally.
"I asked him for his thoughts on Brexit, and he responded with a very thorough explanation, displaying his obvious passion about it," said Isabella Maldia, a rising sophomore in the World Bachelor in Business (WBB) program. "It was a great opportunity to be in conversation with him on some of these topics."
Back in the World
Max Fujii, a second semester junior studying who is currently doing a summer internship at Spire Energy in his hometown of St. Louis, said the trip was the first opportunity for him to go abroad with Marshall, as his original LiNC trip got canceled due to pandemic lockdowns.  
"I was set to go to Sydney, Australia with Professor of Clinical Finance and Business Economics Julia Plotts, but that got canceled," he said. "When I saw this opportunity for students, I was really happy and applied right away." He said he chose London because it's the finance center of Europe, and because there was no language barrier. The company visits with PwC and Citi were particularly interesting to him because it illustrated differences in the way these firms do business in the States and in the UK. "Everyone we spoke to was incredibly knowledgeable and friendly," he said.
Maldia '25, who has traveled extensively prior to coming to Marshall, said that the international opportunities were among the largest reasons she chose to attend USC Marshall.
"The idea that freshman have no international opportunities is a myth that Marshall easily disproves," she said. "There are multiple classes that give students the opportunity to have hands-on international working experience, and there are variety of summer internships and trips abroad available. Taking GSI (Global Social Impact), and subsequently getting to participate in ExCel, was one if the best, and easiest, decisions I have made at USC so far."