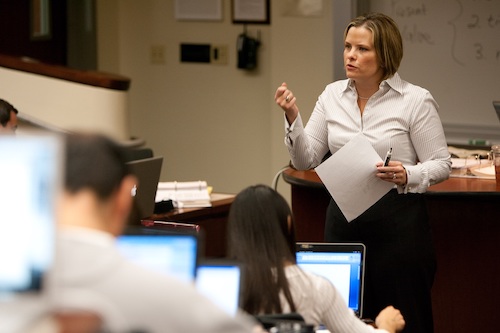 The USC Marshall School of Business will grow its full-time faculty to at least 250 by 2025, with a strong focus on increasing gender parity and diversity, school leaders announced.
"Faculty are at the core of everything Marshall does," said Marshall Dean Geoff Garrett, Robert R. Dockson Dean's Chair in Business Administration and professor of management and organization. "This growth offers us the compelling opportunity both to expand the faculty and to enhance our school's excellence and our ever-expanding reach and impact."
The Marshall School has grown considerably in the past decade, with new programming including specialty master degrees, online programs, and areas of increased student interest including business analytics, blockchain and fintech.
Assuming typical faculty turnover, projected growth amounts to appointing at least 60 new tenured, tenure-track, and clinical faculty over the next four years, according to school leadership.
"The Marshall School is committed to attracting top-notch faculty in both junior and senior ranks to carry out cutting-edge research and disseminate knowledge through effective teaching," said Sha Yang, vice dean for faculty and academic affairs and the Ernest Hahn Professor of Marketing. "At the same time, we are committed to creating a fair, positive, and nurturing environment to help our faculty build successful careers at Marshall."
A Strong Reputation
A business school's reputation is tied in part to the strength of its faculty, and Marshall (including the Leventhal School of Accounting) already has a strong reputation in conducting research that is both rigorous and relevant. Marshall faculty is well-represented on the leadership boards of the most prominent academic journals, while also publishing in those journals as well. Others have established themselves as sought-after thought leaders by the media, on relevant topics such as the global supply chain, financial markets and the role of DEI in corporate America.
The faculty hiring initiative will increase the number of endowed chairs supporting faculty research and teaching excellence at the early, mid- and senior career levels. It will build on the robust number of promising young faculty and prominent senior scholars hired in the 2020-21 school year.
School-wide incremental appointments will enhance faculty excellence in business applications of advanced technologies like artificial intelligence and blockchain, as well as on new leadership styles that promote the new era of stakeholder-oriented business.
A priority of this key hiring initiative is increasing gender parity, to both mirror and underpin Marshall's achievements in reaching gender parity in both its full-time MBA program and undergraduate class.
Marshall will also enhance the diversity of its faculty, with regard to scholars who are members of groups that are underrepresented in higher education. Research has repeatedly shown that building organizational diversity—whether in the boardroom or in the classroom—benefits the organization as a whole and improves outcomes across the board.
"Diversified faculty can bring a broad range of backgrounds and ideas to the classroom and research collaboration, improving the overall quality of the school," said Yang.