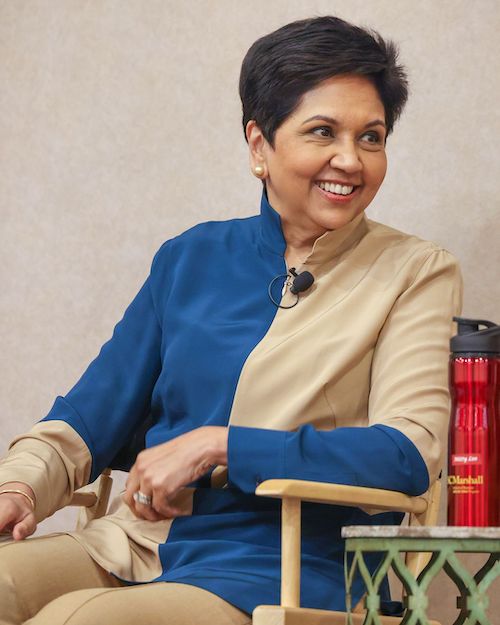 Indra Nooyi, former chairman and CEO of PepsiCo and one of the most admired global business leaders spoke to a full room of international MBA students and others Monday, March 7, as part of USC Marshall IBEAR's Global Leadership Forum 2022.
Nooyi served as CEO of PepsiCo from 2006-2018, remaining chairman of the board until 2019. While running PepsiCo she implemented the concept of "Performance with a Purpose," a strategic redirection of the giant food and beverage company, introducing for the first time the idea that a company can and should be more than just profit driven. And while she changed company culture, during her tenure net revenue grew by 80 percent.
Marshall Dean Geoff Garrett made note of this in his introduction. "Soon after Indra became CEO of Pepsi, she went long on Performance with a Purpose," he said. "Using the word 'purpose' around private sector enterprise was pretty unusual back then. We should acknowledge the true vanguard role that Pepsi and Indra played in expanding our understanding of the purposes of companies."
He also acknowledged that Nooyi, like many in the audience and he himself, came to the United States for higher education. IBEAR (International Business Education and Research) is Marshall's one-year international MBA program. This year's class, the 44th cohort features 55 mid-career professionals from 16 countries.
"None of us forgets where we came from, and that certainly true for Indra, who continues to do incredible work all around the world, including in her native India," said Dean Garrett. He thanked IBEAR MBA student leaders for making the event happen. "Thank you for your vision to get us to this very special moment," he said.
The IBEAR Global Leadership Forum came to fruition thanks to the efforts of student leaders, who wrote a letter to Nooyi asking her to speak to the class.
"You wrote me a letter," Nooyi said, "and I've had many, many letters from many organizations and universities from around the world, but no letter was as loving, affectionate, and welcoming as the letter you wrote. Thank you so much."
Three of those student leaders shared the stage with Nooyi and Dean Garrett: Mathias Alt, Ayesha Ghoshal, and Mi-Chieh Lee.
While some 230 members of the audience watched, another group watched remotely—almost 330 more participants, according to event coordinators.
Lessons from a Leader
Associate Professor of Management and Organization Arvind Bhambri opened the conversation. He and Nooyi both attended India's prestigious Indian Institute of Management in the 1970s.
"Her career has been nothing short of amazing," Bhambri told the audience. "In fact, the Financial Times wrote, if there was a Nobel Prize for management and leadership, Indra would be their nominee."
Nooyi explained her career trajectory as being powered in part by the drive to become an area expert in every aspect of the company. In her first job at a textile concern she went door-to-door selling thread—and learned every step of the manufacturing process in the process. "Zooming into the details of the business, and zooming out to say, what do we need to do with this business, is something in which I think has stood me in good stead throughout," she said.
Much later as CEO she would sit down every six months with her research and development team. "I wanted the R&D guys to know that I knew what they were doing," she said. "And also that I knew that they knew."
Knowledge is power, she said. And a granular understanding of your company's purpose, processes and products are key to success. "In today's world, if CEOs don't have insatiable curiosity, if you're not back in school every day, you're going to fall behind."
Ms. Nooyi gave the audience many such insights into leadership, mentoring, and success:
"Never sign something you don't understand. Your signature means a lot, especially the more senior you are."

"You can't brief the top and train the bottom. You've got to train the top as much as you've trained the bottom. Because especially in a world where technologies are changing, Leaders have to know what the technologies are and how to adapt them and adopt them."

Mentors select you. A mentor picks you to be a mentee because they see something in you that makes them say, 'I want to hitch my reptation to this person because this person is going somewhere. And I want to be able to say that I had something to do with this person's success.'"

"Watch people two levels above. Watch how they approach, guide, give feedback, how they read the room. Nothing like watching and learning. You can't get it out of a book. You can't get it out of courses. Learn from the best."

"I think you have to love the business. If you don't love it, it's just a paycheck."
On Being an Immigrant Woman in Business  
The students asked Nooyi about the challenges being an immigrant woman posed to her development as a leader. She replied with a story about meeting the Prime Minister for lunch at Checkers, the British equivalent of Camp David. "He asked me why I had chosen to go to the U.S. instead of the UK. And I said, 'had gone to the UK I wouldn't be having lunch with you today,' which is true."
The anecdote underscored her belief that there is no better place to be an immigrant woman in business than the United States. "I look around the entire world, and there is no country that is more open than the U.S. today," she said.
"I am a story that can only happen in the U.S."
USC President Dr. Carol L. Folt closed the event by thanking IBEAR students for bringing Nooyi to campus.
"She [Nooyi] was ahead of her time, and these issues are very in the moment for us at USC. Thank you for your leadership. A good leader leads with empathy and heart."
For a deep dive into Nooyi's life and leadership, read her recently released memoir, "My Life in Full: Work, Family, and our Future."