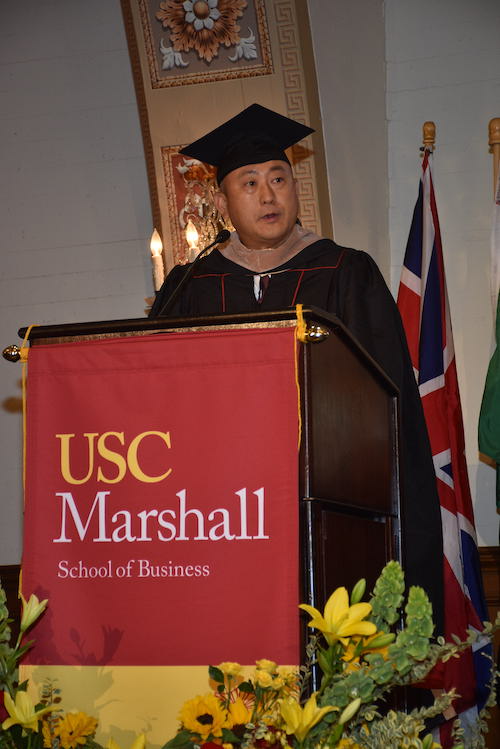 In the first on-campus commencement ceremony since 2019, 54 IBEAR students graduated before family and friends, USC Marshall leaders and faculty, on Thursday June 30 at Town & Gown on the University Park Campus.
These students, hailing from 16 countries, are the 44th class of IBEAR, which stands for International Business Education and Research MBA.
Graduates of the 44th IBEAR class join more than 2,000 IBEAR alumni from 60 nations. This one-year MBA program for mid-career professionals sets the standard for international business executive training and is at the forefront of global business education. When the IBEAR program launched 45 years ago, few observers realized globalization would change the world of business in the coming decades, and fewer still envisioned the role Asian countries would play.
"The IBEAR MBA program was developed in 1977 because Marshall School leaders thought that the economies of Asia might become important and that the best way for the School to learn about these economies and develop contacts with future business leaders in Asia was to create a fast-track, 12 month MBA program for potential Asian leaders," said Director Dr. Richard  Drobnick.
Globalization and globalism are of particular interest to Marshall Dean Geoff Garrett, who congratulated students on their accomplishment.
With globalization now being questioned, American universities can play an important role in resisting the temptation to become more insular, he said. "And there's no program that embraces globalism as much as the IBEAR program does.
"Your ability to go out into the world and to multiply the impact of what you have modeled and what you have studied as students, has never been more important than it is today," Garrett said.
International Connections
Giving the commencement speech was Yosuke "Jay" O. Honjo, a 1998 alumnus of the IBEAR program who is today president and CEO of ITO EN (North America) Inc., a multinational company specializing in products such as green teas, coffee, supplements, and tropical juices. The company was founded by his father in 1966 and went public in 1992. Honjo arrived at USC to pursue the IBEAR MBA degree with the understanding that he would use his knowledge to grow the family business in America.
Honjo told the story about how as a young man he fell gravely ill. As he recovered over a long period, he pondered his very existence. When his family suggested he find an MBA program to learn the skills necessary to launch the family business from an outpost in North America, he took on the challenge, knowing he had to succeed.
"The IBEAR program provided me with a better understanding of the nuts and bolts and the framework of good business management," he said. "It also provided the inspiration to lead at the highest level as CEO in an entirely new region, the U.S. And it provided me the intercultural experience to deal with the real world."
Former class Vice President Mi-Chieh Lee gave the student speech. 
Student IBEAR students this year continued with the tradition of bringing inspirational leaders to speak to students when in March they invited former PepsiCo CEO and Chairwoman Indra Nooyi to campus to launch its as part of their Global Leadership Forum.