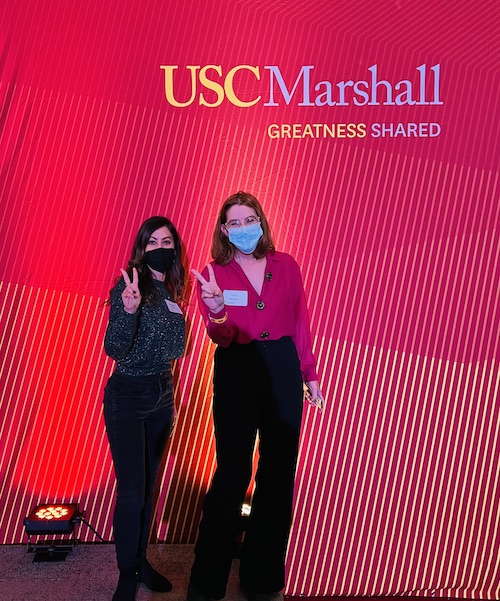 As businesses are increasingly being called upon to address and help mitigate some of the world's most intractable problems, more business students are answering the call.
USC Marshall's Brittingham Social Enterprise Lab (BSEL), in partnership with the Rose Hills Foundation, announced its semifinalists for the 2022 Social Venture Coaching Competition. The 20 teams–a group of social entrepreneurs selected as leading innovators who are developing sustainable business solutions to the most pressing social needs in Los Angeles–will receive six weeks of business development coaching and up to $100,000 in funding.
"Social entrepreneurs and traditional entrepreneurs alike benefit from business tools, mentoring, and capital," said Abby Fifer Mandell, BSEL executive director and the Social Venture Coaching Competition program coordinator. "The cohort environment allows students and alumni interested in social impact to meet, support one another, and share best practices. We are grateful to the Rose Hills Foundation for bringing this opportunity to our community."
Some of this year's semifinalists include:
Collective REMAKE:

A social enterprise that connects recently incarcerated people with economic opportunity through jobs, training, and networking opportunities.

Beamlink:

A company that provides internet connectivity for natural disaster survivors.

Myndi:

A technology platform that improves the lives of neurodiverse kids and their families by enhancing communication between caregivers and their healthcare providers.

L&F Project Management

: A company that creates jobs and upward economic mobility for Black women through careers in project management.
For the complete list and to learn more about the 2022 semifinalists visit the SVCC website.
"The passion of this year's semifinalists makes me hopeful for what this next generation of social entrepreneurs will achieve," says Christina Fialho, BSEL managing director, and herself an award-winning social entrepreneur. Fialho will serve as one of this year's reviewers along with other industry experts and community leaders.
Following the coaching period, approximately six of the 20 teams will be selected by reviewers to pitch live to funders, investors, and social impact professionals and compete for up to $125,000 in startup capital.
Students say the process itself is a valuable education. 
"SVCC coaching sessions have been an invaluable resource to us as entrepreneurs," said Mahnaz Siddiqui, a semifinalist this year. "The program's emphasis on human-centered problem solving and user empathy has been critical in helping us challenge our initial assumptions and shift to a design thinking mindset. Additionally, the personalized coaching and immediate feedback from faculty experts, industry mentors, and our peers has been priceless!" 
Another semifinalist agreed. "Applying the principles of user-centered design as an approach to designing actually useful solutions for target users and customers and integrating basic empathy into conducting those interviews should be commonplace for all entrepreneurial customer discovery, impact driven or not," said Mateo Abascal, a semifinalist with Beamlink. "SVCC is without question the best place to learn that. The connections and mentorship SVCC has provided us are really helpful, and learning from our peer's experiences is awesome too." 
The winning teams will receive additional support and guidance from the Brittingham Social Enterprise Lab following the competition and join a community of past investees, such as On the Go LA, Rebundle, Social Benefit, Burrow, FlexTogether, Gentefy, AKALA, Forage, and Prospoly, among others.