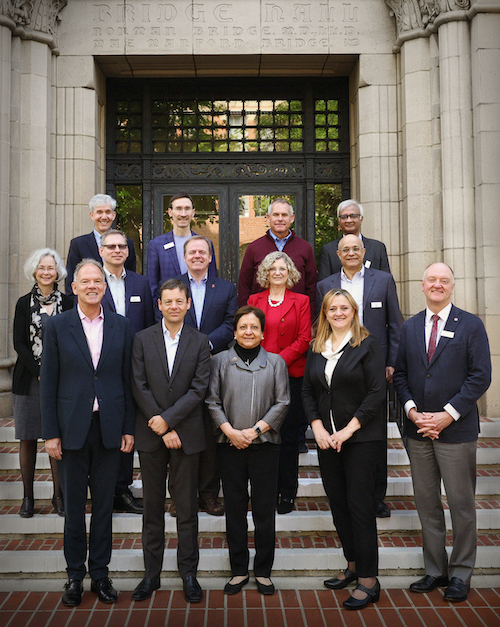 In a notable first, 15 business school deans from across the country convened on the USC campus to discuss a range of issues impacting the industry, including how to teach new concepts of stakeholder capitalism and inclusivity to a new generation of business leaders, leveraging new master's degrees, and the role of rankings in evaluating contemporary comprehensive business schools.
Like Marshall, many other colleges and universities have evolved into what are known as comprehensive business schools, offering undergraduate business majors as well as MBAs and other graduate business degrees.
Leaders came at the invitation of USC Marshall's Dean Geoff Garrett, who has taken the lead in questioning business-as-usual conventions and is driving the conversation about what a business school should look like in the 21st century.
"I felt it was time for a real discussion about what a business education looks like in 2022 and beyond," he said. "We are educating the next generation of worldwide business leaders—what skills and tools will they require? What can we uniquely provide as comprehensive business schools that will amplify the value of business education?"
Eleven deans, two incoming deans and one vice dean arrived in Los Angeles Monday, May 23 for two days of discussions on issues affecting each of them.
Participants included:
Ann Harrison, UC Berkeley Haas School of Business

Raghu Sundaram, New York University Stern School of Business

Francine Lafontaine (interim), University of Michigan, Ross School of Business

Andrew Karolyi, Cornell University, SC Johnson College of Business

Isabelle Bajeux-Besnainou, Carnegie Mellon, Tepper School of Business

Douglas Shackelford, University of North Carolina at Chapel Hill, Kenan-Flagler Business School

Paul Almeida, Georgetown University, McDonough School of Business

Frank Hodge, University of Washington – Michael G. Foster School of Business

Idalene F. Kesner, Indiana University – Kelley School of Business

Gareth James, incoming dean (July 1), Emory University – Goizueta Business School

Sri Zaheer, University of Minnesota – Curtis L. Carlson School of Management

Ohad Kadan, Arizona State University – W. P. Carey School of Business

Jeffrey Brown, University of Illinois Urbana-Champaign – Gies College of Business

Matthew Slaughter, Dartmouth College – Tuck School of Business

Geoffrey Garrett, USC, Marshall School of Business
On the agenda were topics of particular interest to Dean Garrett and with wide application to his business school colleagues in attendance, including:
The Future of Business School Rankings

What Does Stakeholder Capitalism Mean for Business Education?

What's Next for Undergraduate Business Education

Increasing the Impact of Faculty Research

Capturing the Value of Specialized Masters Programs

From Exec Ed to Lifelong Learning
Garrett has spoken out about the need for more "holistic" business school rankings, which would take into account the "totality" of a business school, incorporating its undergraduate offerings and other programming beyond just its full-time MBA program.
"Over the past decade, institutions have intentionally evolved to meet the needs of today's students," he said. "The full-time MBA remains the centerpiece of many schools, but comprehensive business schools like Marshall also offer top-tier students a business education that can be achieved online or in-person, part-time or full-time, as an undergrad, as a current business owner or as a working parent. There are countless ways that a business education can be applied in the real world, and many business schools see the value in ensuring our programs reflect this. Now, we are at an inflection point—business schools have evolved, should that change how we are evaluated?"