EDIT
USC Football Coach and Leventhal Professor Form Unlikely Bond To Start Pilot Program
USC Football Coach and Leventhal Professor Form Unlikely Bond To Start Pilot Program
USC Football Director of Player Development Christopher Carter and Leventhal Professor Zivia Sweeney's new pilot program aims to support student-athletes interested in pursuing accounting and other endeavors.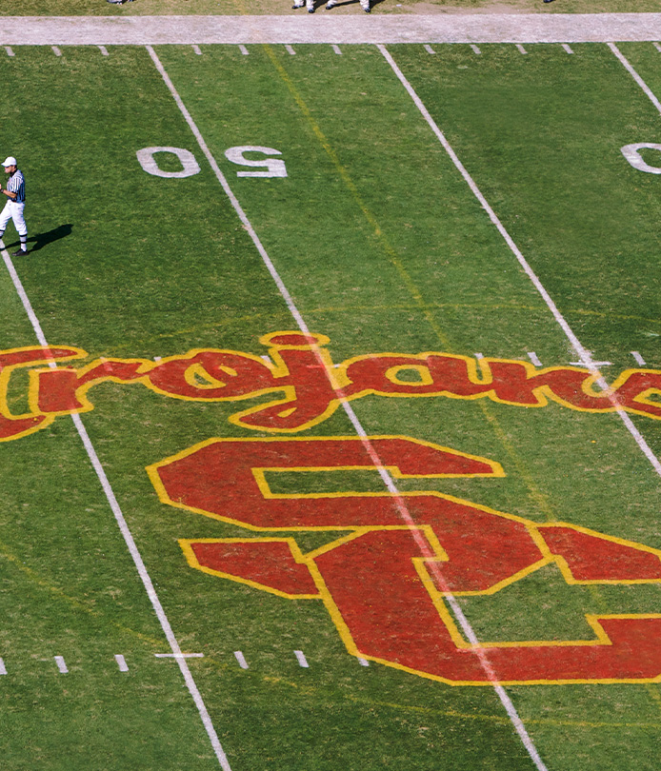 Stay Informed + Stay Connected
MARSHALL MONTHLY BRINGS YOU ESSENTIAL NEWS AND EVENTS FROM FACULTY, STUDENTS, AND ALUMNI.
A student-athlete's schedule is intense, demanding, and often inflexible. When they're not in class, they're practicing. When they're not practicing, they're sleeping. When they're not sleeping, they're in class. Their day-to-day grind leaves little time for one of the more important parts of the college experience: preparing for life after USC.
"Because they are student-athletes, there's an extra stakeout of their time," said ZIVIA SWEENEY, associate professor of clinical accounting at USC Leventhal. "If you're looking at a student-athlete, 80 percent of their time is probably between class and practice and sleeping. That 20 percent doesn't leave a lot."
Together, Sweeney and USC Football Director of Player Development CHRISTOPHER CARTER are forming a mentorship program to help student-athletes connect with employers and secure jobs in accounting and risk management.
The program just began this fall, but Sweeney started developing the idea years ago. She thought that if the student-athletes couldn't make it to the opportunities, then maybe she could bring the opportunities to them.
Several years ago, she pitched a program to then-athletic director and NFL Hall-of-Famer Lynn Swann, in which Sweeney would use her vast professional network to connect interested student-athletes with the biggest accounting firms in the country. Swann was all for it and even invited top firm executives to his suite for a football game.
Just when it seemed the program was a go, COVID-19 hit. The project, as well as most campus activities, ground to a halt.
But Sweeney's determination was relentless.
In April 2023, she attended a dinner with other student-athlete mentors. There, she met an eager young football coach who wanted to help.
Chris Carter was a linebacker in the NFL for seven full seasons, spending time with the Pittsburgh Steelers, Baltimore Ravens, and Cincinnati Bengals, among other teams. True, he was a professional athlete, competing at the highest level of his sport, but it wasn't all glitz and glamour. When Carter's career stumbled, he faced a difficult question.
"I had a real rude awakening, one day, halfway through my career. I was released," Carter said. "Processing all of that, you start to question and ask yourself, 'Who am I?'"
Carter's search for an answer led him to a serious realization: Outside of his undergraduate degree and a few years in the NFL, he had no professional experience. He was miles behind his non-football-playing peers. Though he received another contract soon after, for the first time ever, Carter had faced a life without football. He needed to invest in himself and his future.

Carter leveraged his connections to secure an internship in the offseason. Before work, he trained for his next NFL team. Once he punched in, though, he fetched coffee and organized files. Carter says the experience taught him what it took to succeed out in the "real-world," and how valuable that experience could be for other athletes, too.
When Carter met Sweeney in 2023, the pair immediately bonded. The football coach and the accounting professor found they shared a passion for setting up students for substantive success.
"Every word that came out of her mouth was amazing. I felt so inspired," Carter said. "She was talking to me about all the different firms. She planted the seed. By the end of that dinner, we said, 'Hey, we need to do this. We need to start a program where we can get these kids internships.'"
By May, the partners — along with the help of Carter's assistant Jenna Mohiuddin — were meeting weekly to discuss their pilot mentorship program. It would start small, accepting over a dozen athletes from football and women's soccer — only juniors and seniors who'd exhibited academic excellence and drive.
From there, the selected candidates would be paired with both student mentors from Leventhal and industry mentors from some of the largest companies in the world, including Deloitte, Ernst & Young, and Alliant. The participants would clean up their resumés, polish their interview skills, and prepare themselves for one of their greatest off-field challenges yet: getting an internship.
Working straight through the spring and summer, Sweeney, Carter, and Mohiuddin set up the program and opened up applications this fall. The group accepted 16 athletes and began work mentoring them and connecting them to firms.
"We're not giving them something extra or special because they're student-athletes," Sweeney said. "The only thing we're trying to do is to level a playing field so they can have access to the same opportunities that their non-athletic peers have."
It's not just about opening doors, though. It's about opening the eyes of student-athletes. Carter wants them to see the opportunities around them in Los Angeles and at USC.
"I tell all my players all the time: 'Look what USC has to offer,'" Carter said, emphasizing the university's proximity to California industry and marketing opportunities, as well as the Trojan Network. "The alumni are so proud to go to USC and are so proud to help. You [can literally] go down the street for the help."
Carter asserts that his own approach to success is imbued throughout USC's football program, starting at the top with Head Coach Lincoln Riley and trickling down throughout the team and staff. Carter creates individual development plans for every player, including actionable steps based on their career and personal goals. When they leave, he hopes they're more than better football players; they're better men.
Sweeney shares Carter's philosophy on self-improvement. They both envision the pilot program leading to new brighter pathways for its participants. And perhaps, the pair won't stop at Leventhal. According to Sweeney, this may just be the beginning of her collaboration with Carter.
"We are starting out with business right now, but we want to expand to the other interests our students have," Sweeney said. "There are student-athletes who are engineering majors or computer science majors or communications, or they may be pre-law or pre-med school."
Clearly the sky's the limit for Carter and Sweeney's program, just as it is for the students participating in it.