EDIT
Progressive Degree Enrollment Soars
Progressive Degree Enrollment Soars
USC Marshall has seen a major uptick in enrollment for progressive degree programs among top undergraduate students.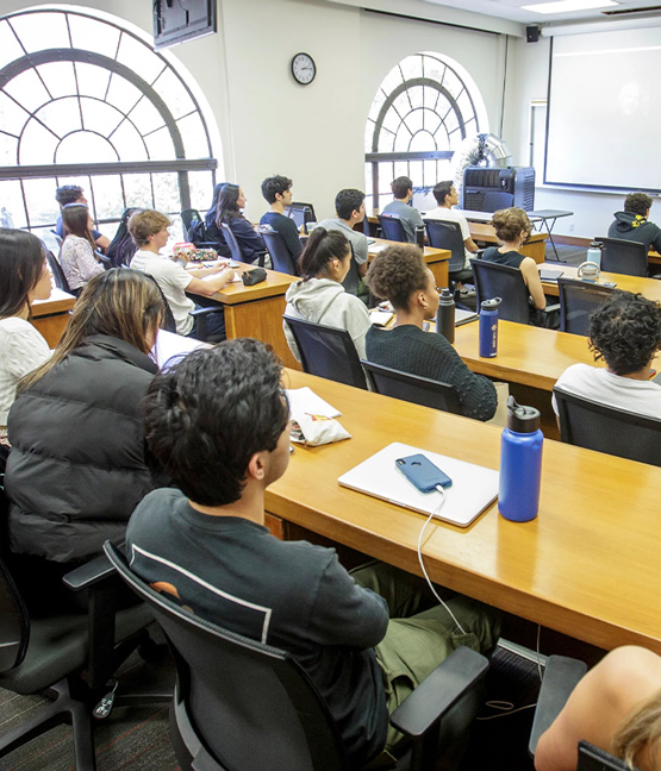 Featured
Geoffrey Garrett

Dean

Robert R. Dockson Dean's Chair in Business Administration

Professor of Management and Organization

Ramandeep S. Randhawa

Senior Vice Dean for Academic Programs

Charles L. and Ramona I. Hilliard Professor of Business Administration

Professor of Data Sciences and Operations

Rahsan Akbulut

Associate Vice Dean for MS Programs

Academic Director for the MBA.PM

Associate Professor of Clinical Finance and Business Economics
Stay Informed + Stay Connected
MARSHALL MONTHLY BRINGS YOU ESSENTIAL NEWS AND EVENTS FROM FACULTY, STUDENTS, AND ALUMNI.
USC Marshall graduates can take away a lot from their education: a bachelor's degree from a top business school, the Trojan network, and four years of memories. In addition, more and more undergraduates are adding an unlikely item to that list: a master's degree.
"USC provides a unique opportunity to our undergraduates with progressive degree programs," said DEAN GEOFF GARRETT. "By crafting their education to their interests and ambitions, Marshall students can create unique pathways designed to meet their educational and career aspirations."
USC's PROGRESSIVE DEGREES PROGRAM(PDP), provides students the opportunity to pursue master's degrees in six different fields in parallel to completing their undergraduate degree requirements. The PDP option has been around for nearly a decade, but just this year, the program has soared in popularity. More Marshall students than ever are seizing the opportunity to acquire a valuable graduate degree in addition to their bachelor's. In fact, 20% of the incoming students in Marshall's master's programs with a PDP pathway are undergraduates.
"A master's has great value for the students," said RAMAN RANDHAWA, senior vice dean for academic programs. "At Marshall, our students have a lot of flexibility in the curriculum both in the courses they can take and in terms of the credits they can bring in. To leverage this flexibility, on one side they can add breadth, they can take another major or do a minor. On the other side, they specialize through a PDP master's program."
Starting in their junior year, students who meet the eligibility requirements can apply for enrollment in PDP. Though these accelerated degrees often require fewer credits, students who embark on a PDP pathway take on a new curriculum with higher expectations and more rigorous coursework.
"Adding a PDP is not like adding a minor to your undergraduate degree," said STEPHANIE GERMAN, the progressive degree coordinator at Marshall. "It really is adding a second degree objective with all the expectations that come with pursuing a master's degree. For PDP students, they're treated like regular master's students, so the expectations are the same."
In the last three years, enrollment in Marshall's PDPs has practically quadrupled. According to internal statistics compiled by the Marshall master's programs, in 2020 just five percent of incoming master's students included undergraduates pursuing a progressive degree. In 2023, however, that number rose to 20 percent. In all, approximately 140 out of a Marshall graduate class of 700 are "PDPers," a staggering increase.
Before working as associate vice dean for MS programs, RAHSAN AKBULUT served as the academic director for the master of science in finance program. She witnessed the inception of PDPs within Marshall.
"We started small," Akbulut said. "But now Finance is the program that has the highest PDP student percentage." Today, around 40 percent of the MS in Finance program's enrollment come from undergraduates pursuing a progressive degree.
What accounts for the increase in the program's popularity? For Akbulut, it's about two things: awareness and opportunity.
Within the last two years, Marshall program faculty and staff worked to increase the visibility of the PDP pathway, encouraging motivated students from across USC to consider applying. The progressive degrees provided a unique value-added opportunity to undergraduates to leave their USC experience with not just a bachelor's, but also a master's.
"Many students realize they will need a graduate degree. This is an efficient way to get it when it comes to both time and money," Akbulut said. "Leaving a job can have a huge opportunity cost. This doesn't have that."
This calculation may account for the increased enrollment, as students endeavor to jumpstart their careers with a supercharged education. And it's not just Marshall students who are drawn to these programs. PDPs open up applications to students from across USC, for candidates from Viterbi, Dornsife, Annenberg, or any other school.
"It's grown exponentially," German said. "Every day, my inbox gets more and more full. So that's very exciting."
Assisting hundreds of students with specific interests and goals requires a tremendous amount of flexibility and dedication. Each PDP student has an entirely personalized, distinct plan, compiled with the help of a team of academic advisors.

Hilal Balik, a student in her third year pursuing her bachelor's in International Relations and the Global Economy, is in her first year studying for her MASTER'S IN ENTREPRENEURSHIP AND INNOVATION (MSEI).
Since listing MSEI on her resume, Balik says she's experienced a lot of success landing interviews, bolstered by the extra proof of her expertise the MSEI degree shows. For Balik though, her progressive degree is about more than the interviews.
"When you get to do a PDP program, you really round yourself out in every single aspect," Balik said, "whether that be in a new environment to network with people, a new social circle to immerse yourself in, peers to learn from, colleagues to grow with — or if it is literally just the curriculum — because you're learning a whole new skillset at the same time."
Balik believes her outlook on her education mirrors that of her PDP classmates. She posits that with careful planning and key support, a student's time at USC can take any number of shapes and trajectories.
"People assume that PDP is super overwhelming and something that is very unachievable," Balik said. "In my opinion, because PDP is catered toward undergraduate students, they make it very flexible so you can adjust it, alter it, and amend it however you want so that it fits with your needs as a person. It's really whatever you put into it, you get out of it."
Balik hopes her MSEI degree gets her more than an internship or a great job. In her mind, the progressive degree is about making the most out of every facet of the Marshall experience.