EDIT
Michael Paranal Inspires at Spring Convocation
Michael Paranal Inspires at Spring Convocation
The Leventhal professor welcomed new Trojans with an inspiring story about confronting the discomfort of doubt.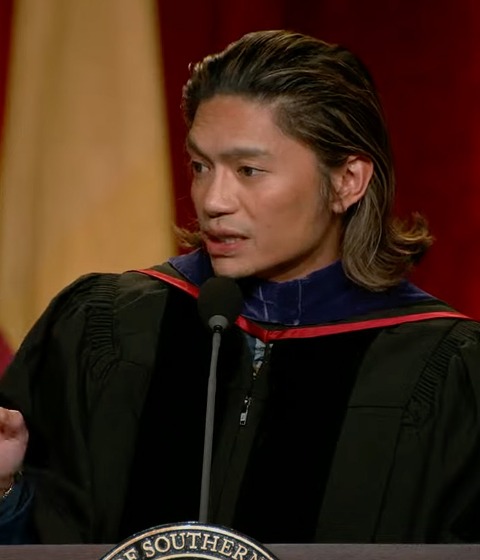 Stay Informed + Stay Connected
MARSHALL MONTHLY BRINGS YOU ESSENTIAL NEWS AND EVENTS FROM FACULTY, STUDENTS, AND ALUMNI.
Looking at his CV, you wouldn't think Professor MIKE PARANAL could ever feel like an imposter.
He's got a graduate degree in business taxation from USC Leventhal and a JD/MBA from the University of Pennsylvania and its Wharton School of Business. He has a post-graduate diploma in law from Oxford. He's been an international attorney and winner of prestigious fellowships. He is currently the director of the Tax Transaction Advisory Group for the U.S. operations of Unibail-Rodamco-Westfield (URW), even as he teaches accounting classes as an assistant professor of clinical accounting at the Leventhal School.
He also created and oversees the GEMS (Guiding Exceptional Minds) program through Leventhal, a select professional development program.
And yet, as he explained to new students at spring convocation, he recently experienced "imposter syndrome," where he found himself in a situation where he doubted himself despite his credentials. Paranal's inspirational speech to students urged them to acknowledge the self-doubt they might feel at times and accept it as the path towards growth.
"I wanted to convey to students that it's OK to feel uncomfortable," he said. "You do not get the reward of growth without the risk and that risk requires you to embrace the doubt."
Paranal told a story about being asked to consult for SpaceX. "They were excited to be working with a professor from USC," he told students. But then someone posed a question and looked to him for an answer — he felt like he was out of his league.
"They said, 'Professor, what is the answer?' And guess what? I didn't have any!" he said. "In fact, I didn't even understand the question because the terms were so uniquely technical and scientific, especially for someone like me whose background is in law and finance. As I walked out of that meeting and back to my desk, I asked myself, what am I doing here?"
In the speech he describes how he briefly mused about leaving the project behind and spending the summer in Hawaii instead. But he quickly rejected that notion. "Because I'm a Trojan. And we keep showing up, working hard, and fighting on. It's in our DNA." Within three months, he said, his team had the answer SpaceX was looking for.
He urged students to lean into their discomfort as they began their USC classes. "And we will celebrate your growth when we meet again in four years at graduation."
"It is in your decision to endure and to show up day in and day out in the face of doubt, that will be the best decision you ever make. Because it is in our DNA as Trojans to always keep fighting on!"