EDIT
High Schoolers Receive 'L.A. Experience' in USC Summer Data Analytics Course
High Schoolers Receive 'L.A. Experience' in USC Summer Data Analytics Course
A pre-college course from USC Marshall School of Business featured field trips and deep dives into the data techniques in everything from policy to sports.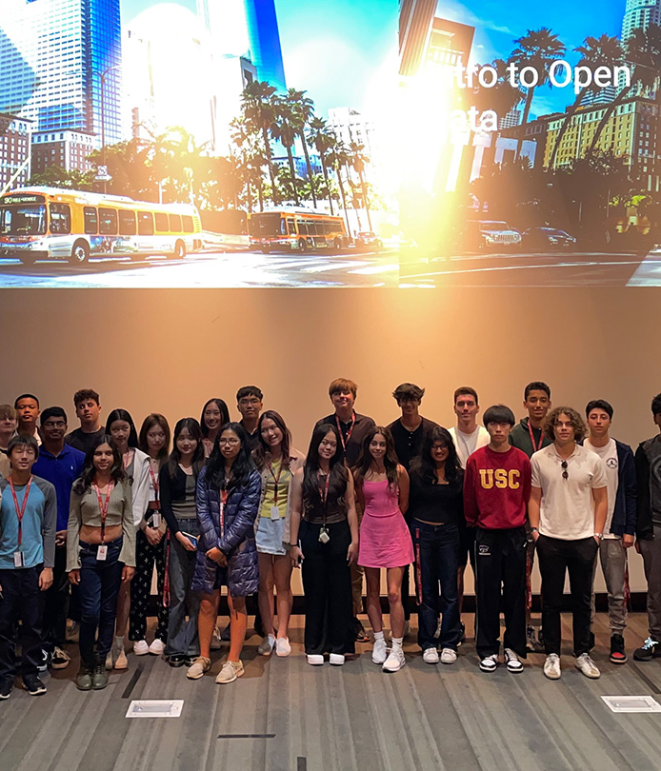 Stay Informed + Stay Connected
MARSHALL MONTHLY BRINGS YOU ESSENTIAL NEWS AND EVENTS FROM FACULTY, STUDENTS, AND ALUMNI.
In recent years, USC MARSHALL SCHOOL OF BUSINESS has strived to push its undergraduates out of the classroom and into the field. In the summer, though, that philosophy extends beyond university confines and included a new group: high schoolers.
In June, a diverse group of high school students journeyed throughout Los Angeles as part of the USC PRE-COLLEGE PROGRAMS residential summer course, "ANALYTICS: THE POWER OF DATA FOR BUSINESSES." The students were from across the world, even traveling from as far away as Bahrain.
Created in partnership with USC Marshall School, the class was offered alongside multiple online and on-campus business courses for high school students, including entrepreneurship, finance, digital marketing, and more.
The month-long, residential analytics offering provided motivated high school students with a head start on exploring the practical impact of data in private enterprise and the public sector.
"A big emphasis early in the course is on the quality and quantity of available information," said CHARLIE HANNIGAN, who teaches the class and works as an assistant professor of clinical data sciences and operations at USC Marshall. "The availability of data determines what analysis you can pull off."
Hannigan, whom some of the students affectionately called "Professor Charlie," enjoys showing young people how to examine, organize, and clean data for applications in all industries. His enthusiasm for what he dubs "nerding out with data" was infectious with his students and was shared by the city officials they met on a field trip to Los Angeles City Hall.
"I know that USC cares passionately about data analysis and how transformational data can be," said TED ROSS, who serves as chief information officer of the City of Los Angeles, as well as being an adjunct professor of data sciences and operations at Marshall.
If the students didn't feel a similar passion for analytics before signing up for the course, they quickly developed it. Prathul Ganesh, a senior at Mission San Jose High School in Fremont, California, came to USC the summer before for a course on the science of food, nutrition, and biology. Although Ganesh loved his previous course, he couldn't help but be drawn in by Hannigan's enthusiasm.
"I enjoyed the overall experience this summer even more," Ganesh said. "The business analytics course with Professor Charlie has really shaped what I want to do."
Hannigan brought Ganesh and his classmates to City Hall to speak to Ross and other experts. Many high school students might've been intimidated by the setting and the circumstances but not Hannigan's students. Ross was impressed by the students and their questions.
"I really enjoyed that they were asking specific questions about urban issues to gain a better understanding of the data," Ross said. "They were also asking about what we can influence and have an impact on."
They heard about practical data management, including MyLA311, an app that can quickly connect LA residents to more than 60 different city services, as an example of that impact.
"We receive over 2.2 million requests a year," said Ross. The open data it generates, he explained, "allows any member of the public to look at these millions of requests a year, to identify them by location by type, whether it's a business or residence, and so on. It's one of our greatest treasure troves of information."
Hannigan's hands-on learning didn't stop at City Hall. The professor also used sports to explore the impact of data analysis. The class's second outing was closer to campus, as Hannigan took them to the USC ATHLETICS DEPARTMENT.
"That was fun, and we got to see how they use devices and analytics to measure track times and stuff like that," Ganesh said.
Later, Hannigan treated his students to a viewing of the movie Moneyball to demonstrate how data and statistics were used by the 2002 Oakland A's to field a competitive team on a tight budget. The lesson was topped off with a field trip to Dodger Stadium — and, yes, a game.
The course, however, wasn't all fun and games. While the curriculum was designed for high school students, Hannigan taught it with the same rigor he applies to his university courses, and the students rose to the challenge.
"These students were just pedal to the metal for a full month," Hannigan said.
They were engaged for five hours each day, learning in the morning and then putting that knowledge to work in the afternoon.
Students ultimately applied their newly developed acumen to a final project for class presentation. The students could download public data from any domain they were interested in. They then created presentations analyzing the information and reporting on observed trends. Students could choose any topic, from basketball to shoes to health.
"I chose heart disease because my grandfather actually struggles with it," Ganesh said.
The course had such an impact on Ganesh that he is now considering a career in data and analytics as he plans for college. The firsthand exposure he gained at USC Marshall, he noted, gave him a "practical and real-life vision of how data applies to our lives and what I can do to help better our communities."
Hannigan was extremely pleased with the course's success, and he thinks the class's applications go beyond simple data gathering.
"If you have the skill set, this opens up a whole big world for you," Hannigan said of data analytics.
Learn more about USC PRE-COLLEGE PROGRAMS online and summer courses today.