EDIT
Recap: ATHENA 2023

Recap: ATHENA 2023

USC Marshall has championed entrepreneurial women for years.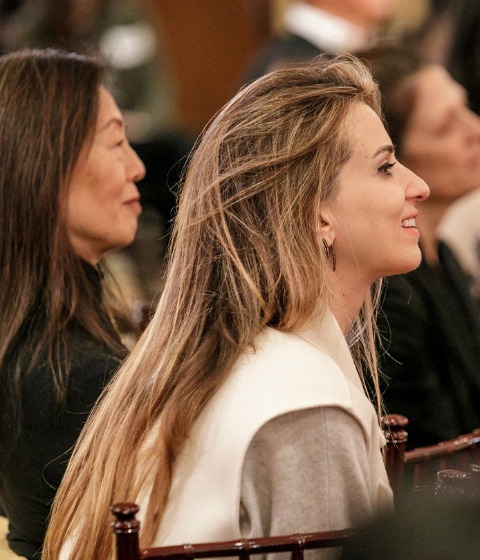 Featured
Elissa Grossman

Director of Lloyd Greif Center for Entrepreneurial Studies

Orfalea Director's Chair in Entrepreneurship

Professor of Clinical Entrepreneurship

Jeymi Choi

Senior Manager, Founders Program

Jill Kickul

Professor of Clinical Entrepreneurship

Research Director, Brittingham Social Enterprise Lab

Monica Dean

Managing Director Lloyd Greif Center for Entrepreneurial Studies
Stay Informed + Stay Connected
MARSHALL MONTHLY BRINGS YOU ESSENTIAL NEWS AND EVENTS FROM FACULTY, STUDENTS, AND ALUMNI.
At the seventh annual ATHENA WOMEN'S ENTREPRENEURSHIP SUMMIT, held March 2 at Town & Gown on USC's University Park Campus, women founders were celebrated, even while the challenges facing them were acknowledged.
"It has long been the case that a tiny percentage of all venture capital funding — typically less than 3% — is given to ventures solely founded by women. It is similarly the case that very few women are providing the VC funds," said ELISSA GROSSMAN, Orfalea Director's Chair in Entrepreneurship, professor of clinical entrepreneurship, and the director of the LLOYD GREIF CENTER FOR ENTREPRENEURIAL STUDIESs at the USC Marshall School of Business. "ATHENA WAS CREATED in part to help connect the amazing women founders, entrepreneurs, and investors who have the power to improve on these statistics and deliver powerful successes."
Co-sponsored by the Lloyd Greif Center for Entrepreneurial Studies at the USC Marshall School of Business, and the Annenberg School for Communication and Journalism, the daylong event featured the winners of the Women's Pitch Competition, three panels exploring topics such as finding the right partner for a startup, pivoting, and learning how to lead, as well as ample time for networking.
Jeymi Choi, senior director of founder programs for the Lloyd Greif Center for Entrepreneurial Studies, introduced the teams that had made the semifinals of the fifth annual Women's Pitch Competition, and announced the winners.
"We created the Athena Summit because we knew that USC could play a role in helping so many talented and smart founders whose efforts were getting insufficient attention," said Choi. "Today, we are proud to offer female founders and allies a community that meets not solely through our Summit, but also a yearlong series of Launch & Learn sessions and our Female Founders Pitch Competition whose top prize — the Helena of Troy Award — honors Helena Yli-Renko's deep commitment to this initiative."
"We are committed to educating and inspiring our students and others about the importance of female entrepreneurship and its critical contribution to economic growth and innovation."

The Entrepreneur's Journey: The Power of Partnership
Co-moderated by Willow Bay, dean of the Annenberg School for Communication and Journalism and her student Pilar Lee, the first panel of the day interviewed LAUREN SANTO DOMINGO, of Moda Operandi, which she co-founded in 2010, and an early investor in her company, TONY FLORENCE, of New Enterprise Associates.
After years working in the world of high fashion, Santo Domingo said she clearly saw a pain point.
"Runways were very exclusive, almost like tradeshows," she said. "They were only for editors and buyers, and a regular woman could not attend. But with the rise of social media, women were seeing what was going down the runway. For me, it became obvious that we needed to connect the two."
We took the original concept of a trunk show, and digitized it," she said.
Fortunately she met a financial partner who saw the value of her idea right away.
"Lauren's insights were quite unique and on point," said Florence. "We got excited about two things: Lauren as a founder, and her idea to use the internet to get access to something that was gated. Marrying data with a commercial business was exciting for us."

Powerful Pivots: Your Rise to Leadership
For the second panel, SABRINA K. GARBA, a serial entrepreneur and founder and lead of the Glass Ladder Group, moderated a group of women entrepreneurs with successful food companies, including CANDACE NELSON of Pizzana, CRISTINA PATWA of Enroot Organics, and ELLEN CHEN of Mendocino Farms.
Each woman shared her story of how they pivoted from corporate careers into entrepreneurship.
When Women Lead: New Approaches to Entrepreneurship
The final panel of the day explored the challenges women face when they begin their entrepreneurship journey. JULIA BOORSTIN, CNBC's senior media and tech correspondent and author of the book "When Women Lead," moderated the panel of two entrepreneurs, MELISSA HANNA of Mahmee, a maternal solutions health service, and KIM TAYLOR, CEO of Cluster, a Mark Cuban-backed venture that helps companies find top engineering talent.
For fundraising, Taylor advised founders to strategically focus on which audience to pitch. "There is a very specific group of people who will be excited about what you're doing when you walk in the door. And I think it's your job to do the work to find them. And obviously, once you get one person, who is willing to lead a [an investment] round, the rest of it is actually very easy. But that first person is very hard." Her company, Cluster, tapped a number of angel investors in the space when she was raising seed money.
Supporting Women Entrepreneurs

Marshall has been a leader in reaching gender parity across its programs. In 2021, more than 50% of its undergraduate students were women. It reached that MILESTONE for its full-time MBA program in 2018, making the class of 2020 the first to have women in the majority.

Greif Center Managing Director Monica Dean, a multi-year contributor to the Global Entrepreneurship Monitor's Women's Entrepreneurship Report, said there is good reason for hosting ATHENA during Women's History Month. "But the Greif Center is committed to celebrating women's entrepreneurship every month," she said. "We are committed to educating and inspiring our students and others about the importance of female entrepreneurship and its critical contribution to economic growth and innovation."