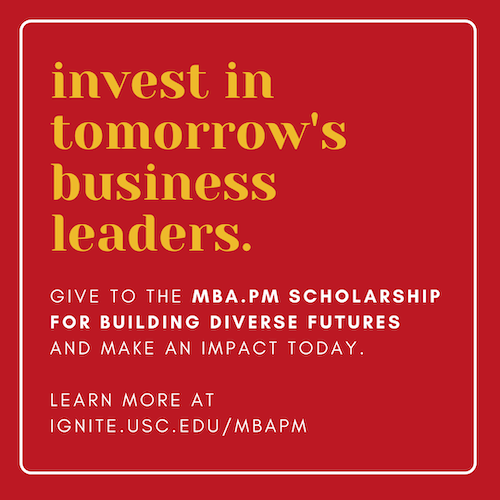 Back in May 2020, members of Marshall's MBA for Professionals and Managers (MBA.PM) cohort watched with dismay as the world reacted to the murder of George Floyd at the hands of police. It had already been a challenging semester, truncated by the pandemic quarantine orders. Now it was clear that a conversation on the effects of longtime systemic racism was essential—and that change needed to happen.
But what could they do? Students, led by A.J. Mada '21, created a Diversity, Equity, and Inclusion Task Force with five objectives: Student recruitment, community outreach, curriculum development, external marketing and fundraising.
"We realized there was no diversity-specific scholarship for the program, and that was something we could definitely remedy," said Mada.
A group of MBA.PM students, including Kristin Voss Hyatt, Tiffany Lu, Jay Modi, Semhal Tadesse and Herman Van Buren, got to work researching how to create a scholarship—which is not as easy as it sounds. They discovered a dormant scholarship only a few years old, and worked closely with Marshall staff across several offices, including External Relations and Engagement, MBA.PM, and Diversity, Equity, and Inclusion, to re-establish the scholarship.
They renamed it the Building Diverse Futures Scholarship and set up a marketing plan, including creating a website, to help get the word out.
Their efforts took about a year, as they worked around not only their professional lives (MBA.PM serves students who want to earn an MBA part-time while still working), but their schoolwork and in many cases, families. Mada, for example, kept his job as a senior marketing manager for AT&T while earning his MBA. He graduated in May.
The good news? When everything was ready it was close to USC's annual Day of 'SCupport on May 4. The marketing around this annual giving event helped the cause.
Donations poured in. The largest gift was for $2,000. Many students donated $20.21, in honor of their class year.  The task force met its goal of raising $15,000, and donations are still coming in. 
"It was fantastic to see how enthusiastic and generous people were," said Mada. "Every donation counted toward our end goal."
Incoming Vice President of DEI Noel Viramontes '22 said she is grateful to have the newly funded scholarship available as a tool to help recruit talented diverse students into the MBA.PM program.
"It will make the opportunity to study at Marshall really accessible to students who may otherwise not have been able to consider it," she said. "It's another example of how the Trojan Family helps each other out."
(Note: You can still give to support this scholarship.)