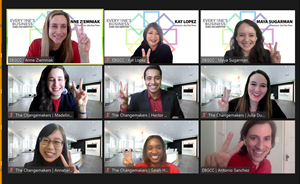 USC Marshall captured third place in the Everyone's Business Global Case Competition held virtually on Feb. 26. The USC Marshall Full-time MBA program hosted teams from nine schools for its third annual competition, sponsored by UBS Wealth Management USA for the second time.
The Everyone's Business Global Case Competition takes a unique approach to the traditional business school case competition, allowing student teams to provide strategic consulting on a pressing business issue related to equity in business. This year's prompt asked: How can UBS financial advisors support and advise their minority business owner clients in reaching their short- and long-term financial goals?
For third place, the Marshall team won a $2,000 cash prize. The University of California, Irvine `Paul Merage School of Business took second place and $3,000. And the $10,000 first-place prize went to Mendoza College of Business at the University of Notre Dame.
The other six participating schools were: Cornell SC Johnson College of Business, Desautels Faculty of Management at McGill University, Foster School of Business at the University of Washington, Goizueta Business School at Emory University, Hong Kong University of Science and Technology, and UCLA Anderson School of Management.
James Jack, Head of the Business Owners Client Segment at UBS Wealth Management USA, and one of the 10 judges from UBS, gave kudos to all nine teams for their presentations and research. "Ultimately, [our decision] came down to what we thought provided a multitude of ideas that were tangible and actionable," Jack told the students. "I want you all to know that I'm going to share these presentation with our management, because we are actively looking to create a more inclusive environment for minority owned business owners and to help support the formation of multigenerational wealth"
Originally called the Global Consulting Challenge, Marshall's long-running competition was rebranded the Everyone's Business Global Case Competition in 2019, after the class of 2020 became the first full-time MBA program at a top 20 business school to reach gender parity.