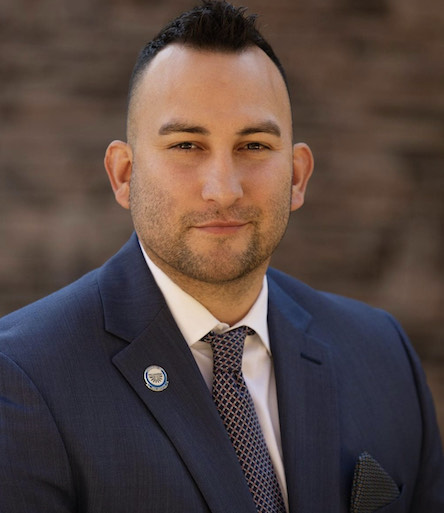 As a member of the Pechanga Band of Luiseño People and a member of Marshall's most recent cohort of Executive MBA students, Sean Vasquez EMBA '23 is honing the business skills necessary to take the financial resources of his tribal community into the future.
The Pechanga Band of Luiseño People has inhabited the Temecula Valley for more than 10,000 years. The Luiseño People call themselves Payómkawichum — "The People of the West" — and are made up of seven bands: Pechanga, Pauma, Pala, Rincon, San Luis Rey, La Jolla and Soboba. Learn more about the Pechanga Band here.
Vasquez, 35, is currently one of five elected officials on the Pechanga Development Corporation (PDC) Board. The enterprise wing of the Pechanga Band, the PDC was created in 1994 as the economic leadership for the tribe. Vasquez is the youngest current member of the Board and the second-youngest elected to the position since its formation.
"My job is to expand the wealth and resources of the Band," he said. According to the Pechanga website, the Pechanga Band is one of more than 560 federally recognized tribes in California, only 52 with gaming operations.
Growing up, Vasquez recounted how different life was before the Gaming Regulatory Act of 1988, which allowed gaming and hospitality enterprises. "Before tribal gaming, it was pretty tough," he said. "I remember watching the truck carrying federal commodities onto the reservation once a month."
As a boy, he spent much of his time wandering between the hills, sand wash and back roads, searching for caves, animal tracks and artifacts. "Being raised in the era that I did is a dichotomy," he said. "I have one foot in both worlds, having been the last generation in our Tribe to remember what it was like with a dearth of opportunities."
Regardless of means, one clear lesson was his family's focus on tribal leadership, as his paternal and maternal grandparents were tribal members who participated in the stewardship of the Band. Moreover, his grandfather Paul was particularly invested in his upbringing and insisted he accompany him to all tribal meetings. "There was always a general meeting at the tribal hall he'd take me to," and, as tribal gaming became a reality, quarterly business meetings. The same grandfather had insisted Vasquez run for his current position with the PDC. "I pretty much knew as a boy I wanted to give back to my community and participate in tribal leadership."
Preparing to Lead
Majoring in business administration with a minor in entrepreneurship as an undergraduate at San Francisco State University, Vasquez said he felt it was important to study business. "Whether it's selling oranges on the side of the road or negotiating a series round, it all starts with understanding how business works." After graduation, he returned home to Southern California as a financial products analyst with Mass Mutual.
While living in Orange County, his older brother introduced him to surfboard shaper James Vartanian, who needed to scale the marketing operation of his business. During his years of fellowship at Vartanian Surfboards, Vasquez enjoyed the action sport's direct craftsmanship and entrepreneurial culture, all of which played a factor in forming his next venture.
Over the next few years, Vasquez worked to build his indigenous-based clothing and artwork brand, Vosq Clothing Co., which he was inspired to share. "I knew I wanted to harness my authentic experience, and I didn't grow up surfing. I grew up on the Rez!"
With a college degree and entrepreneurial success, friends and family felt it was time to run for tribal leadership. In October 2020, while his grandfather watched, Vasquez gave a speech to tribal membership, communicating his vision for the Band and the future of the tribe. And after the votes had been tabulated, Vasquez was elected by two votes, thus fulfilling his dream of serving his people and continuing his family's legacy of stewardship.
Reflecting on his style of leadership, Vasquez says it's "imbued with observed practices from past mentors and my mother who all had a discipline that allowed them to transcend their circumstances and to thrive."
After completing his first diversification initiative, Vasquez was encouraged to pursue an MBA by colleagues and mentors. And having applied to and been accepted by both Stanford and USC, Vasquez chose the Trojan Family. "Having gone to college in the Bay Area, I knew what Stanford meant," said Vasquez. "But growing up in Southern California, I also know what USC means to me."
While juggling his professional duties with graduate school can be challenging, Vasquez sees the value of the Trojan Family up-close and what it means to be a member of Marshall's EMBA cohort. "Right now, my life is my cohort. It's more than learning from one another here; it's about mutual enrichment," he said.
Reminiscing about the first week of classes, he remarked, "Professor [of Clinical Business Communication Greg] Patton did a masterful job of breaking us up every day during our immersion week, seating us with different people." All students being established professionals, "it took a few days to get past our job titles and learn who each really are, and that's what family is about."
In his role on the PDC Board of Directors, Vasquez said his next initiative is to create a Native American endowment with USC to provide scholarships for Indigenous students.
"Leadership is more than a job. It's about developing the next generation of tribal leaders," he said. "I want to kick down the door and democratize opportunity. And I'm grateful to the Trojan Family for helping me do so."