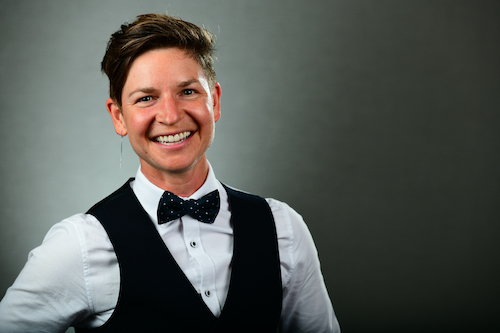 Beck Jensen had been in the Air Force National Guard for more than 15 years when they walked into an information session for USC Marshall's Master of Business for Veteran's program. With a BS and MS in chemical engineering, deployments in Iraq, Afghanistan and Qatar, and a well-paid career at an oil refinery, they had little reason to feel insecure.
Yet Jensen, who is queer and gender fluid (preferring the pronouns they/them, but not minding she/her), nevertheless remembers feeling ill at ease.
"I grew up in Ohio as the middle child of a large Latter-Day Saint (Mormon) family," they said. "I lived through the miliary's 'Don't Ask, Don't Tell' policy, and learned to keep my head down and my mouth shut. I am aware there is a certain generation of white male military officers who may not understand me."
But that fear evaporated the moment Jensen met James Bogle, program director of the MBV and an Army Lt. Col (Ret.)  
"He is a large reason I pursued this specific program," Jensen said. "Both he and Robert Turrill (retired academic director of the program) made it clear that they were leading the charge for inclusivity and change—to change the way people view the world and the military—through true leadership. I knew right then, 'this is it!'"
Jensen returned home afterward and stayed up until 2 a.m. putting together their application. With their strong background in engineering and service, it was of course accepted.
For his part, Bogle said that Jensen's credentials were extraordinary on paper, and even more apparent when he met them in person.
"It would have been complete folly not to fully embrace Beck for all the life and love that they radiate," he said. "I can't wait to see what they do next, and I'm convinced that the impact of Beck's leadership will be extraordinary."
Getting Down to Business
Although Jensen already had a career as a senior lead chemical process engineer for PBF Energy, one of the largest independent refineries in North America, Jensen found themself thinking more strategically about pursuing a business degree.
New challenges don't daunt them. At 22-years-old and during a military deployment to Afghanistan, Jensen was chosen to lead a $300 million communciation infrastructure rebuild. Following that experience, and after receiving a national award and named 'Enlisted Engineer of the year,' they switched their major from civil engineering to chemical engineering—seeking added experience and new challenges.
"It would have been complete folly not to fully embrace Beck for all the life and love that they radiate. I can't wait to see what they do next, and I'm convinced that the impact of Beck's leadership will be extraordinary."— Army Lt. Col (Ret.) James Bogle, academic director, Master of Business for Veterans (MBV)
"I love learning," Jensen said. "It doesn't matter if it is a new word, how to properly run electrical wire through a house, analyzing temperature rates versus hatch patterns of endangered leatherback turtles, or about the strategic business motives of a company. My goal has always been to maximize my exposure and skill sets across a variety of different industries."
An MBA could be just the thing to connect their proven technical background to fundamental business drivers within organizations. During their first graduate degree at Cleveland State University in Ohio, Jensen would often wander past the business school, reading the advertising pamphlets. They confess to having peeked at more than a few business school websites. But now they were working full time, with a partner and a step-child, and still serving in the National Guard. It didn't seem a plausible goal. Until they heard about the MBV.
Designed for active duty and retired veterans, USC Marshall's Master of Business for Veterans program is a 10-month, part-time MBA program preparing students to leverage existing leadership skills to successfully transition into the corporate world.
Traditionally, the GI Bill benefits cover the majority of college tuition, but Jensen had already used those veteran benefits for their undergraduate education. They relied on the generousity of opportunities like the Cynthia Ross Schrank Endowed Scholarship, which filled the gaps in out-of-pocket costs and made the degree possible.
Back to Service
But in March 2020, just before they began their MBV coursework, COVID-19 sparked a California lockdown and Jensen was sent on military orders to begin active duty first responder support. It was supposed to last just four days.
"More than a year later, I am still on active duty orders and have been extended nine times," they said. USC responded to the pandemic by shifting classes to an online format – which actually worked in Jensen's favor.
As part of the 146th Civil Engineering Squadron, Channel Island Airlift Wing, Jensen spent the first two months helping to set up hospitals all the way from the Mexico/US border to Northern California. Jensen is currently stationed at a food bank in Santa Barbara—a site that has distributed more than 25 million pounds of food since last March to area residents, a 58% increase over last year.
Concurrently, Jensen completed their coursework for their MBV degree online.
"I've been very fortunate," Jensen said. Their daily military schedule is structured from 7-4, leaving the rest of the evening for school work. "Juggling course work around my civilian job and family demands could have been extremely difficult."
While on this active duty, Jensen is temporarily stationed apart from their wife, their 7-year-old step-son, and their two dogs. "It has actually allowed me  to focus on schoolwork." Jensen is also on military leave from their civilian job at the refinery.
Their favorite classes included entrepreneurship with Tommy Knapp, and data analytics with Robertas Gabrys, but their inspiration continues to be James Bogle. "His accomplishments are so expansive everyone should be terrified of him. But you quickly discover that he's the kindest, most attentive, sincere and aware human. I aspire to be more like him."
What's next? "Great question—I am still in the discovery of what's next for me," Jensen said. They plan to return to the refinery, but they are now open to new opportunities, perhaps more consumer facing.
Jensen completed their masters final capstone project with Unibail-Rodamco-Westfield, (URW) a company that owns, develops and manages premiere retail assets, such as shopping centers and airports. With current contracts in LAX, Jensen's project provided a deep-dive into reimagining the traveler's airport experience. The team won first place after being judged by several executive level employees across multiple companies.
"Whatever my next role, it will likely involve a level of technical analysis," they said. "But I definitely could be useful building the bridge between what engineers design and what consumers really want."
In the meantime, they have no intention of leaving the military. Their paperwork for an officer's position has been accepted and they are currently awaiting training dates. Jensen is currently an E7 master sergeant, the third-highest rank an enlisted person can attain.
As an officer, they will have the opportunity to continue to lead and manage military personnel and projects, roles that Jensen finds most rewarding. Despite this year being a challenge, Jensen is thankful for the opportunities it has afforded.
"I couldn't be more grateful," they said. "I am so fortunate for the opportunity to provide for my local community while learning and supporting my Marshall MBV community. If 2020 has taught us anything, it's about the importance of community service and community support."