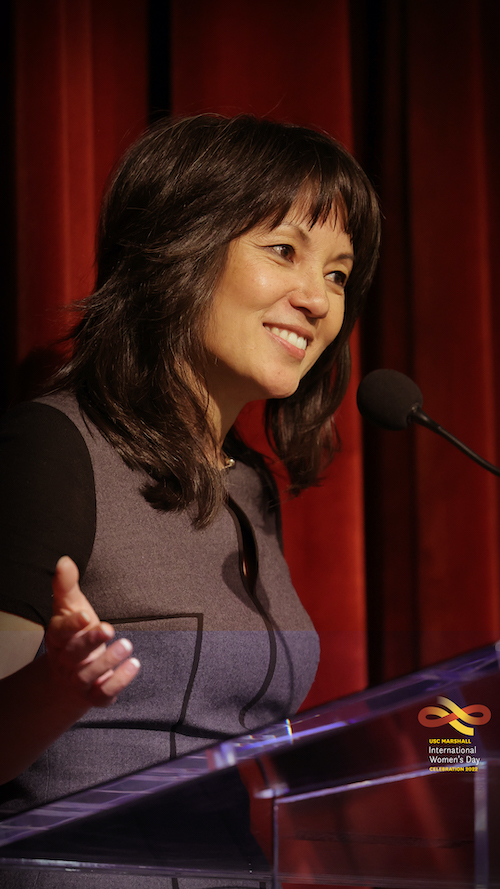 The coronavirus pandemic has had a profound and enduring effect on women in the workplace. The hard-won lessons of the last two years were the unofficial topic of the sixth annual International Women's Day event, held March 31 in the Tutor Center Ballroom.
This year's event—the first held live since 2019—proved an ideal space to discuss the massive disruption to the work lives of women, the opportunities and the ongoing challenges. By some reckonings, women's participation in the workforce in 2021 was at its lowest rate since 1988.
So, there was a lot to unpack. Marshall's international Women's Day event is aligned with the official International Women's Day, observed on March 8 and founded in 1911 as a way to celebrate the achievements of women in the workplace.
Hosted by an organizing committee comprised of Marshall women faculty, administrators and student leaders from the Graduate Women in Business (GWiB) student organization, the event brought together alumni leaders, including Sally Chan BS '02, MBA '11, VP of community engagement with the Warner Bros. Entertainment Group of Companies; Cecilia A. Green MBA '07, global marketing lead at Meta; and Amaree Tanawong MBA '08, director of strategy and operations at YouTube BrandConnect, in a panel about leading through times of rapid change, moderated by Emily Aguilar MBA '22, president of the Marshall Graduate Student Association.
The afternoon was kicked off by a noted female business leader—USC Trustee Carmen Nava '84, who introduced USC President Carol L. Folt, a pioneer as the first female president of the University. Folt pointed out that while many universities didn't become truly co-ed until the late '60s or '70s, "USC was, from the start, international, diverse and co-ed."
But despite great gains for women in the last 50 years, "there is lots of work still to be done," she said. "Last year it was reported that the number of women running businesses on the Fortune 500 had hit an all-time record. The number? A whopping 41. That's less than 9 percent of Fortune 500 companies."
The Marshall School, she said, is really helping to bridge those gaps. "In 2018, Marshall was the first top 20 business school to reach gender parity for its full-time MBA program," she said. "And last year it reached that milestone with its undergraduate program."
"It is inspiring that we can build upon these events, and it's wonderful that we can see change happening in real time," said Folt.  
Women's Leadership in Times of Rapid Change
A panel of USC Marshall and Leventhal School of Accounting alumnae leaders from the tech and entertainment space used their time onstage for a frank discussion about how their leadership styles have changed in the past two years—by necessity, but also sometimes for the better.
"Women need a cape—you're a Wonder Woman! But I think we don't realize we have another option," said Chan. "We stand up and lean in. And the pandemic amplified that. We're all showing up in mass levels in our homes and in our workplaces."
"The tools of improv are the tools of human connection, and the tools of human connection are also the tools of business."— Kirsten Eggers, assistant professor of theater practice, USC School of Dramatic Arts
That conversation, in a panel titled "Women's Leadership in Times of Rapid Change," revealed how adapting to the so-called "new normal" means many women leaders now feel able to claim their more authentic selves—including saying no to certain expectations in order to take care of themselves, their teams—and their families.
"I volunteered for everything. I was always raising my hand," said Tanawong. "I'm not sad about some of this. It meant I could prioritize. Now I have one to two personal commitments and one or two work commitments. I can go deep and be really invested."
Green agreed. "The pandemic for the last two years really took a lot out of me. It's allowed me to show up thoroughly at work, and to create space at work. While it's been taxing, it's also very freeing in a lot of ways."
'Presence Is Powerful'
There was some drama in between the panel and the keynote speaker.
Professors from USC's School of Dramatic Arts were on hand to demonstrate how to learn executive presence through improvisation.
"The tools of improv are the tools of human connection, and the tools of human connection are also the tools of business," said Kirsten Eggers, assistant professor of theater practice in the USC School of Dramatic Arts. "Presence means paying attention. It's being ready at all times. Presence is powerful."
Women leaders are often pressed to develop "executive presence" if they want to move up into leadership roles. But what does that mean exactly, and where do you learn it?
Eggers and Zack Steel, her colleague from the USC School of Dramatic Arts, took event participants through an unexpected hour of interactive fun, meant to demonstrate how people use improvisation in everyday interactions. "Improv is a crash course in adaptability," said Eggars. "And like most things, practice makes perfect."
Sapient Leadership
Earlier in the afternoon, the question was asked: "How do you overcome being a woman?"
"I don't," answered Chan of Warner Bros. "I embrace being a woman."
Turns out, women are the best natural leaders, especially going forward into a changed work world.
In her keynote address, Cathy Hyodo '93, Partnership Board member and Los Angeles office managing partner at Grant Thornton, referred to a conversation out of Stanford arguing for a new kind of leader. The so-called "sapient" leader is wise, sagacious and can deftly navigate change. More importantly, these leaders "exhibit authenticity, humility and vulnerability, inspiring the necessary trust and psychological safety that drives shared learning and intelligence, which led to a better future for all the team."
"I truly feel and believe that the traits I mention here are inherent in women. I believe that women can really shine in the face of leadership," she said.