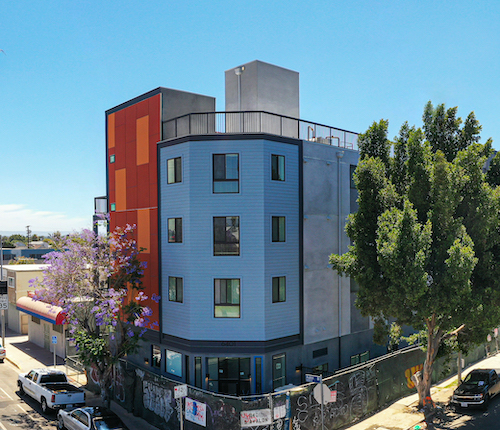 "As a housing crisis plagues Los Angeles and most of California, homelessness has risen to record levels.  Neither government nor philanthropic funding alone has been able to address the problem in a cost-effective, scalable way. In order to have a real impact, traditional private and institutional capital need to be put to work."
This description by Adlai Wertman, the David C. Bohnett Professor of Social Entrepreneurship and Founding Director of the Brittingham Social Enterprise Lab at USC Marshall, summarizes why he recently published a case study of SoLa Impact, a for-profit, social-enterprise real estate developer and rental management company.
"Lack of affordable housing is one of the greatest factors leading to homelessness in Los Angeles." said Wertman. "Many residents believe it is all due to drug abuse or mental health—and those are major contributing factors—but the biggest factor is the dearth of low-income housing.  This is why SoLa's for-profit affordable housing model is so critical."
SoLa Impact—a  private, affordable housing developer in South LA—has perfected a model for producing market rate returns and is therefore attracting hundreds of millions of private investment dollars into market typically ignored by the private sector.
SoLa was founded by Martin Muoto. Muoto left his native Nigeria for The Wharton School at the University of Pennsylvania in 1989 (his other acceptance letter came from USC). He washed dishes to put himself through school and launched a career in venture capital when he graduated in 1993.  After several senior roles at firms in New York, Muoto moved to Los Angeles in 2004 and began investing in South LA in 2009 with his own limited funds.  In 2014 he began raising outside capital, effectively launching a major, market-oriented affordable housing effort.
Muoto found an existing housing stock in South LA ready for cost-effective revitalizations by upgrading fixtures, floors, bathrooms, and kitchens.  He also found reasonably priced lots, allowing for affordable ground-up construction. Tenants in these upgraded apartments always treat them with extra care.  SoLa also offers numerous additional benefits for tenants, including community spaces, opportunities for scholarships and events.  As noted in the case, SoLa also created an Opportunity Zone to add opportunities for locally and black-owned businesses to grow, while bringing new restaurants and shopping to the community.
Few affordable housing efforts focus on for-profit solutions the way Muoto has with SoLa. "Traditionally, almost all the affordable housing was done by non-profits—with government and philanthropic support—because no one could figure out a model that produces market rate returns," said Wertman. "SoLa figured out the model and as such, has brought hundreds of millions of private capital into addressing LA's low-income housing crisis."
This case study has garnered attention. It was recently named a featured Case Study of the Month by the UK-based Case Centre, and is also available through Harvard Business Publishing and Ivey Publishing.