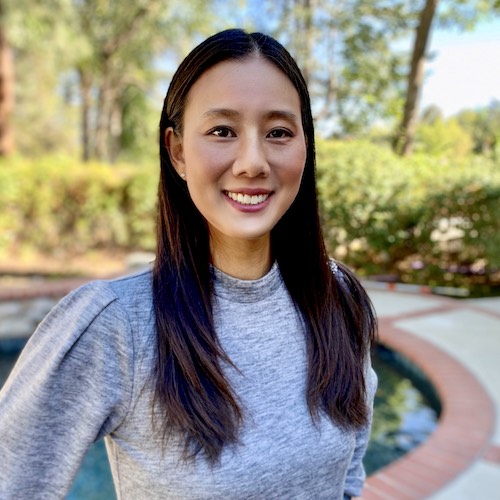 As vice president of customer support experience for MuleSoft (an acquisition of Salesforce), Marilyn Lin '02 is today in a position to not only have a seat at the table, but also to make her voice heard at senior levels.
A longtime leader in technology, Lin is known for her tireless advocacy on behalf of working parents. Not long after she joined Salesforce in 2007, she co-founded the Salesforce Women's Network, the company's first Employee Resource Group (ERG), significant given Salesforce's reputation for being attuned to issues of diversity, equity, inclusion and sustainability.
"When we started the movement, there were 13 of us as the founding group huddled in a conference room at HQ; now it's global, with chapters in every office location."
In 2017, she was one of 20 women tech leaders who quietly met and co-founded the Parent in Tech Alliance(PTA), whose mission is to banish the "maternal wall" and make tech companies more inclusive for not just mothers, but all parents.
More recently, she's turned her attentions to amplifying issues of intersectionality, holding one-on-one talks with senior leadership to help them understand the distinct challenges faced by those who are part of more than one marginalized group.
"I'm a double minority, identifying as an Asian woman," she said. "There haven't been a lot of people who look like me in upper management." When Asian hate crimes began to make headlines, Lin realized she had to move out of her comfort zone and use her position to address the issue with her colleagues on an all-hands call. "People shy away from being vulnerable at work, but I needed my colleagues to know it was OK to not feel OK at that moment," she said.
"I've never been one to sit back and let someone else solve issues I'm passionate about, and I want to tell other young women: It's within your ability to drive the change you want to see!"—Marilyn Lin '02
This kind of leadership by example has made her a sought-after mentor—a role she admits she relishes. "I just love coaching and guiding others to unlock their potential," she said.
It's important for women to help women. "For so long, a lot of the women who've made it to the top didn't reach back down to help others up," she said. "It's changing—more women are higher up on the chain and more women in the ranks are getting the support they need to move up. More companies are helping to build and foster that momentum. Our company has been strong on that front."
Not surprisingly, Lin has taken the lead, both formally and informally, over her 14-year career with Salesforce. She formally mentors several individuals a year, and also keeps in touch with many of her former employees as they make their way through their careers. She is always open to young professionals reaching out to her directly via LinkedIn for questions or mentoring.
"I want to be that person who reaches back and extends a helping hand."
Recognition for Leadership
For all of her work advocating for others, Lin recently was notified of an honor she wasn't expecting: INvolve had listed her as the No. 1 HERoes Women Role Model Future Leaders for 2021. This list, sponsored by Yahoo! Finance, celebrates 100 women making a significant contribution to gender diversity at work.
"I'm deeply honored for receiving this award and being recognized alongside other amazing women leaders around the globe. There's still so much more to be done, and it's crucial that we all work together to drive workplace inclusion, especially to bolster working mothers who have been heavily impacted professionally during the pandemic."
A Woman in Tech
Lin grew up in Hong Kong and attended an International School before emigrating to Vancouver with her family. She set her sights on USC for college because during her childhood her father often shared stories of his college years living in Southern California. As a business student, she gravitated toward the technical end of business—information systems, data and operations. She fondly remembers professors Doug Shook (now Chief Information Officer at USC), Richard Bergin, Robert Schmidt and Stacy Geck. "They were really supportive of my interest in the tech space and never made me feel out of place for being one of the few women in the class."
A summer internship led to her first career opportunity in IT audit with EY. From there she went to Oracle, and from there to Salesforce, the beginning of a 14-year career in roles of increasing responsibility.
Now, as the world emerges gingerly from the pandemic and attempts to return to some semblance of normalcy, she says she senses a shift in the way work/life integration is being perceived in the workplace. "I see it on LinkedIn. People are being more vulnerable and honest.  And they are being embraced with empathy."
She takes that as a positive sign. But the fight for true equality and inclusion is far from over.
"I'm grateful for the support from significant people in my life who have not limited my opportunities to try and do things due to gender bias and norms," she says. "My parents, my husband, my professors, and leadership—thank you.
"I've never been one to sit back and let someone else solve issues I'm passionate about, and I want to tell other young women: It's within your ability to drive the change you want to see!"