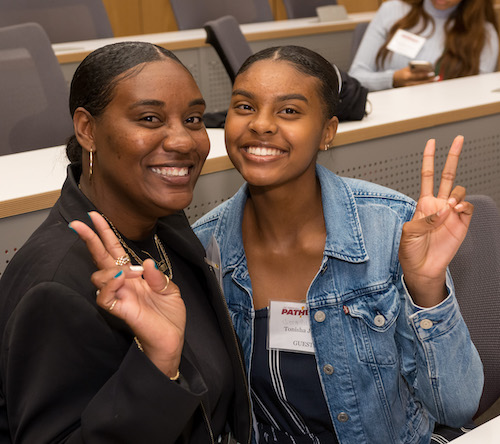 The USC Marshall School of Business has increased its Black transfer student population by 40 percent this year, thanks to a unique, high-touch recruiting program designed by its Office of Admission to give talented students another chance to join the Marshall School.
When the Marshall Pathways Program (MPP) launched and began recruiting in 2019, the school's Black transfer population—the largest transfer population at USC—stood at 1.3 percent. But within three years, that percentage has grown to nearly 6 percent.  
Just four transfer students were admitted through the program in its first cohort in the fall of 2019. In 2020, there were 21 students admitted. In 2021, 45 students were admitted, with 41 accepting the offer to transfer to Marshall.
Students who are invited to take part in the MPP are competitive. The students admitted this year brought with them an average 3.6 GPA, exceeding that of the USC general transfer population.  In addition, many came from four-year universities where they received merit awards as arriving freshmen. Incoming MPP students arrived from universities including UCLA, Syracuse, Santa Clara and the University of Houston. Six recent incoming students received merit awards from USC for their academic achievement.
The success of the Marshall Pathways Program has drawn the interest of other schools at USC, including Viterbi, which is looking to emulate the model.
Creating a Path
The Marshall Pathways Program was created specifically to target talented Black and Black multi-racial students who for whatever reasons did not make the initial cut for USC admission.
"Marshall is so competitive that we can never admit all the qualified students," said Marshall Director of Admissions Tiffiani Frye, whose office created the program. "We wanted to create another opportunity for Black and Black multi-racial students to join Marshall—another pathway."
Working in tandem with the USC Office of Admissions, students who indicate Marshall as their first choice of major but who were not admitted for whatever reason, are immediately flagged for the Marshall Office of Admissions, who reach out to inform them of the Pathways program and a "second chance" to transfer into Marshall as sophomores.
The MPP is distinct from the Trojan Transfer Program in that it specifically targets Black and Black multi-racial students who applied with Marshall. Those who indicate they are interested receive a year of intentional pre-transfer programming aimed at ensuring their successful transfer. This includes guidance on specific classes they need to transfer, workshops on college success strategies, pre-career exploration, community building and math tutoring, if needed. There are also pre-orientation workshops and help with navigating financial aid. The program is high-touch and personal: Each potential MPP student has round-the-clock access to counselors.
"Literally any question I had, no matter how small, they made themselves available," said Kelsey Brembry '22, a member of the first MPP cohort. [Read more about Brembry's journey as an MPP student here.]
Once at Marshall, students enjoy continued guidance and support, including community-building events, career coaching and access to travel opportunities and internships.
The MPP works closely with the Risk Management program at the Leventhal School of Accounting, part of the Marshall School. It introduces MPP students to the field of risk management—an insurance function that spans industries including technology, politics, entertainment and finance, among other fields—and offers classes, networking—and internships. MPP students from the last three cohorts have taken advantage of internships with firms training the next generation of risk management professionals.
"These firms very much want our students," said Frye. "They want to fill their pipeline with talent from the Marshall School."
Beyond the numbers, however, the program serves to increase diversity across Marshall, an important priority for the School, and the University.
"When students are learning in spaces that are diverse and inclusive, that look like the world we live in, all students benefit," said Frye. "When you have diverse voices in the classroom, it can electrify those lectures, for students and professor alike."
"The success of programs like the MPP mean we can deliver on the USC promise of a truly excellent and world-class education," she said.