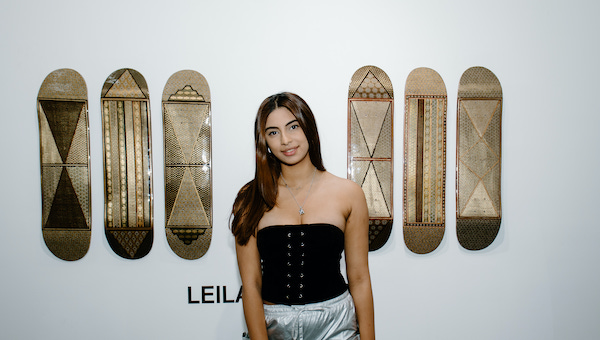 Standing in her Echo Park art gallery, Arushi Kapoor '18 doesn't immediately present as a business school graduate. She blends into the crowd around her—chic, arty, international.
But that impression lasts only until you ask about her gallery—it's one of three she owns, and at that point, it's very obvious Kapoor understands business—and conducts it keenly.
"I've been passionate about art since a young age," she said. "But it was Marshall that taught me how to think like an entrepreneur and a business person."
Today her name is a brand thriving in the secondary art market. The Arushi Group maintains galleries in Los Angeles, London, and New Delhi. She is also a consultant helping investors and families purchase art on the secondary market.
The secondary art market refers to artwork that returns to the market for sale after being bought new from a gallery or artist. 
Growing up in the World
Kapoor, 25, grew up in New Delhi, but spent time in New York and Los Angeles, where her father kept an office. When it came time to choose a college, Kapoor looked at only two schools, Brown and USC.
The weather in Los Angeles was much better. Also, she knew she could study business at Marshall.
While she had many interests, she understood going into college that there was a practical side of things. "It goes beyond passion. This is your work. You need to learn a living." And business, she said "keeps your options open."
"You can study many other things, including art, outside of a school setting," she said. "But skills like accounting, data analytics and even entrepreneurship, you have to learn from professionals."
These days, she considers herself an entrepreneur first—art consultant and gallery owner next. "I have that hustler attitude. Everybody needs art."
She cites her classes in entrepreneurship and macroeconomics as skills and mindsets she uses everyday over the course of business.
"I have clients from around the world, and many are high net-worth individuals. At some point, you have to be able to discuss things on a business level. Marshall helped me develop that almost unconscious way of thinking."
Tinder for Art
Like many students, Kapoor launched her first business attempt while still in school, via an app, of course.
"I thought of it as Tinder for Art, which failed massively," she laughs. "It was a business-to-business way to connect artists to galleries."
But as is often the case, the failure opened other doors. "The app failed but it gave me access to galleries. So I just started connecting buyers with sellers."
The USC Connection
She is passionate about promoting female artists. Her latest show, which closed in November, was titled Hourglass Overturned," and featured a roster of new and emerging female artists.
One of them was Leila Nazarian, who overlays traditional Persian tilework onto skateboard decks—thereby fusing her Persian culture with her American upbringing in Santa Monica and Florida. Nazarian studied cultural diplomacy at USC. 
Kapoor found Nazarian's beautiful pieces on Instagram, and invited her to show at her Echo Park gallery. What she didn't realize at the time was that the artist, in fact, was the daughter of the Marshall professor who taught her macroeconomics—Fatemeh Ibrahimi-Nazarian.
"Arushi had a head for business and she was always following me to my office with more questions," said Prof. Ibrahimi-Nazarian. "I'm delighted she is enjoying success...and I'm also delighted she discovered my daughter's artwork."
Kapoor continues to enjoy Trojan connections wherever she goes. "The connections I got from Marshall are so strong," she said. "And it's ongoing." She was approached by downtown LA's Hotel Figueroa for a project, and the head of that art department, they soon discovered, went to USC.
Now she's moving out of physical art and into the digital. Ever the entrepreneur, Kapoor is planning to drop her first branded non-fungible token, or NFT, in early December. "The NFT market is a game changer," she said. "I'm very excited to see where it takes us."