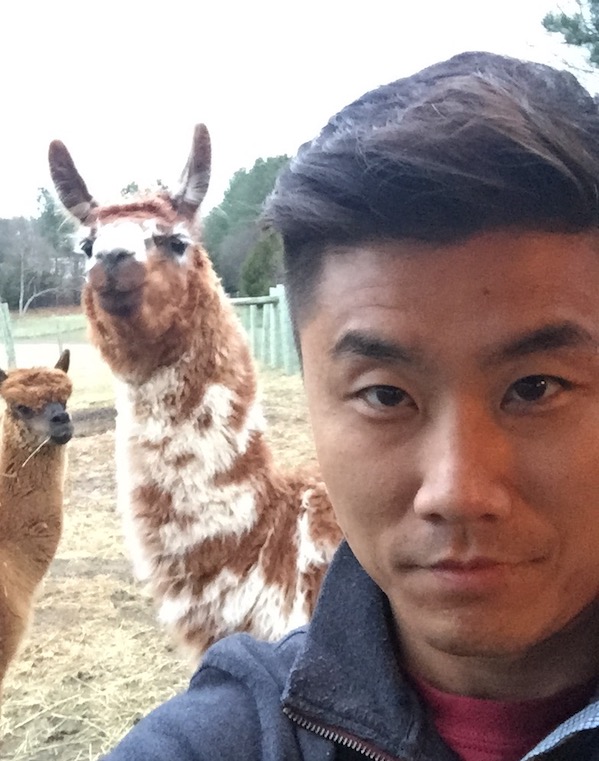 While the pandemic lockdown tested Brian Conyer's adaptability and leadership in a time of crisis, it also drove exponential revenue growth at the tech startup he launched with his co-founder, Jihye Shin MBA '14, in 2016. GIBLIB, a video-based education platform for practicing physicians, grew subscription revenues five times since last January, doubled its team size, just raised an additional $2 million in capital (totaling $5.5M to-date), and now boasts a 70% conversion rate on trial subscribers.
"We have been super fortunate to be on the benefitting side of the 'new normal,'" Conyer said via Zoom from North Carolina. "We feel lucky. No one predicted this. We happened to be in the right place."
But despite this success, the weight of the pandemic compelled Conyer to step back and re-evaluate his work-life balance and what was most important to him. In August, he packed up his life in Los Angeles and relocated to North Carolina, where his sisters live and where his parents own an alpaca farm.
It was a smart move, he said. "During the pandemic, life instantly slowed down, and I finally had time to focus on my mental and physical well-being. This level of attention to self-care helped me be a better leader and enabled me to make better business decisions."
The 'Netflix' of Medical Education
Before the pandemic, the Los Angeles-based GIBLIB, which Conyer built as a student in USC Marshall's MBA for Professionals and Managers program, was already thriving.
Conyer, who'd worked in healthcare sales before entering his MBA program, and Shin had forged partnerships with six of the top 10 hospitals in the nation to produce videos, building a library of lectures and master classes. Their library was a source for continuing education credits. With the lockdown, in-person classes and conferences were canceled, so GIBLIB (named after Dr. John Gibbon, inventor of the heart-lung machine) became one of the only ways for physicians to earn those credits.
But even as GIBLIB grew and thrived in the pandemic lockdown, by summer, Conyer was going stir-crazy. "It was weighing on me, the chaos of the world and not being around friends and family," he said. "I was in L.A. for work reasons, but once the lockdown happened, I had to better balance my life."
He decided to surprise his parents and two sisters in North Carolina with a visit. During his six-day drive across the country, he dictated notes for the investor report and business plan he was preparing for the next board meeting. He stopped to enjoy nature and take photos. "It was rejuvenating."
When he got to North Carolina, he stayed with his sisters and fell into a routine of early-morning work on his parents' alpaca farm before hitting the laptop for GIBLIB and, finally, feeding the animals at night. It was then that he had an epiphany.
"I wanted to move back to North Carolina and work on the farm," he said. "I realized how important it was to be around family."
In September, he sold everything in his L.A. apartment and flew home with just two suitcases full of clothes. "If my parents weren't in the at-risk group for COVID, I would absolutely have lived on the farm!" he said. Instead, he alternates between Airbnb and couch surfing at his sisters' houses.
Conyer didn't grow up on the alpaca farm—that is his parents' retirement project—but he has found happiness and balance down on their farm. He made a project of taking headshots of each of the 15 alpacas and two llamas, and over the Christmas holiday he got a tattoo based on an alpaca headshot on the back of his arm. "It was a joke for my mom," he said.
He looks forward to his weekend chores, including moving hay. The physical labor invigorates him. "It's actually fun," he said. "It's a totally different working style than a tech company. It's not that I forget about work, but I think about it in this environment that's therapeutic."
He's kept busy in other ways: He has run a couple of ultra marathons, reads three books a month, and is generally looking after his physical and mental well-being. He also recently got engaged.
He has no plans to move back to L.A. He's currently building the sales and customer success teams in Raleigh, and his goal is to get married in 2022 and then move to New York City to join his video team.
"Pre-pandemic, I would have never considered having a distributed workforce," he said. "I've now adapted to the times and am strategically hiring in clusters based on functions across the country."
The Marshall Difference
Conyer credits Marshall with giving him the confidence and frameworks necessary to not only launch his company but to guide it through the uncharted waters of global pandemic. Thinking back on the topic of leadership in times of crisis in one of his classes, he set up a weekly Friday meeting to "share vulnerabilities and insecurities" and "really humanize that experience"—one of those meetings was led by one of his mentors, Associate Professor of Clinical Entrepreneurship Pai-Ling Yin.
"We are grateful we made it through the pandemic and have the momentum to build out a future we thought was five, 10 years down the line," Conyer said. "Online education is here to stay, and subscribers now realize how convenient and accessible our classes are. The future is right now for us."