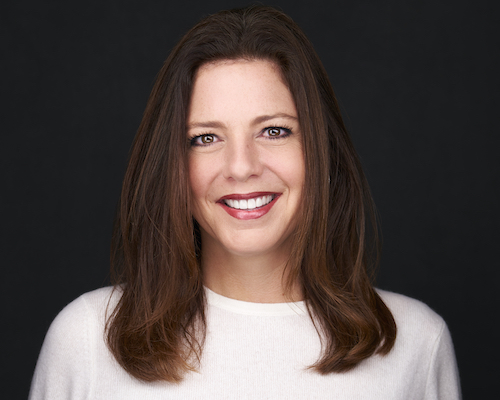 For the first time in the 43-year history of the Ronald McDonald House Charities Bay Area (RMHC Bay Area) an all-woman slate of officers leads the $6.5 million nonprofit's board of directors. At the helm of that history-making group of four officers is Heather Lewis Pietsch '93, who joined the board in 2020 and became president this year.
"To have the first all-woman board officer slate is a wonderful achievement. We should definitely be celebrating this," said Pietsch, a former marketing executive at Salesforce, who is now leading the 25-person board, which is 44% women. "It wasn't that we went after selecting an all-female team, but it is exciting that it worked out this way. It's an honor to represent this board as their president."
Becoming the board's president is significant. While women hold 75% of the jobs in the nonprofit sector, only 42% of board chairs are women, according to a recent report ["Broken Ladders: Barriers to Women's Representation in Nonprofit Leadership," American Association of University Women].
"The combination of successful businesswomen coupled with our motherly and compassionate nature brings a really powerful combination to what we are trying to do at the Ronald McDonald House, which is to provide the healing power of family and home to critically ill children," Pietsch said. "There is passion and a dedication to do what we can to support the families of sick children in any way we can."  
RMHC Bay Area provides no-cost housing, free meals, comprehensive psychosocial support services and K-12 education to families with critically ill children who are accessing lifesaving care at Lucile Packard Children's Hospital Stanford and UCSF Benioff Children's Hospitals in San Francisco and Oakland.
A Solid Foundation in Business
Pietsch says this is a critical time for the organization. Since the pandemic began, the charity has drastically expanded its work, including its meal program for hospital caregivers, serving 88,000 meals and providing 24,000 nights of housing to families in 2021. "The new model is running a network of programs and adapting them to the needs of each hospital," she says. She looks forward to facilitating corporate partnerships that make such programs possible and feels amply prepared.
"USC, specifically the Marshall School of Business, prepared me for the business world. The complete understanding of each discipline, including communications, accounting, finance, law and marketing, allowed me to feel confident in all aspects of business," she said. "My education provided me with critical thinking skills and the confidence to be bold and try new things. I had a curiosity and desire to learn about many things."
USC was the only school Pietsch applied to, and she was set on studying business, influenced by her father, a marketer and entrepreneur.
While at Marshall, Pietsch took leadership roles in Delta Gamma and the Greek system. She completed an internship at Mitsubishi Motors of America in the marketing department and got involved with the American Marketing Association and American Advertising Association.
After graduation, she launched her career as senior media manager at Ogilvy & Mather Direct in Los Angeles, where her clients included Intel and Microsoft. As media director at Ketchum Advertising/Think New Ideas Los Angeles, she worked with Oracle, managing a $100 million media budget.
"Most of my bosses were USC alumni," she said. "It definitely is a great network."
A Startup Moment
Marc Benioff, a fellow USC Marshall alum and one of her clients at Oracle, became her boss in 1999 when he asked her to join Salesforce, then a startup cloud-based software company.
"He called and asked me to run marketing for Salesforce, and I said I don't want to move, but I'll consult for you," she said. Benioff insisted on a meeting and flew her to San Francisco. "I got a cab to Coit Tower, where he had a house and next door he had the servers and developers."
There were only four people with the company at the time. She interviewed with them and then had lunch at Mama's. "Marc wrote my offer on a napkin," she said. It was an offer she couldn't refuse, and she came on board as marketing director — and the 13th employee.
A Passion for Giving Back
Giving back runs in the family. Her mother, a longtime volunteer for Children's Hospital of Orange County, started taking Pietsch along to help set up for annual fundraisers from the time she was about 2 years old.
"I was always taught by my family to give of yourself — time, treasure and talent. My mom modeled this so beautifully," she said.
For the past several years, Pietsch has also been involved with Part the Cloud, an Alzheimer's charity that has raised $60 million for research, and My New Red Shoes, which donates shoes, clothing and backpacks to homeless children.
"I was fortunate enough to attend an incredible university, where I gained the knowledge and confidence to be successful in business and to take chances when they presented themselves — like moving to a new city and taking a risk on a small startup in the height of the dot com explosion in 1999," she said. "This chance I took eventually provided me the means and time to give back in ways that I never imagined." 
Pietsch is thrilled that her older daughter starts USC Marshall in the fall and will be a part of the USC Women's Volleyball team. "I hope that my daughters find their passion and learn that there is no greater joy than being able to help others in their time of need."