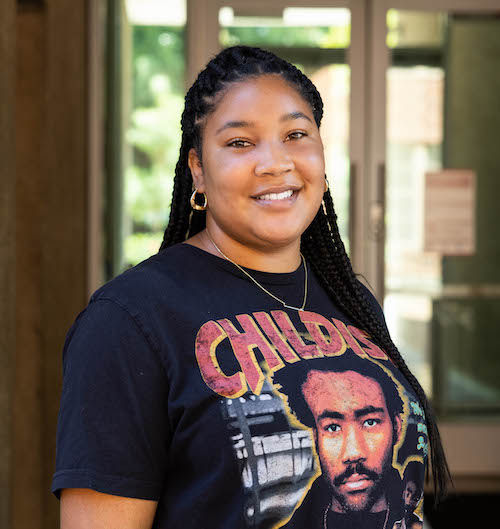 When Kelsey Brembry '22 first transferred into Marshall as a sophomore, she readily admits she felt a bit overwhelmed. "There was so much going on, with classes and clubs—and it was coming at me so fast."
Then she enrolled in the Coury Applied Leadership Program, a unique co-curricular experience that teaches active leadership skills to freshmen and incoming transfer students. It was a game changer for her.
"I learned what my particular strengths are," she said. "I learned how to talk to people. I gained a lot of confidence that has carried me through my subsequent coursework and internship."
Launched in 2018 with the support of Robert Coury and his family—who have strong connections to Marshall—the Coury Applied Leadership Program targeted undergraduates for good reason.
"It's unique in that it teaches active leadership skills to first-year students," said Jody Tolan, assistant professor of management and organization, who oversees the program. With a strengths-based focus, the Coury Program instills the confidence, character and courage for students to "step up and lead out" regardless of where they are in their academic or professional journey, she said. "That's where I get excited. We are training them in a tangible, very practical and applied way."
First-year students (including incoming transfer students) apply in the fall for the spring program. The program enrollment has nearly doubled each of the past three years, with spring 2021 reaching nearly 200 students. Unlike a defined class, students attend two 90-minute seminars as a group, and choose between one of five smaller cohorts based on their schedule. Each cohort of between 30 and 40 students meets weekly with their Coury student mentor/coach.
Students first meet to identify their strengths via the Clifton Strengths poll through the Gallup Organization. It's a standard metric used by leading corporations around the world. "The exercise identifies five core performance talents that can range from strategic to connection to empathy. Through exercises, reflection, and coaching, students develop these talents into strengths that can lead to near-perfect performance over time. The second seminar focuses on building foundational character strengths essential to effective leadership using the VIA Character Survey and related activities.
"The whole program is rooted in positive psychology," said Tolan. "Once you understand your strengths you can lean into them to make a difference.  You can't be an effective agent of change or influence others without knowing your strengths and leveraging them behind a common goal."
Sometimes students discover surprising insights. 
"I learned that there's not one type of leader," said Daniel Leung '24, who took the program last spring and hopes to be a student mentor to the next cohort.  "For example, I score high in humor, so I bring that to my leadership style, making people feel at ease in stressful situations. That's a strength I can play on."
 
The Learning Loop
Students meet throughout the semester and apply their newfound skills to the rest of their lives. "It's integrated with everything else that's going on with their experience at USC," said Tolan. "Not just their coursework, but the clubs they're in, their teams, their co-curricular activities. The leadership skills they learn here align with everything they're doing."
The program is goal- and results oriented, and the students choose what that goal is. Many students are focused on landing that first summer internship.  Some goals are more personal.  One student chose to finish his graphic novel. 
"It was very hands on," said Leung. "We learned active listening, for example, and how to have difficult conversations with people. We practiced really listening to what the other person was trying to say, while also making our own points. It was incredibly helpful." 
Coury Leaders, as graduates of the program are called, are ready to respond in job interviews when asked that age-old inquiry—"tell me about your strengths"—and then demonstrate their value-add, said Tolan.
"Two years ago if you'd asked me if I could present in front of people, I would have said no," said Brembry. "But in my internship exit interview this summer, my public speaking skills were something they praised in particular."
Students finish out the program with a capstone project involving students in the Master of Business for Veteran's program (MBV).
"The students in MBV are always excited by the opportunity to share their leadership experience with undergraduates," said James Bogle, director of the MBV program. "Academic Director Kevin Fields and I are very happy to find such opportunities for MBV to contribute its strengths to programs in the Marshall School like the Coury Applied Leadership Program. It's a vision of the Trojan Family that veteran students really connect with."
The Coury Applied Leadership Program runs through the Spring semester. Applications for the program are accepted through the Fall semester.