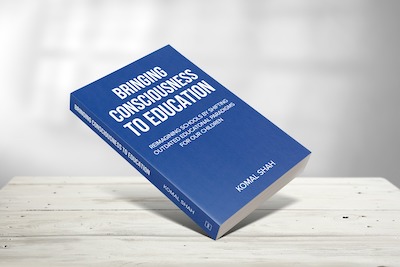 A mere two months into an unprecedented global pandemic, Komal Shah '20 graduated from USC Marshall with her MBA and wondered, What am I doing next?
The answer came pretty quickly to the entrepreneurial Shah. She launched her own educational consulting business and has been providing professional development workshops for educators. She also started writing a book and is currently in fundraising mode for its release by a hybrid publisher in August. "Bringing Consciousness to Education: Reimagining Schools by Shifting Outdated Educational Paradigms for Our Children" encapsulates her philosophy for transforming our educational system.
"My vision is for every child to leave the education system as a mindful, connected, fulfilled young adult," said Shah. 
That is precisely the vision that brought Shah to Marshall. "I set out to bring a business lens to the education space," she said. 
Learning by Teaching
Shah grew up in a tight-knit Indian-American community in San Diego and studied biology at UC Irvine, with the idea of becoming a doctor. All that changed after a trip to India. "I had an epiphany; I realized that I was here on this earth for something greater than the simple, limiting career options that were normalized by my community."
She immediately signed on with Teach for America, and spent five years teaching underserved middle school students in California. The experience gave her a newfound passion for teaching and, after the first four years, a breakthrough insight into what works best for kids. And it wasn't lectures.
"I tried my best to have the students kind of run the show," she said, "and I saw them feeling really empowered and excited to learn."
Another insight into how our educational system fails kids occurred to her at Marshall, where she witnessed her peers struggling with the pressures of grad school and the professional world.
"We are seeing over and over again the mental health crisis in our world, where adults are emotionally unaware, or they're unconscious, or they have all the success in the world perceived by society but they are deeply unhappy," she said. "I think we have a lot of unhappy people who are projecting their sadness and pain onto others, and I think it's time we need to change that. And I believe it starts with kids."
While at Marshall, Shah began practicing yoga and meditation. In her second year, she ran for president of the Marshall Graduate Student Association for the Full-Time MBA Class of 2020 on a wellness platform — and won. Joining forces with the Mindful Marshall club, she introduced wellness programming with tools for stress management, community building and personal growth — and continued programming on Zoom once the global pandemic hit.
Making Schoolkids Happy Customers
In addition to acquiring technical skills at Marshall, Shah says, her new perspective was equally important. "Witnessing education from a business lens, I understood that children are the schools' consumers. So you are there to give them what they need. And your business has to align with the values of your consumers. It has to be something that excites them, it has to address a pain point in their life, it has to be something that is relevant. And that's not school most of the time."
In her book, Shah, who interviewed more than 70 experts around the world, including educational leaders, alternative thinkers, teachers, and parents, addresses current problems with the educational system and examines our definitions of success. "But the bulk of my book is talking about components of consciousness that I believe we need to be integrating in our school system."
She feels her work now is an extension of what she was working toward at Marshall.
"I'm taking what I learned as a teacher, and what I've learned in business school, and I finally feel that I'm able to put the two perspectives together and really go deeper into transforming a system that I am very passionate about."
The pre-launch campaign: https://igg.me/at/consultkomal 
The book: https://thekomalshah.com/my-book/