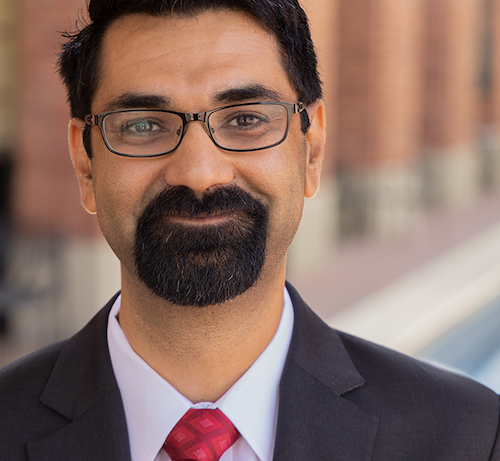 Raman Randhawa arrived at Marshall in 2009 as an assistant professor of data sciences and operations. He was a busy scholar, publishing his research in leading academic journals and teaching graduate level courses in operations management. By his own reckoning, he had little reason to interact with 18-year-old business school freshmen.
Today his days are consumed with them. As the vice dean for undergraduate programs since 2020, his passion has become how to deliver an undergraduate business education with maximum impact.
"I believe that you have the most ability to make an impact in the lives of your students during their undergraduate years," he said.
It's with this in mind that Marshall has introduced seven new "Emphases," into the undergraduate curriculum. They offer a formal path for students in their sophomore year to identify and focus on coursework in the area of business that most interests them.
"You might initially assume that business is about finance and money. But there's so much more," said Randhawa. "You might think you want to go into finance, but what if you discover that you love business analytics or marketing? The Emphases program gives our students the opportunity to discover their interests earlier rather than later and pursue them in depth."
The seven new Emphases that were created by combining industry and alumni inputs with the expertise of Marshall faculty. These are:
Business Analytics

Communication 

Entrepreneurship & Innovation

Finance

Leadership & Innovation

Marketing

Risk Management
The new Emphases join a portfolio of existing undergraduate business programs that include Accounting, Business of Cinematic Arts, World Bachelor in Business,  Real Estate Finance, International Relations, and Computer Science and Business Administration. Two of the Emphases, Business Analytics and Finance, are STEM-certified, which provides possible visa extension benefits for international students.
The Emphases create a formal path to specialization in a student's field of interest, which will be designated on their transcripts. "Students want credit for their efforts," said Randhawa. The number of students in each Emphasis will be tracked, leading to metrics that will inform further curricular changes and fine-tuning.
An underpinning goal was to ensure each new Emphasis was set up in a manner that students could maximize its value. Doing so involved some modifications to timing of coursework so that going forward most students will be able to finish the majority of their core business courses by their sophomore year and begin exploring which Emphasis most interests them. Students will need to complete the gateway course in the Emphasis of their choice before declaring the Emphases.
Students aren't required to declare an Emphasis, said Randhawa. But he hopes they will. "The Marshall degree has always been flexible to include time for electives and a minor. A student can declare an Emphases and still do a minor."
It's an evolution of Marshall's undergraduate degree program that reflects today's desire for more specialization.
"According to the data, students are looking for specialization. Companies are looking for specialization. Everyone is looking for specialization," said Randhawa.  "Training our students to become leaders requires them to build technical, human, and applied skills, and we think that these Emphases are key to achieving that goal."
Arriving at Marshall
Originally from India, Randhawa earned his M.S. in statistics and Ph.D. in operations management from Stanford. His areas of interest include machine learning and operations management. After three years as an assistant professor at UT Austin, he was recruited by USC Marshall.
"It just felt like home," he said. "I wanted to return to California, and I wanted to work for USC, which had an excellent reputation in data sciences and operations."  Marshall also welcomed his wife Smrity, now a popular professor of clinical accounting and assistant dean for Diversity, Equity, and Inclusion for the Leventhal School of Accounting.
His first foray into an administration role came when he agreed to become the department chair for DSO in 2018. It wasn't so much a deliberate decision as a nod toward his own nature, he said.
"I'm a complainer by nature," he said with a laugh. "I feel strongly about many things. And if given an opportunity to do something about a problem, I'll take it on. If I think I can contribute, I will."
He was thusly engrossed when Geoff Garret arrived at Marshall in July 2020 and tapped him for the role of vice dean of undergraduate programs. He said he was impressed by the passion for undergraduate education both Garrett and Marshall Deputy Dean Gareth James held. He agreed to step up.
As he threw himself into preparation for his new role, he made discoveries that surprised him. One in five undergraduate students in the United States earns a business degree. It's practical and leads directly to good jobs. More USC students study business, either as a major or minor, than any other discipline.
Besides the Emphases he has overseen the roll-out of other undergraduate initiatives including a career services program that specifically targets first-generation students.
His own father was the first in his family to graduate from college, he said. "I understand first-hand how transformative undergraduate education can be."
"It's clear that the incremental value of a college degree is highest at the undergraduate level," said Randhawa. "Students learn the foundational skills and values that change their lives."
As campus reopens, he is looking forward to meeting all the undergraduate students. "I've spent my first year in this role online," he said.  "And while I've had some meaningful discussions with students over Zoom, there is a dimension of connection Zoom can't replicate."
And the early reaction to the Emphases? It's been received with enthusiasm, he said. "I am anticipating an exciting 2021-22 school year."