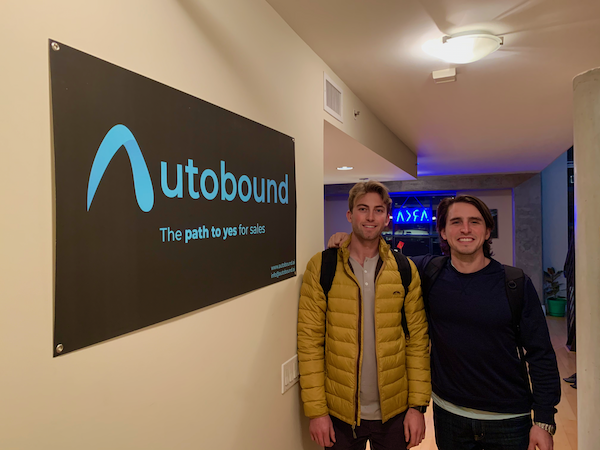 Daniel Wiener '16 was majoring in human biology with a minor in music when he added a business minor during his sophomore year at USC. "It was one of the best decisions I ever made," he said. "I wasn't sure what I wanted to do after graduating, but I knew I had to be prepared."
As it turned out, his Marshall education prepared him with the skills and network necessary to launch a startup that is solving a problem directly impacting the bottom line of business-to-business companies.
Finding the Pain Point
After graduation Wiener landed a job with Oracle. "I was looking for a job that would take me into the world of tech and business, ideally in a fun city. When an offer from Oracle came around, it was an easy yes for me," he said "But I had no idea what I was in for."
He suspected large companies like Oracle likely had many inefficiencies and would waste resources, but he didn't realize the extent to which this was true. "As a new hire, it was incredibly frustrating." But he quickly realized it wasn't a problem unique to Oracle. He decided he would address and solve this pain point.
Discovering his Superpower
Wiener grew up in Denver, and spent 18 years playing and teaching tennis, snowboarding and building and flying RC planes. After a stint at a boarding school in Utah, Wiener moved to Los Angeles to attend USC.  
"It was an amazing opportunity to explore what I was good at. I think everyone has a superpower, but finding it can be really challenging," he said.
Wiener switched his major twice and added two minors before graduating and beginning his career at Oracle. Within months in his new role, Wiener quickly rose to the top of his organization and was repeatedly in the top 1% of sellers across the U.S. But despite his success, he knew he could do better.
Wiener wanted to empower salespeople to think bigger, rather than focus on menial tasks. His solution was to create an integrated platform that would use personalized inputs to automate and optimize the monotonous steps at the top of the sales funnel. "B2B sellers are playing an extremely inefficient guessing game and have turned to 'spray and pray' as a result. Sellers have no easy way to know who to contact, what to say, or when to say it," he said.
"A mixture of extreme OCD and hating cold-emailing led me to start obsessing over a different way of doing my job, where I'd hit my number with a fraction of the effort. That same methodology that led me to be successful in sales is what inspired me to launch Autobound."
Today, Wiener is the CEO and co-founder of Autobound, a B2B sales intelligence startup, aimed to crack the code of outbound sales. "Most entry level salespeople spend their time fumbling through processes that could be automated by technology," he said, "I used to spend five hours a day on LinkedIn, Salesforce and spreadsheets, searching for anything I could find to personalize my emails. Literally every outbound salesperson is doing this." 
His partner and co-founder is his childhood friend and former doubles tennis partner, Kyle Schuster, who was a high-performing sales manager at Yelp.  Schuster, who studied neuroscience and management at Pomona College, was a natural match for the startup.
"We obsess over a fundamentally different, 'inside-out' approach to outbound sales,'' said Wiener. "It has to be easy to use, intuitive, effective, and yeah, 'delightful.'"
Autobound's journey begins by enabling message personalization at scale for outbound sales, then expands into other use cases like customer success, talent acquisition, and marketing. "We're phasing in different categories of intent-based insights as we go to market," said Wiener. The team has created a platform, through a rule-based system running alongside lightweight algorithms, that integrates all of the relevant data into one place, then suggests the right message, to send to the right prospect, at the right time. A process which might take a seasoned seller 30 minutes to perform is done instantly with a one-stop-shop approach.
Building Connections
Wiener leveraged his USC Marshall education and network to navigate this new venture. "I reached out to the Marshall Venture Fund, which had just launched," he said. The mission of the Fund is to help build the entrepreneurial ecosystem at USC and in Southern California.
Michael Rivera, the founding director of the fund, and an adjunct professor of entrepreneurship at the Lloyd Greif Center for Entrepreneurial Studies, recognized Autobound's potential and was eager to back a fellow Trojan alumnus.
"Autobound has the potential to revolutionize the sales process—we are thrilled to participate in backing Daniel and his team," he said.  Our students had a very positive experience too, gaining firsthand experience in the world of startups and investing." MBA candidates Natalie Ward, Trey Arnold, and Qian Lin helped guide the Fund's decision to invest.
Autobound has caught the attention of big SaaS companies. "A lot of our investors are from Salesforce," said Wiener. The Trojan Family has been a huge part of its success, "Marc Benioff and I were in the same fraternity (TKE)! But he was a couple years before me," he laughed.
Wiener and Schuster were able to quit their day jobs to build the machine-learning-powered sales engine that would change how sales is done. They launched a minimum viable product which attracted attention at a recent USC Demo Day, an annual event funded by the Greif Center. Wiener and Schuster also attended the Founder Institute, where they were awarded the Select Portfolio designation, given exclusively to the top 2% of the incubator's 4,000 startups.
Thanks to a successful and oversubscribed pre-seed round and guidance from advisors, such as Xactly founder and CEO Chris Cabrera, Autobound has been able to hire key staff members to develop the next version of its product.
"Daniel and Kyle are solving a problem that every company is struggling with, and they're going about it in a very interesting way," said Cabrera. "Effective SDRs need to be relevant and personable in their outreach but doing so has historically been time consuming and quite monotonous. The Autobound team has done an impressive job building a product that not only makes SDRs more efficient but helps them ramp faster. Even the best sales organizations could benefit from something like this."
As it continues to grow, Autobound is already giving back, hiring interns from USC's undergraduate program.
"It's been a wild and exciting ride," said Wiener. "I don't think we would be here without the foundational business education, work ethic, and network I gained as a Trojan."