EDIT
USC Marshall Alumna Launches an Accessible, Affordable Coworking & Event Space for Dreamers
USC Marshall Alumna Launches an Accessible, Affordable Coworking & Event Space for Dreamers
In this lush new 10,000-square-foot space, Deena Saunders-Green helps foster care alumni and artists monetize their creativity while breaking down stigmas.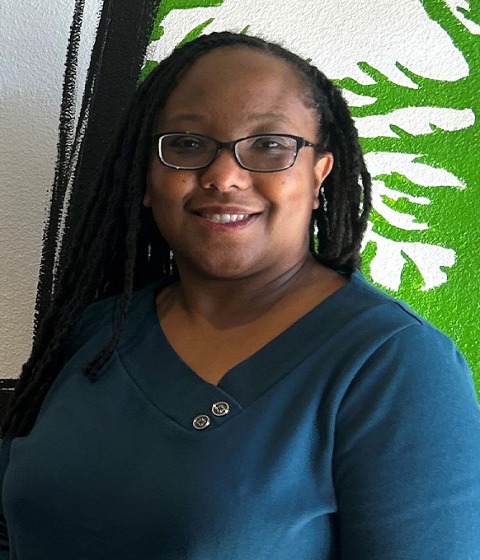 Featured
Jill Kickul

Professor of Clinical Entrepreneurship

Research Director, Brittingham Social Enterprise Lab
Stay Informed + Stay Connected
MARSHALL MONTHLY BRINGS YOU ESSENTIAL NEWS AND EVENTS FROM FACULTY, STUDENTS, AND ALUMNI.
As a little girl, Deena Saunders-Green dreamed of being many things, including an architect. She loved designing and drawing spaces, but the male architect teacher at her high school didn't pay any attention to her designs.
"I remember telling my dad, 'I think I want to do something else,'" she said.
That "something else" has taken myriad forms, including working to support foster care alumni (former foster youth) through creativity. From traditional social work to writing and podcasting, all the opportunities Saunders-Green—an alumna of USC MARSHALL SCHOOL OF BUSINESS MASTER OF SCIENCE IN SOCIAL ENTREPRENEURSHIP (MSSE) PROGRAM—seized along the way have culminated in her latest endeavor: GREEN PINES CREATIVE COWORKING & EVENTS (The GPC) in Downtown Long Beach, California.
The 10,000-square-foot space is distinct from most others launched in the last two decades. Aimed at welcoming young adult entrepreneurs and creatives, including artists Saunders-Green already works with from the foster care community, The GPC emphasizes affordability, access and creativity.
"We wanted to have a workspace for a younger demographic—specifically early-stage entrepreneurs trying to figure out how to monetize what they are doing," Saunders-Green said. "Our goal is to make it about the art, music and creativity, and get rid of stigmas. No one has to share their background, and this space was set up intentionally to show off the awesome work our artists are doing instead of focusing on situations that happened to them when they were children."
The self-funded space caters specifically to individuals looking for community and inspiration, but who also need flexible pricing models that allow them to balance making and monetizing art with other life demands. With discounts for foster care alumni to thoughtful add-ons like colorful backdrops for content production, or phone booths for privacy, The GPC was intentionally curated as an alternative to models that feel overly corporate, deemphasize community or focus too hard on the owner's bottom line.

When Saunders-Green researched the MSSE program, housed at USC BRITTINGHAM SOCIAL ENTERPRISE LAB, she had already launched Green Pines Media as an indie publishing and podcasting company. A burgeoning author, she had written ANGELIQUE: A TRANSITIONAL AGE YOUTH NOVEL, about how a young adult's journey through foster care continues to impact her life as an adult. At the time, she thought she'd teach writing and publishing to foster care alumni, but at an event in Downtown Los Angeles, one such alumna confronted her with the question: "I don't read, so what else do you have?"
At the time, Saunders-Green said she wasn't familiar with design thinking—though later she'd take USC Senior Lecturer ABBY FIFER-MANDELL'S course on this topic. "I didn't even think to ask them if this [publishing] was something they were interested in. That's when I knew we had to pivot."
Prior to enrolling in USC Marshall's MSSE program, Saunders-Green met with Professor of Clinical Entrepreneurship JILL KICKUL who told her, "You're already doing social entrepreneurship, but we can help you refine it."
Said Saunders-Green, "The MSSE program changed my life."
Drawing Up a Space of Her Own
It all began with Green Pines. As foster parents to teens, Saunders-Green and her husband would take the kids on trips to her father's cattle ranch in Alabama.
"The kids didn't know Black people could own a lot of land, or be cowboys," she said. Among the many cherished memories they made on those trips, Saunders-Green says she vividly remembers one in particular: "One of our girls riding around the property on a 4-wheeler yelling 'Freedom!'"
Saunders-Green, her husband and some of the teens they fostered collectively named the company "Green Pines" to reflect its serenity and vast openness, unlike anything most of those in foster care had experienced in their lifetimes.
When Saunders-Green was designing The GPC—in the building she is leasing from USC Marshall alumni Jim Greenwood (a happy coincidence)—she similarly drew inspiration from the foster care alumni she had worked with over her career, and emerging artists she had come into contact with after re-launching Green Pines Media. A member of coworking spaces since 2017, Saunders-Green said she'd always wanted a place to meet the young adults she was working with, but it was difficult to get them to come to any of the spaces at which she held membership.
"A common statement," she said, "Was 'it's just not for me.' I had to interpret what this meant."
Some of the elements Saunders-Green focused on to make the space welcoming to foster care alumni: a first-floor or walkup accessible space, as many didn't feel comfortable riding in the elevators at previous spaces; public transportation close by; Black and brown representation; and an eclectic set of themes. A key selling point was the event space—which was sold out in February. Artists need such spaces to display and promote their work, but usually cannot afford such venues. Having an event space helps the company as well, saving costs for their annual artists showcase presented by Green Pines Media.
"This all started with the artists," Saunders-Green said. From the very beginning, she relied on visual artists she was already working with to build a vision for how the space would look and feel. In the early days of setting up the space, she invited artists from the community in and asked, "Where do you want to create something?" Spaces she hadn't even thought of painting became full-fledged, vibrantly colored murals like the orange hallway that leads upstairs or the atrium outside the lower-level bathrooms, which are space-themed.
To see a tour of The GPC, visit our YouTube channel HERE.