EDIT
Traveling the Path to Entrepreneurship
Traveling the Path to Entrepreneurship
Marshall Alumna Sarah Weingust had solo female travelers in mind when she envisioned HostelPass.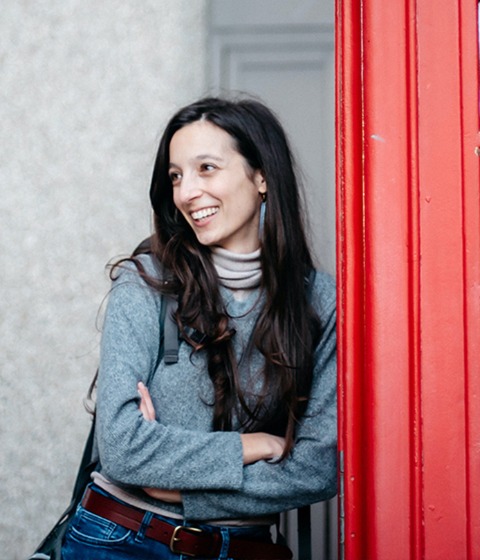 Stay Informed + Stay Connected
MARSHALL MONTHLY BRINGS YOU ESSENTIAL NEWS AND EVENTS FROM FACULTY, STUDENTS, AND ALUMNI.
Sarah Weingust's semester abroad was life changing. Not only did she discover that she wanted to live in London, but also she dreamed up a business idea that would take her there after graduating from USC Marshall.
"I've moved around a lot in my life," said Weingust '16, who was born in San Francisco and has lived in Massachusetts, Oregon, Los Angeles, and the Netherlands, "but London is the only place I've been where I have felt that I could stay forever, and I definitely wouldn't have had the opportunity to learn that without studying abroad."
After a semester at University College London, Weingust traveled to 11 countries, hopping on and off trains with the Eurail Pass. A bad experience with an Airbnb in a major Eastern European city got her thinking it would be great to have something like the Eurail Train Pass that worked for accommodations.
"I didn't want anyone to have to go through what I went through — feeling unsafe at a stranger's house in a new city," she said. "I wanted to create a network of vetted, high-quality accommodation where any solo traveler would feel safe and any parent would be happy to know their child is staying. As much as HOSTELPASS is for everyone, I had solo female travelers in mind when I created it."
When she got back to USC for her senior year, she added an entrepreneurship minor and started applying the concept for what became HostelPass in all of her classes. "I was able to test out my model with my exact target market (students), which meant my whole educational experience had useful real-world applications," she said. "Thanks to my wonderful professors, I learned how to create a business model, make a pitch deck, do customer research, and network with the right people."

Tapping USC's Entrepreneurial Eco-System
Weingust, along with her housemate and fellow Marshall student Meir Razzon '16 became business partners. They both received awards at the 2016 Marcia Israel Awards Banquet for their work on HostelPass. They also won second place in the Lloyd Greif Center for Entrepreneurship's New Venture Seed Competition (NVSC).
"The NVSC helped me gain vital skills in public speaking and compile a compelling pitch deck, not to mention the $10,000 of pre-seed capital that ultimately led to the nearly $500,000 investment we've since raised," Weingust said. "As HostelPass enters a new round of fundraising, I'm feeling confident and prepared, many thanks to my NVSC experience."
"I left USC feeling like I had a serious advantage when it came to launching and running my business," she added. "I have kept in touch with many of my professors, most of whom have now become brilliant mentors to me during my entrepreneurial journey."
Pivoting for the Pandemic
The original concept for HostelPass as "the Eurail Pass for accommodation" evolved as a result of the COVID-19 pandemic. The HostelPass now offers digital discounts for Europe's best hostels, tours, experiences, and more.
"As far as challenges go, I imagine the pandemic has been the biggest challenge for many founders on their venture journeys. It certainly was for us," Weingust said. "The whole travel industry shut down, and many of our wonderful hostel partners had to close permanently.
"Part of the inspiration for the HostelPass was to revive post-pandemic travel and help to showcase and regenerate occupancy rates at these brilliant hostels that we love so much."
She credits her training at USC Marshall for the successful pivot. "So far, the highlight of HostelPass has been using all of the lean-startup methods I'd learned at USC to pivot our model into what we are today, and to quickly see that idea catch on."