EDIT
US Trade Representative Katherine Tai: Trade is a 'Force for Good'
US Trade Representative Katherine Tai: Trade is a 'Force for Good'
Ambassador Katherine Tai spoke before a crowd of hundreds at a recent Dean's Dialogue with USC Marshall Dean Geoff Garrett and investor Jaeson Ma.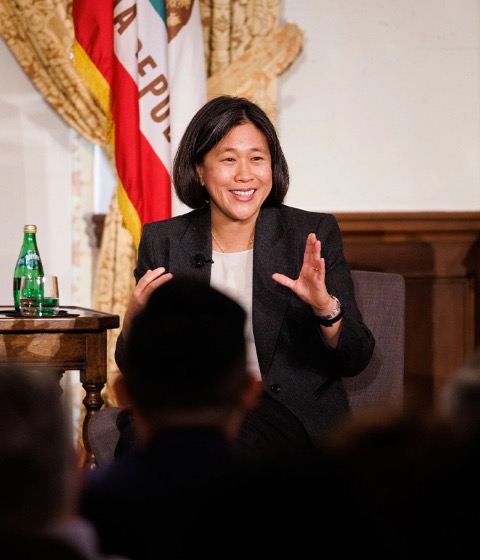 Featured
Geoffrey Garrett

Dean

Robert R. Dockson Dean's Chair in Business Administration

Professor of Management and Organization
Stay Informed + Stay Connected
MARSHALL MONTHLY BRINGS YOU ESSENTIAL NEWS AND EVENTS FROM FACULTY, STUDENTS, AND ALUMNI.
U.S. Trade Representative Katherine Tai believes that trade can be a tool for justice.
"We have a responsibility – a calling – to use trade as a force for good to advocate for fairness and to create real opportunity for all of our people," she said at a recent "Dean's Dialogue" on May 5.
The series is hosted by USC Marshall School Dean Geoff Garrett to highlight and address trending topics with thought leaders in business and government.
Before an audience of an estimated 200 people at USC's Town and Gown and hundreds of others via livestream, Garrett, Tai, and Asian American investor Jaeson Ma took the opportunity to recognize May as Asian American and Pacific Islander Heritage Month. Both Tai and Ma highlighted their own heritage and experiences in their conversation with Garrett. Tai also acknowledged the political and social challenges facing the United States as it navigates its internal and external political divides.
In 2021, Tai became the first Asian American and the first woman to be named U.S. Trade Representative. Garrett noted that her appointment drew unanimous bipartisan support from the U.S. Senate. It was a stunning achievement amid a backdrop of rising political polarization and racism in the United States.
COVID-19 surged globally after it first emerged in Wuhan, China. Soon after its origins were revealed in 2019, the United States saw a wave of anti-Asian American hate crimes.
"It is a real testament to her," he said.
A child of immigrants who were born in China and grew up in Taiwan, Tai regards her role as the nation's lead trade ambassador as extending beyond her office. "I also represent all of us in the Asian American, Native Hawaiian, and Pacific Islander communities in the President's cabinet. This is an incredible honor for me, and one that I do not take lightly," Tai told the crowd.
Tai took the helm of U.S. trade at a precarious point — the dawn of a new Cold War era in which the two countries are jostling for economic and political advantage to maintain their status as a world power. The Biden administration is working to return semiconductor and other manufacturing to U.S. soil — a move strongly opposed by China. A Democratic-led delegation visit last year to Taiwan prompted China to freeze communication over issues such as climate change policy. China also indicated concerns about an April meeting between U.S. House Speaker Kevin McCarthy (R-Calif.) and Taiwan President Ing-Wen Tsai, whose party supports independence from China.

International issues are raising the stakes. Russia, for example, continues to court China's support for its war on Ukraine as the United States reinforces Ukraine's defenses. North Korea, which heavily depends on China for goods and energy, is stoking international concerns about its weapons capability and a potential attack on neighbors South Korea and Japan. Other issues have become a source of consternation. Congress, for instance, is questioning whether the social medium TikTok, invented in China, should be banned from the United States due to concerns about Chinese data mining and spying.

"We have a responsibility – a calling – to use trade as a force for good to advocate for fairness and to create real opportunity for all of our people,"

"We have a responsibility – a calling – to use trade as a force for good to advocate for fairness and to create real opportunity for all of our people,"

US Trade Representative Katherine Tai

In recent weeks, major industries in Los Angeles — textiles and fashion — have had to re-evaluate supplies and trends as news emerged that Vietnam, a major supplier, had been reliant on China for goods reportedly produced by imprisoned Uyghurs, an ethnic minority whose maltreatment in China has been heavily documented.

"There are real challenges in this relationship," Tai said of the United States and China. "The People's Republic of China's growth and development over the last few decades have been phenomenal, but the impacts, and especially the negative impacts on other economies — including ours — are having consequences that we cannot ignore."
She added that the United States has to clearly define what the problem is between it and China, and how to focus on it. Missteps in characterizing the points of disagreements between Asian nations and the United States historically have been costly, not just for foreign relations but also for the safety and respect of Asian American and Pacific Islander residents in the United States.
"We can fiercely defend what is ours, and also fiercely embrace our different roots and upbringings," she said. "We know too well what happens when we fail to do this the right way."
Offering examples of violent backlash amid rising international tensions, Tai mentioned the U.S. imprisonment of Japanese Americans during World War II, and the 1982 killing of Vincent Jen Chin, a Chinese American who was attacked by white autoworkers at a bar. At the time, Japan was beginning to lead in auto manufacturing.
"That is why one of my priorities, as the U.S. Trade Representative, is to lift up historically excluded voices in a world where large corporate interests too often dominate the conversations around trade policy-making," Tai said. We are bringing diverse perspectives to the table and incorporating their priorities."
Garrett told Tai that USC is home to the largest population of international students of any university, a growing population of first-generation college students and many transfers from community colleges. "Your words resonate very deeply on this campus," he told Tai.
Guest speaker Jaeson Ma asked Tai what the next steps are to create a trade partnership with Asia. He said that since the Trans-Pacific Partnership fell apart under the Trump administration, he wondered what the Biden administration's next move is.
"Everybody's anxious because we're not sure what it's going to lead to," said Ma, a CEO, investor, and advisor who founded brand strategy and investment and incubator firm East West Ventures and co-founded a music company, 88rising, focused on working with Asian American artists.
He also is a strategic advisor and financier of the social music video app Triller, and a co-founder of blockchain companies such as OP3N and EST Media.
Tai responded that the United States and its counterparts have one thing in common: growing economic inequality.
"GDPs keep going up but what we know about this version of globalization is, that prosperity isn't widely shared," Tai said. "It's not trickling down."
Tai also advised that prosperity, even if it is achieved, does not guarantee peace. "We saw that when [Russian President] Vladimir Putin decided to invade Ukraine. That was not an economic or market-based decision," she said. "It was bad for the Ukrainian economy and if you look around us, it was bad for all of us."
Tai said that the United States is pursuing trade policies to continue to be a reliable trade partner. "We know we have to do it differently," she added, noting the pandemic created extraordinary stressors and forced decisions that have had long-term impacts on the world economy.
The United States needs an Indo-Pacific framework that engages on trade, addresses issues with supply chains, decarbonization, infrastructure, and good governance, and promotes higher objectives that achieve "economic resilience" and sustainability, she added.
Tai emphasized a distinct, Biden administration point-of-view on the U.S. role in international relations and globalization that contradicts the prior administration's nationalism and protectionism.
"In the midst of all this, the vision is very much that the United States remains connected with the rest of the world," she said.