EDIT
Climbing for Cancer Research

Climbing for Cancer Research

EMBA student Amber Kaplan climbs Mt. Kilimanjaro to raise awareness and funds for Fred Hutchinson Cancer Center.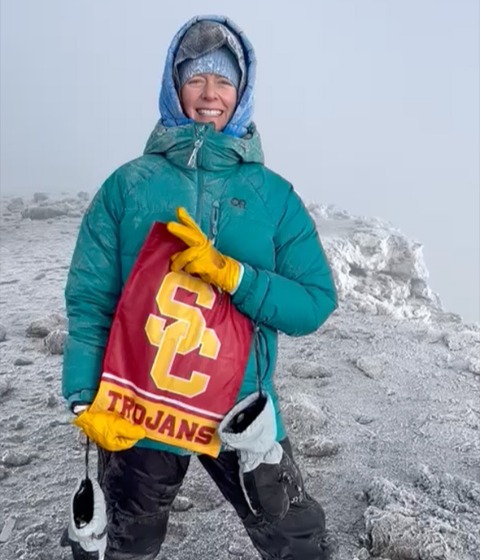 Stay Informed + Stay Connected
MARSHALL MONTHLY BRINGS YOU ESSENTIAL NEWS AND EVENTS FROM FACULTY, STUDENTS, AND ALUMNI.
Marshall Executive MBA students typically think big. But in February, Amber Kaplan EMBA '24, a biotech executive and scientist, went very big.
She and a group of 20 other leaders in bioscience, seven of whom are women, climbed Mt. Kilimanjaro, the highest peak in Africa, raising more than $1 million for research and awareness for the Fred Hutchinson Cancer Center.
"The Kilimanjaro Climb to Fight experience was transformational for me. I'm so grateful to the Fred Hutch, this amazing team of biotech leaders, and all the people who donated on my behalf, especially my EMBA family!"
She was inspired to make the climb in honor of her mother, Cari Kaplan, who passed away from cancer in 2014.
On Feb. 12, 2023, her mother's 60th birthday, she and her group began the seven-day climb.
The FRED HUTCHINSON CANCER CENTER (also known as the Fred Hutch, or simply, the Hutch) is a cancer research center founded in 1975 in Seattle, Washington, that is known for innovative approaches to cancer treatment.
A lifelong runner, Kaplan knew she'd have to train for the climb, but as a busy mother and managing director of Amber Lab LLC, she at first tried to multitask.
"At some point, everything shifted, and I began to enjoy walking by myself, not making phone calls or trying to cram more into my brain," she wrote to the group sponsoring her climb. "The idea of silently walking through nature for hours at a time seemed quite boring to me a few months ago — now I can't get enough. The importance of slowing down and taking a steady approach is starting to sink in — for this training and in life!"
Kaplan, who will graduate in May 2024, came to Marshall for her EMBA because she hopes to be a founder CEO and has a strong desire to learn about the history, current practice, and future of human organizational structures that are optimized for innovation. Of course, she said, learning all the basics of business is very helpful too.
The student demographics of the EMBA program were also very attractive to Kaplan. "I love learning from a set of diverse peers while also absorbing knowledge from inspiring professors," she said.
"Through this entire experience, I have really deepened my understanding of what a successful path looks like," she said. "When I was younger, I would push, and struggle, and race to finish goals, thinking that this was the way to succeed."
But climbing Mt. Kilimanjaro, she said, required the physical practice of something she's been learning about for the past few years as an executive. "The idea of 'pole to pole' or 'slowly, slowly.' All the way up the mountain our guides encouraged us to slow down, and it's this beautiful reminder that I'm taking forward in life," she said. "Slow is not bad; slow is intentional, thoughtful, careful, smooth, and quite often the way to success!"