EDIT
California Business School Deans Annual Conference Explores Opportunities and Innovations
California Business School Deans Annual Conference Explores Opportunities and Innovations
USC Marshall hosts 30+ deans from California's top business schools for discussions on future challenges and goals.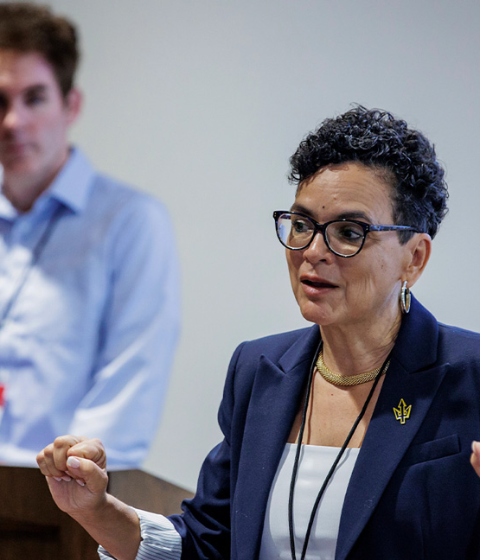 Featured
Geoffrey Garrett

Dean

Robert R. Dockson Dean's Chair in Business Administration

Professor of Management and Organization

Peter Wilson Cardon

Warren Bennis Chair in Teaching Excellence

Professor of Clinical Business Communication

Ramandeep S. Randhawa

Senior Vice Dean for Academic Programs

Charles L. and Ramona I. Hilliard Professor of Business Administration

Professor of Data Sciences and Operations
Stay Informed + Stay Connected
MARSHALL MONTHLY BRINGS YOU ESSENTIAL NEWS AND EVENTS FROM FACULTY, STUDENTS, AND ALUMNI.
The 4th iteration of the California Business Schools Deans Conference was hosted by the USC Marshall School of Business on September 19th. Attendees included deans from more than 30 California schools large and small, private and public. Altogether, they represented a large percentage of the state's college population.
One-fifth of all undergraduate students are business majors. No state has more colleges than California. That makes California business schools some of the most important and prolific educational institutions in the country.
"The thing that really struck me when I was looking at the range of institutions is how different the business schools are," said DEAN GEOFF GARRETT in his opening remarks. "Collectively, we can meet the community of learners wherever they are in their lives."
The conference included high level discussions about the most topical issues and opportunities of the day, such as new educational models, the California economy, and the use of generative AI in classrooms. The gathering gave the education leaders an opportunity to share ideas on opportunities and challenges alike with their peers.
Much of the focus was on comprehensive business education, new programs that span beyond the flagship full-time MBAs.
The deans also engaged in discussions about the implications of generative AI. Lisa Ordóñez, dean of the Rady School of Management at UC Davis, and PETER CARDON, professor of clinical business communication at Marshall, presented on AI in the classroom, and attendees shared how their schools have been testing and integrating AI in learning.

"I was struck by the commonness of the problems we all seem to be facing," said one visiting dean. "And the openness of information sharing that happened in the last 24 hours. It gives me a lot of confidence that this is something we can all get through easily, just because we have the community."
The conference also included a panel on the California economy featuring Ryan Johnson, chief customer officer at Monit, and Eugene Seroka, executive director of the Port of Los Angeles. Panelists discussed not only the importance of California's business schools in developing diverse and skilled talent pipelines, but also their role in maintaining a healthy and robust business community in California.
"Are we training the next generation to take over existing organizations so they stay in California?" said Johnson.

Seroka stressed how his own business school background still helped him even today.

"For me, what I took away from business school still holds true today," said Seroka. "It's about solving problems, chasing opportunities. It's about working in teams with people you didn't know, people you knew, people who had very different views from you."

The conference took advantage of USC's location in the heart of LA with a tour of the historic Los Angeles Memorial Coliseum, a reception on the Annenberg Hall patio, and a performance by USC's student musicians MARIACHI LOS TROYANOS DE USC.