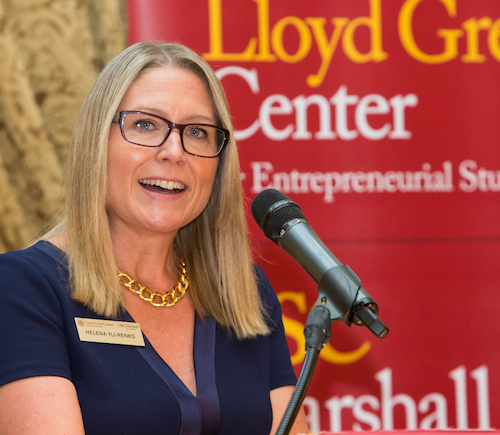 Helena Yli-Renko, a popular professor and accomplished entrepreneurship scholar, died Thursday, April 8, after a more than two-year battle with cancer.
Professor of Clinical Entrepreneurship and former Director of the Lloyd Greif Center for Entrepreneurial Studies, Yli-Renko spent 18 years at USC Marshall.
The driving force behind the recent growth of the Greif Center, Yli-Renko raised its profile and expanded its reach. She was a familiar—and stylish—face at signature Greif events across campus and Los Angeles, including the ATHENA Summit, an annual event celebrating and supporting women entrepreneurs, a group very close to her heart.
"We were privileged to know Helena for many years," said Elissa Grossman, current director of the Greif Center, Orfalea Director's Chair in Entrepreneurship and professor of clinical entrepreneurship. "She was vibrant and vital, committed to excellence in all she did, deeply dedicated to her students, and fiercely devoted to her family. She was, for many in the Center and at Marshall more generally, not just a colleague, but also a friend."
In reflecting on the past few years, those close to Yli-Renko observed that she had refused to let her illness define her, continuing to teach and publish while also tending to her family, spending summers in  Finland, where she'd grown up, skiing in Mammoth, and even making sure her handwritten New Year's cards went out on time. She taught two undergraduate entrepreneurship courses through the end of March.
Committed to Serving Others
"Helena wanted to be of service," said Adlai Wertman, David C. Bohnett Professor of Social Entrepreneurship and the founding director of the Brittingham Social Enterprise Lab.
Wertman shared office space with Yli-Renko back when the Greif Center was housed in the basement of Bridge Hall. "When she taught classes, I would get to sit at the desk, and when I taught, she would get to sit at the desk."  Even when she packed her boxes to move to the new Greif Center home on the top floor of the newly built Fertitta Hall, she would ask him how she could help. "It was never about her. She was concerned with others."
Her colleagues say that mindset was typical of her. "She was possessed with a purpose beyond herself," said Nandini Rajagopalan, Joseph A. DeBell Chair in Business Administration and professor of management and organization.
This purpose extended to her students. Said Grossman, "Helena's commitment to her students was so profound that she remained in discussion about their education throughout her illness, even selecting and helping to prepare the instructors who might need to step in should she be unable to return to the classroom."
She also remained deeply committed to academic research, securing publication acceptance for three academic papers in the past year alone, each in a leading entrepreneurship journal. A feat under any circumstance, this work was extraordinary given the challenges Yli-Renko faced. "Her sense of obligation to her collaborators was such that she was driven to publish these papers," said Rajagopalan.
Throughout her career, Yli-Renko dedicated herself to mentoring and otherwise supporting junior collaborators, helping to ensure that her experience could help support others' academic careers.
Rigorous Scholarship
Yli-Renko's career, beyond her recent publications, was strongly characterized by her passionate commitment to and tireless work in elevating entrepreneurship as a research discipline.
"She literally transformed the Greif faculty, bringing in numerous high-profile scholars to add to Greif's research profile," said Gareth James, deputy dean of Marshall, who worked closely with Yli-Renko during his time as vice dean for faculty and academic affairs, four years which overlapped with her appointment as center chair. "She was a polite but fierce advocate for Greif," said James, a professor of data sciences and operations and holder of the E. Morgan Stanley Chair in Business Administration.
Yli-Renko helped launch the Academy of Management's annual Greif Research Impact Award, which recognizes the most significant published papers in entrepreneurship. Her own published works appeared in many leading journals, including the Strategic Management Journal, Journal of Marketing, Journal of Business Venturing, and Journal of Management. She won awards from the Academy of Management, the American Marketing Association, the Babson-Kauffmann Entrepreneurship Research Conference, and the International Council for Small Business.
In 2015, Yli-Renko was named one of the 100 leading professors in the field of entrepreneurship, by a group of leaders in the tech industry.
The A-Game
In addition to being a generous teacher and accomplished colleague, Yli-Renko was also known for her fierce drive. "When she served as center chair, she came to every meeting fully prepared and ready to answer any and all questions," recalled Rajagopalan. "She brought the A-game to everything she did."
She had a clear vision for growing the Greif Center, enhancing its role at the heart of USC's entrepreneurial ecosystem.
"For six years, she was the engine, champion, and strategist driving the most expansive period in Greif Center history," said David Belasco, adjunct professor of entrepreneurship and former co-director of Greif who worked closely with Yli-Renko. "She was the force who drove the addition of new courses, more students, new research, a large case initiative, and new co-curricular programs, including the Marshall Venture Fund, incubators, the SCALE conference, and her favorite, the ATHENA Summit."
"She was the ideal partner, creative, brilliant, and always looking out for people behind the scenes."
While rarely idle, Yli-Renko was not above enjoying some down time, Trojan Family style.
"One of my best memories with her was at a USC tailgate sharing stories and laughing together," said Steve Mednick, associate professor of clinical entrepreneurship. "I have always marveled at her strong will to contribute at the highest level as our Center chair, teacher, researcher, colleague and friend."
Many Accomplishments
Yli-Renko was not just an award-winning researcher, but also an award-winning teacher, receiving a Golden Apple Award for teaching excellence from her students in Marshall's MBA.PM program. She co-founded Perception Robotics, a startup later acquired by OnRobot. She sat on the latter company's board in recent years, traveling even while ill between Los Angeles and Europe for meetings. She also sat on the boards of several other startups.
In 2017, Yli-Renko was made a Knight, First Class, Order of the White Rose of Finland, for her contributions to global entrepreneurship research and her many other entrepreneurship endeavors.
One thing she didn't do was discuss her illness. "She was a problem solver," said Rajagopalan. "If there is a problem, you don't complain about the problem, you figure out a solution. That's just how she was." Agreed Grossman, "Helena demonstrated grace, strength, and optimism at every step. She was also a lot of fun. It is difficult to articulate just how profoundly she will be missed, by so many."
Yli-Renko was born in Los Angeles and raised in Finland. She earned a Doctor of Science in Technology with distinction from Helsinki University of Technology, Institute of Strategy and International Business. Prior to joining USC, she served as a research fellow at London Business School and worked in consulting at McKinsey and Company.
She is survived by her children, Sebastian, 15, and Erika, 13, her husband Vesa, and her parents Kaarina and Martti.
In partnership with her family, the USC Helena Yli-Renko Memorial Fund has been launched, to honor her and support female entrepreneurs about whom Yli-Renko cared so deeply. Click here to learn more.